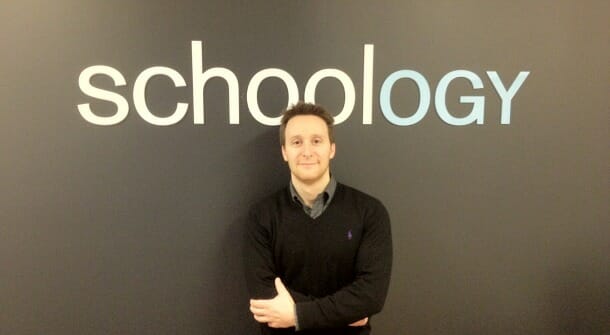 Schoology Hosts Largest User Conference Yet
July 16, 2018
On July 16, Schoology, a leader in K-12 edtech market, opened its fifth annual Schoology NEXT conference in San Diego. Schoology NEXT is a four-day event that offers attendees a chance to explore current and future edtech solutions. This year's conference is the largest yet, with more than 1,000 customers and partners expected to attend.
In a press release issued by Schoology earlier today, Schoology co-founder and CEO Jeremy Friedman emphasized, "Every year the event gets bigger and better. It's always an amazing feeling to see the entire community come together and learn from each other. We know that K-12 school districts face many obstacles to effective teaching and learning and our vision for Schoology is to enable our customers and users to eliminate those barriers." This year's conference will not only be larger than ever before but also promises to provide ample opportunities for educators to begin breaking down some of the challenges they currently face in the21st-century classroom.
The Schoology Community Continues to Grow
Schoology was founded by three Washington University alumni in 2010 but since then, the company has continued to grow and position itself as a major competitor in the learning management system (LMS) sector. The company currently serves Arizona State University, UC San Diego, and Wheaton College, but its real strength is the K-12 market where it counts among its many clients the Los Angeles Unified School District (LAUSD). According to e-Literate's early 2018 data, Schoology currently holds 16% of the of the LMS market at the K-12 level, lagging behind only Google Classroom, Canvas, and Moodle. With a focus on online learning, classroom management, and social networking, Schoology's platform is designed to improve the learning experience for teachers and students while also promoting parental engagement in the education process through better communication and enhanced access to learning.
Highlights of the 2018 Scholoogy NEXT Conference
Schoology NEXT attendees will have ample opportunities for education and networking at this year's conference. The conference is scheduled to kick off with a keynote address by Schoology co-founder and CEO, Jeremy Friedman, as well as keynotes by K20CONNECT CEO, Kecia Ray, and best-selling author and educator, Catlin Tucker.  Among Tucker's many books is her co-authored Blended Learning Learning in Action, which eLearning Inside News included among its 2017 recommended eLearning and edtech books.
The conference will also feature more than 50 sessions led by district school leaders and users. Participants will include leaders and users from Macomb, Denver, Palo Alto, Park Hill, and Westerville among other locations. As is the case at a growing number of edtech conferences, attendees can earn continuing education and graduate credits by attending Schoology NEXT and its pre-conference sessions.
Jared Lopatin, Educational Technology Coordinator for Lexington School for the Deaf, who has attended Schoology NEXT for the past three years and will be attending again in 2018, says, "It's not just about the sessions, which are, in and of themselves, pretty awesome, it's about the people you meet there and the conversations that happen throughout the conference and the tips and tricks and hacks and strategies that you learn through those conversations." Other educators scheduled to attend include Stephen Rao, who works for the Howell Township Public Schools in Monmouth County, New Jersey. Rao is the 2018 winner of Schoology's Digital Citizenship Challenge, and his prize included an all-expenses paid trip to Schoology NEXT.
Schoology NEXT is sponsored by several leading education technology service providers, including Amazon Web Services, Respondus, BlindSide Networks, LearnZillion, Key Data Systems, NearPod, TurnItIn, Wiris, Education Modified, Cabrilog, and WeVideo.