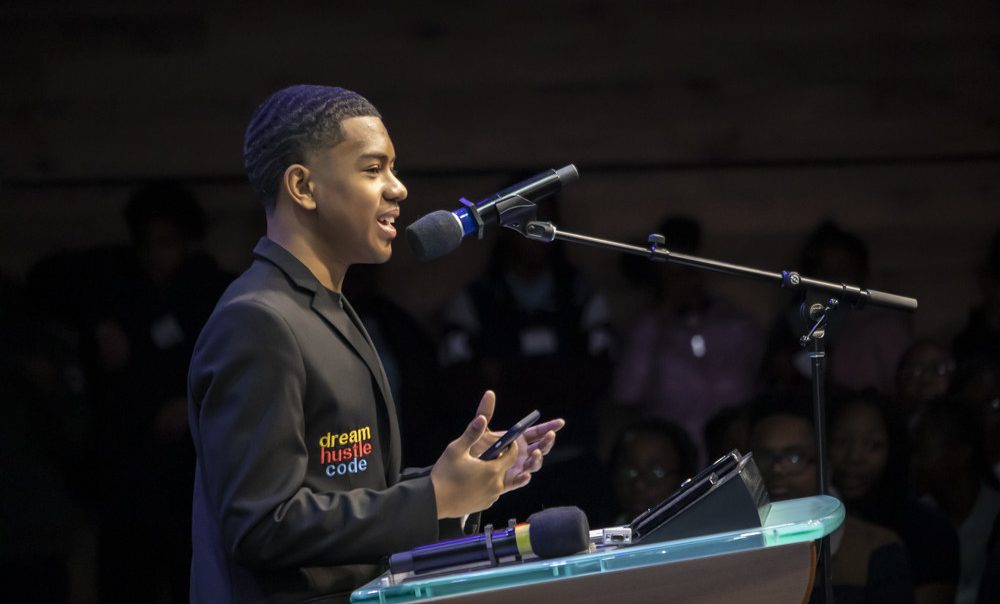 A Chicago Teen Is Asking You For $1 to Scale His Virtual CS Summer Camp
July 06, 2020
Ian Michael Brock, with the help of his parents Michael and Dulcevita, is asking you for $1. If the Brocks can get 375,000 people to donate 100 cents, they're going to continue scaling the virtual coding sessions that Ian started back in 2013 at the age of 12. The New Nerd Virtual Summer Camp is the latest version. With this campaign, they want to build the capacity to host 1,000 young coders in a virtual CS camp this summer.
Ian has been mentoring kids learning to code for over five years. But when schools closed due to the outbreak of the coronavirus in March, he shifted his efforts into overdrive. He spent hours every week day hosting coding and personal development bootcamp-style sessions.
"What we're working on this summer is nothing new to us," the Chicago teenager said over the phone. "We've done it before. We're just trying to do it on a larger scale."
A Virtual CS Summer Camp for New Nerds
The New Nerd Virtual Summer Camp is run through the Brocks' non-profit Dream Hustle Code. Intended for students in 5th to 9th grade, it lasts eight weeks. The sessions are informal and collaborative. Using Google's free learn-to-code platform Grasshopper, groups gather for the virtual CS summer camp on webinar software. Ian hangs out, helps others when they get stuck, plays music, and works on his own projects.
"This is not your traditional classroom," Dulcevita Brock said. "Ian is not a teacher—he's really a mentor and a coach. We know our communities: if they can see it, they can be it. Kids can see the work that Ian is doing or has done. Then they say, 'Wow, this is a kid who's doing this. I could be him!' We want to bring that aspiration to the table."
Ian's own introduction to computer science came in 2013, when Dulcevita showed him a video she found on Facebook called "What Most Schools Don't Teach."
"I wasn't too interested because I was working on my homework," Ian said. "I was trying to get through with it so I could sleep. And let's be honest, when I watched the video, I didn't see any people who look like me. Then, all of a sudden, Chris Bosh, the former Miami Heat NBA player, comes on the screen. He started talking about how he loved computer science and how he thought coding was cool. So that immediately grabbed my attention because I love playing basketball. Chris Bosh is one of my favorite NBA players. I ended up watching the video over and over again."
Based on Ian's enthusiasm, the Brocks hosted an Hour of Code event (administered by code.org) at his high school. The event was a success, and the ball started rolling.
Dream Hustle Code
"A bunch of my friends and their parents, they started reaching out to us saying, 'Wow, what is this coding thing? Why are my kids so intrigued by it?'" Ian said.
In the summer of 2014, they launched their first two-week-long CS summer camp. Since, they've been running numerous events, camps, and sessions throughout the Chicagoland area.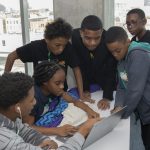 This work has brought Ian to speak at Google's Mountain View, California headquarters twice. He's led a trip that brought a group of kids from Chicago out to Silicon Valley. Most recently—in tandem with the virtual CS summer camp—he has organized a Friday speaker series. Past speakers have included Chris Bosh, the preeminent real estate developer R. Donohue Peebles, and Google's Global Head of Development and Inclusion Daraiha Greene. More are planned to appear throughout the summer.
The Brocks do this work using available online services and their free time and resources. They launched the non-profit Dream Hustle Code to support the work. Michael Brock estimates that they have personally contributed 90% of the program costs to date.
Starting a Dialogue and Responding to a Perfect Storm
That's where the campaign comes in. The Brocks are by no means turning any resources away, and they hope that corporations will support them with donations larger than $1. But they also want to start a dialogue.
"We want people to start asking, 'Why isn't every kid in America learning computer science in grades K-12?'" Michael said. "If we're sending our kids to the workforce or into the world unprepared, are we not doing them a grave disservice?"
While the Brocks want to make this a national conversation, they're also responding to events closer to home.
"Right now, Chicago is dealing with a crazy storm of events," Michael continued. "We've got Covid-19. We've got high unemployment. We've got a high murder rate. This particular camp is more just as much as about introducing kids to computer science and personal development. A lot of it is also about keeping kids out of harm's way while teaching them a skill that could help them in the future. Everyone has a role to play. And we think that this is our particular role."
Media courtesy of Dream Hustle Code.