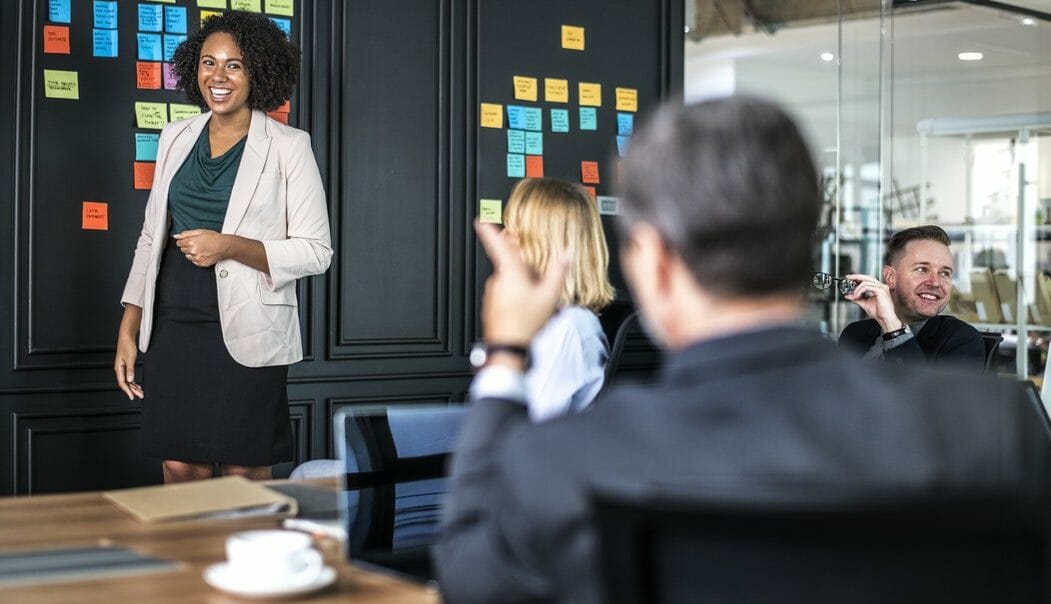 GoCoach Offers Coaching Expertise in an App
February 09, 2019
Prior to founding her own edtech company, Kristy McCann Flynn spent 15 years working as a strategic human resource leader, change manager, and organizational development expert for companies such as Pearson Education and Constant Contact. In this context, she recognized the growing need for wider access to career coaching. From people looking for one-time support on contract negotiations to people seeking ongoing advice on how to achieve a better work-life balance, McCann Flynn saw workers struggling to access the support needed to accelerate their careers. eLearning Inside recently talked to McCann Flynn, an NYU Steinhardt Edtech Accelerator alumnus, about GoCoach, the company she founded to help bring quality coaching to people navigating today's disrupted workforce.
Founding GoCoach
Cait Etherington: First, can you tell us about your company, and why you decided to develop a coaching app? How did your background in HR influence your decision?
Kristy McCann Flynn: Coaching is a huge fractured market that we are bringing together as a community to provide lifelong learning anytime, anywhere, to everyone. This includes everyone from the entry-level worker to the executive. We also focus on both hard and soft skills. The app makes it accessible, easy, flexible and real for everyone to choose someone who can help them in their career. We primarily work with businesses and have a consumer side open because we want to make coaching affordable to all. I created GoCoach primarily out of anger and frustration. I kept seeing people being thrown out of companies because they lacked access to coaching and professional development. We have gotten into this place where everyone is disposable, and we have a war on talent at the same time as we have an American skills shortage. It is an oxymoron and to bring culture, engagement, productivity, and overall happiness to the workplace is to invest in people. At GoCoach, everyone can upskill themselves. We build people at GoCoach.
CE: How does GoCoach work? Do you have a set roster of coaches or can any coach join the app, and if so, how do you oversee quality control to ensure you're only working with experienced and credentialed coaches?
KMF: At GoCoach, the first criteria is living our values. All coaches go through value competency based interview questions to ensure our values are being lived every day throughout our community. Then, we access skills, certifications, and accreditation. You do not have to be a certified coach to come on our platform because we will get you certified. We are a multi-sided platform that serves coaches, companies, consumers, and communities so everyone can upskill. We have quality control in company assessments where we track ROI, values, and behavior transitions along the way. Our product is people; we are always advancing them to advance others. In sum, if you are a good person who has great skills that others need and a passion to help people, then you can join our community. No assholes are allowed. We are people first, always.
Matching Clients With Coaches
CE: Finding the right executive or career coach can be a challenge. How do you match a user with the right coach? What helps you determine fit?
KMF: First, we listen. We have an experienced officer and a team that knows all our coaches and their skills. Plus we have technology with algorithms and smart learning to position coaches for what the coachee is looking to learn. Finally, we have learning systems that assess how they engage along the way. We have combined human experience with tech interaction to provide an overall programmatic experience for anyone.
Responding to Needs in a Disrupted Workforce
CE: Most HR experts agree that we're entering an era when reskilling will soon be the norm throughout one's career cycle. How is GoCoach responding to the demands of today's disrupted workforce?
KMF: The workforce has been disrupted for years. The problem has been the mindset where companies, for whatever reason, think constant rehiring will heal all woes and much of this has come with the rise of LinkedIn. On LinkedIn, recruiters are being asked to seek out passive applicants and reject those who are active candidates because they are not good enough. This is literally happening in every high-growth company. The amount of people, money, time, goals, and dreams that have been tossed out the last decade is absurd. We would rather lose productivity and rehire 1 person for a 100K than keep productivity going and invest 100K in upskilling 25 employees. It is literally common dollars and sense. An average recruitment team can spend 100K on LinkedIn licenses for one year, which average 15K per pop per user to troll passive talent. There is way too much money being wasted on talent acquisition and not enough money being spent on actually educating talent. Simply put, it is not talent until it is developed.
Plus, educating people with lifelong learning empowers people leading to happier employees. We are spending all this time and money on health and well being which is needed, but if someone is struggling in their job and lacking needed skills, it doesn't matter how many yoga classes or smoothies you have on hand. It is not going to solve any problems. Invest in people, and they will invest in you.
GoCoach is here with a community of educators ready to help solve the skills gap in this country and beyond. We are focusing on businesses but know there will be a path into higher ed to prepare students for the future of work. If you don't have lifelong education instilled, it's not a matter of if you will cease to exist, it is a matter of when you will cease to exist.
Reflections on the EdTech Scene
CE: Over the past year, eLearning Inside has run several articles on women founders and leaders in edtech. There is often a perception that compared to tech, women are assuming more high-profile positions in edtech and more likely to be founders. Do you agree?
KMF: Since we launched in April 2018, the edtech community has embraced us. They are positive, powerful and humble. Edtech investors often care most about how many people you will educate. That is value, that is human, and that is learning. Having worked at Pearson, I was humbled by all the amazing educators they had working there across departments. Many of these former Pearson people are helping build GoCoach so we can be agnostic and provide lifelong learning for all. We are a learning company and will never sacrifice education for dollars. We are hoping to partner with edtech VC's to help us amplify this message of learning for all. When you put people and education first, everything else follows. People before profit. To anyone out there–regardless of who you are–if you have a passion to help people, education will always be the path.