Entering the Remote Workforce: Advice for New Graduates
July 29, 2020
This spring, college students across America donned their caps and gowns to celebrate their newly minted degrees. But unlike the festivities of previous years, these milestones were not marked by on-campus celebrations with jubilant classmates. The COVID-19 pandemic had already forced higher-ed institutions to pivot quickly to online learning solutions. By June it had forced seniors to settle for "remote commencements" before heading out, with trepidation, into a profoundly uncertain job market.
Enter the "new normal" – a phrase that has become particularly normalized over the past few months. Just as colleges and universities have had to adapt to the necessity of virtual learning during the pandemic, businesses are continuing to adapt to the realities of remote work. The good news: despite initial concerns about reduced productivity when offices first closed their doors, many companies are reporting that productivity levels actually increased following the switch to remote work. Now, many months in, workers have settled into a routine, hinting at a reimagined future of work.
Entering the Remote Workforce and the 'New Normal'
Recent data from MindEdge and Skye Learning's national survey, "The State of Remote Work 2020: The Age of the Pandemic" indicate that almost one-third of employees expect to work remotely full-time even after the pandemic has ended. If those expectations prove true – with businesses and managers rushing to implement a totally online hiring and onboarding process – new graduates will face the added burden of finding a job and beginning their careers remotely.
Here's a few words of advice to recent grads as they venture out into the new, remote job market:
Don't Just Apply for a Job – Go the Extra Mile
According to the National Center for Education Statistics, colleges and universities are expected to award nearly three million associate's and bachelor's degrees for the 2019-2020 academic year. At the same time, millions of Americans have filed for unemployment due to layoffs, and it's anyone's guess when those jobs will be coming back. As a result, new grads are facing an unprecedentedly tight job market. The MindEdge/Skye survey results show that just 37% of managers say their companies are still hiring – and of those, only 17% say they're on the lookout for recent college graduates.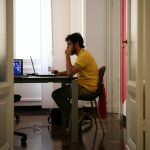 Yet, all that means is that recent graduates can't afford to be complacent about finding a job in the remote workforce. They have to show initiative by going the extra mile. New grads should try to lock in that first interview by contacting the hiring manager directly, or by reaching out to an employee within the organization for advice and a recommendation.
Social platforms such as Twitter and LinkedIn are helpful resources for networking and reaching out to employees. LinkedIn company pages even list a firm's current employees, whom you can contact through private messaging. Find out which employers could present opportunities in your industry – do your homework – and see if you have mutual contacts who could connect you. Don't be afraid to send a direct message. Chances are, the person you contact will remember how overwhelming the application process can be, and will want to help.
Learn New Skills to Give Your Résumé an Extra Boost
On top of expanding your connections and exploring social networking, you should use your résumé to make the strongest possible first impression on prospective employers. While internships, professional, and volunteer experience stand out, our data show that managers also place a high value on certifications – exam-based credentials awarded by an industry-recognized group. In fact, close to three-quarters (72%) of managers say that certifications on a candidate's résumé hold a great deal or fair amount of value.
With many companies encouraging upskilling during the pandemic, organizations like edX are seeing enrollment in professional certificate programs increase by six to 15 times their normal rates during the COVID-19 crisis. Companies are using upskilling as a way to help job seekers improve their skills and land positions: LinkedIn and Microsoft recently announced the launch of "Learning Path," a job training program aimed to help those unemployed during the pandemic.
Remember to Take Care of Yourself
After landing that first post-grad job, you'll face the task of adjusting to a completely reimagined workforce. Remote work has taken center stage, often pushing aside the very concept of work-life balance. With the sudden shift, 30% of American workers new to remote work express difficulty adjusting to the situation: in fact, 34% say that working remotely has made their jobs harder. Fully 50% of all respondents say remote work has had a negative impact on their emotional or mental health — including 13% who report a very negative impact.
While remote work has proven to increase productivity and employee satisfaction, shelter-in-place procedures isolate employees from family and friends, while economic and health unrest instill fear and uncertainty. Since the onset of stay-at-home advisories earlier this year, Google searches for "symptoms of anxiety" reached an all-time high.
The best way to deal with the ups and downs of remote work is to find a routine that works best for you. Good habits are important to a healthy brain, but they're harder to maintain when working remotely. MindEdge survey data show a wide range of strategies for dealing with the increased stress of working at home – including going outside for a walk and fresh air, catching up on movies or TV, and taking breaks to spend time with family.
Grads newly entering the workforce may find it difficult to connect with their coworkers, but team bonding is especially important in the isolated spaces where we work today. Beyond the mental health benefits of social interaction, team bonding is important to fostering an optimal corporate culture. Look at the positives of remote work. On average, employees get two to three hours of their day back into their life because they don't have to commute. Two to three hours equals time spent with your family, self-care, or whatever activities may support your well-being. Make sure you take advantage of all that extra time!
Frank Connolly is the director of research at MindEdge Learning.
Featured Image: Luis Villasmil, Unsplash.