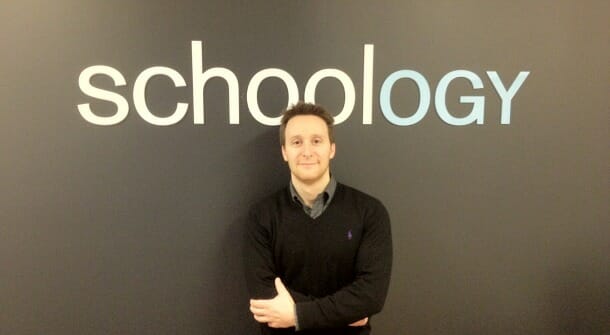 Schoology Continues to Make Inroads in the LMS Market
November 13, 2017
Most people have heard about Canvas, Blackboard and Moodle, but what about Schoology? Schoology was founded by three Washington University alumni in 2010 with startup money. Since then, the company has continued to expand and steadily compete with other widely recognized LMS options. Schoology is currently the platform of choice at Arizona State University, UC San Diego, and Wheaton College and in the Los Angeles Unified School District (LAUSD) to name just a few of its current large-scale contracts. Given its investment backers and strong reputation, however, it seems likely that this player on the LMS market will continue to gain ground moving forward.
Schoology's Scope and Mandate
On CB Insights, Schoology is described as a "developer of an online learning, classroom management, and social networking platform that improves the learning experience for teachers and students, and encourages and facilitates parental engagement in the education process through better communication, collaboration, and enhanced access to curriculum and supplemental content." As a cloud-based system, it requires no installation or training and little maintenance. In short, it's easy, scalable, inexpensive, and flexible, which makes it ideal for small school board and individual schools with limited budgets. As the company likes to boast, to date, more than 10 million users have used Schoology with no training whatsoever. Given how difficult it can be to implement some LMSs, this is evidently a major draw.
In May 2017, one of Schoology's founder Jeremy Friendman told EdTech that while the company continues to grow, it remains true to its original mandate: "Our mission is still the same–we are advancing what's possible in education. The big difference is that the company has grown, not just in revenue and size but also in scope and pace of innovation. Schoology's position as a market leader has created amazing opportunities to expand the general definition of learning management. We are now building products and features to enhance the entire education experience."
Investment History
Despite starting out with a mere $1.25 million in Series A funding from Meakem Becker Venture Capital back in 2010, Schoology has continued to grow. A recent Series D funding event resulted in an additional $32 million in investments; FirstMark Capital, Great Road Holdings, Intel Capital, and JMI Equity were among the Series D investors. The real question is how Schoology has been putting these investments to work?
Recognition for Strong Performance
Like Canvas, Schoology is a relative newcomer and was designed to do a lot of things that Blackboard can't do or doesn't do well (e.g., mimic other online platforms that are familiar to students and faculty and easily integrate other online platforms).  Its strong performance to date suggest that it will likely continue to grow over the coming decade. Indeed, in August 2017, Schoology was named the Best Higher Education Enterprise Solution at the 2017 SIIA CODiE Awards, which is the only peer-reviewed program to showcase business and education technology's best products and services.
As Jeremy Friedman, CEO of Schoology, emphasizes, over the past seven years, "We have made many strategic investments to be competitive and have seen it payoff with a significant increase in the number of colleges and universities that have joined Schoology in 2017."  Friedman also emphasizes that moving forward, there is no question that Schoology will likely continue to grow and change.  In a recent interview with EdTech, he reflected on the changing scope of the LMS market: "It's amazing to think about how much education and technology have changed since we started the company. Today, Schoology has a unique vantage point on the market; we are in 1,500 districts, 60,000 schools and have 20 million users, spanning the biggest urban districts to the smallest rural districts…Schoology has evolved into the hub of the education experience, unifying all the people, content, and systems that are integral to the process. As we look forward, we envision a massive shift towards personalized learning."