How Has Academic Advising Changed in the Era of Lockdowns?
November 12, 2020
As the world of education shifts further into the realm of online learning, new research has emerged to track this transition. Whether the drastic move towards online education is a consequence of Covid-19 or a more personal choice of an individual, it is clear that eLearning has become a thing of the present rather than just a vision of the future. New studies are emerging about the various effects, obstacles, and possible outcomes of a primarily online education. Despite all of these useful studies, however, the sudden shift has brought to light a sizeable hole in online learning research. There has been notably little investigation into online academic advising.
A Rise in Advising Software
A product developed by Hobsons, known as Starfish, seeks to make the transition to online academic advising easier. This technology aims to improve academic performance among students by encouraging and making accessible communication between students and advisors. Starfish operates around a unique "flag" system, where school faculty are able to immediately alert advisors about certain students who are in need of academic guidance, namely those who are at risk of failing or being dropped from their courses. It also connects those who are in need of career, mental health, or financial counsel. This software currently hosts over 6 million student users across over 500 institutions.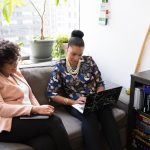 According to recent data collected by Starfish, flags that pertained specifically to student technology issues rose 32,074% compared to 2019, going from 35 to 11,261 flags between March and May. Student engagement also increased 963%, and flags notifying advisors that students had been inactive for three days on their learning platform increased from 294 in 2019 to 75,028 in 2020.
Like many other edtech products, online academic advising has been overloaded with students who would normally seek guidance in person. It is important to note that the data released by Starfish pertains specifically to the period of sudden transition to online learning due to Covid-19, meaning these numbers could have been quite different if there had been proper preparation ahead of the shift. Though an increased use of technology naturally means more technological difficulties, it is important to keep in mind that the dramatic rise in difficulties can be largely explained by students' unfamiliarity with navigating these online platforms.
What Students Desire from Their Advisors
If one thing can be concluded from all of this contemporary research, it is that the venture into online learning can either exacerbate or resolve many issues depending on how the technology is utilized. Academic advising is a prime example of this. According to a 2018 survey published in the National Academic Advising Association (NACADA) Journal, graduate students who were enrolled in online courses reported overall satisfaction with their online advising situations, with the biggest concern being that students wished that their advisors would take a more proactive approach to initiating contact with them. Though this survey took place before the current pandemic, it does conclude that online advising has similar issues as in-person advising, at about the same rate.
A much more recent study conducted in March of 2020 seems to support the notion the significant issue are present with inadequate communication between students and their online advisors. This study drew from a sample of online graduate and undergraduate students split into three groups; those with an individual academic advisor, a departmental advisor, and a general advisor. Overwhelmingly, the students with the individual advisors showed the most satisfaction with their advising experience. The next best rated was the departmental advisors, and lastly the general advisors.
Both of these studies, as well as the data from Starfish, suggest that academic advising could be vastly improved by an increase in interaction between students and their advisors. Remote learning technology could make this task much easier if navigation is made more accessible.
Featured Image: Charles Deluvio, Unsplash.