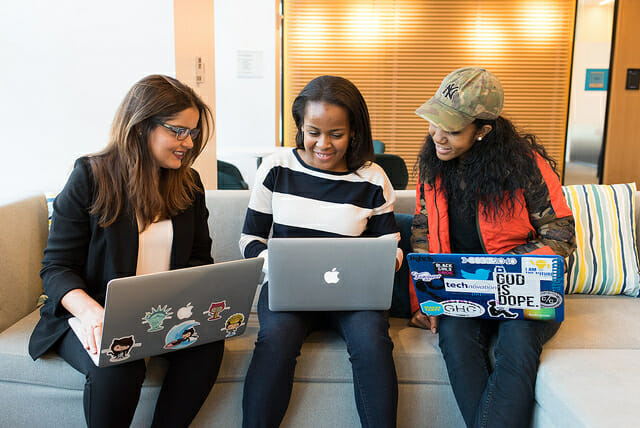 Y-combinator Founder Is Paying 40 Women to Train as Coders With New Summer Hackers Scholarship
March 22, 2019
It may not be the first time a coding school has tried to tip the gender balance in women's favor by offering a financial incentive, but Lambda School's new Summer Hackers Scholarship may be the most enticing scholarship offer for aspiring women coders yet.
Over the past three years, several coding schools have set out to correct the gender balance in tech. Back in 2017, another online coding school, Bloc.io, rolled out its Close the Gap scholarship fund. Alchemy Code Lab launched a similar scholarship in June 2018. But Jessica Livingston, a Y-combinator founder, is now going a step further with the launch of a new program at the Lambda School. From May 20th to September 3, a select group of women ages 18 years and older won't just be able to learn to code without paying tuition. The 40 women selected to participate in the program will also be given a stipend of $9,000 to help cover their living expenses while completing the online program.
About the Summer Hackers Scholarship Program
Livingston, a venture capitalist who is not only one of the founders of Y-Combinator but also a key financial backer of OpenAI, is sponsoring the living expenses for a cohort of 40 women. Lambda School has agreed to cover tuition for the students. The combined living expense allowance and tuition scholarship is worth $21,000. And unlike most Lambda students who don't pay upfront but eventually do pay back their tuition (if they find gainful employment), any women who is granted admission to the Summer Hackers Scholarship Program will never have to pay back a cent.
In a post published on March 22, Livingston described her reasons for starting the program. First and foremost, she notes that as an investor, she's found fewer women founders. She is also confident that the Lambda School shares her desire to change this fact. Livingston notes that her ultimate goal is to raise the number of women leading startups by giving them the education they need to get started. 
To ensure that anyone can participate, even undergraduates, the course is designed to fit within most college summer breaks.
Program and Curricular Details
The Summer Hackers Scholarship Program will stretch across 15 weeks beginning on May 20th. Weeks 1 to 5, will focus on web foundations such as HTML and JavaScript. Weeks 6 to 10 will focus on web application development, including React Router, and Functional Programming Techniques. Finally, in the closing weeks students will turn their attention to other issues, including backend development and more specifically, programs such as Express and SQL.
As for the career services that are available to other Lambda School students, these services will also be opened up to participants in the Summer Hackers Scholarship Program. While they will have to complete access to all Lambda School programs, they will have to complete Labs and CS to be eligible for all of the Lambda School's services. Tuition for these units will also be free to any woman who opts in.
Registering for the Summer Hackers Scholarship Program
If you identify as a woman and want to learn to code this summer, the application deadline for the Summer Hackers Scholarship Program is March 29. Details can be found on the Lambda School website. If you can't participate this year, don't worry. If this year's program is successful, there is hope this will become an annual program.
Photo courtesy of wocintech (Microsoft).