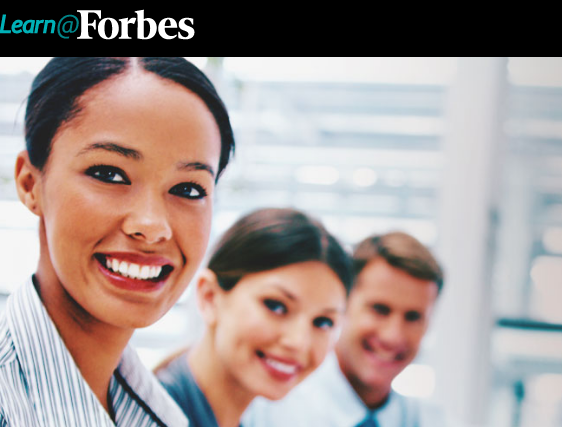 On June 6, Forbes, the online publication best known for letting executives share their views on everything from personal finance to training, launched [email protected]. The new eLearning platform will offer 60 courses to anyone who wants to learn more about entrepreneurship, business, sales, and cybersecurity among other topics.
In a press release issued earlier this week, Forbes Media emphasized, "[email protected] courses will be immediately applicable in the workplace. From coding and cybersecurity to data analytics and digital marketing, the [email protected] platform was built for professionals who need to fill a knowledge gap or improve a certain skill. The online courses are affordably priced, self-paced and may offer certification or Continuing Education credits (where applicable)."
Anurag Malik, President of [email protected], says, "We make online learning accessible, so professionals can take any course they want at any time they need it, whether they're preparing for their next promotion or just polishing their programming skills for an upcoming project."
However, with [email protected], Forbes is also clearly interested in attempting to make a difference in today's disrupted workforce. By 2020, some analysts predict that there will be a gap of 5 million trained workers. Steve Forbes, Chairman and Editor-In-Chief, Forbes Media, emphasizes "With [email protected], business professionals have a resource for learning real-world skills so that they can achieve success at every stage in their career." This, notably, seems to be the impetus behind Forbes new training effort.
On the [email protected] website, potential subscribers are urged to get a competitive edge through training.
Newly Restructured Bridgepoint Education Will Provide the Platform
Notably, [email protected] will be launched on the Bridgepoint Education platform. As reported on eLearning Inside News earlier this year, Bridgepoint, while not new, is a newly restructured entity. In March, Bridgepoint, which once owned two private online universities, including Ashford University, announced plans to get out of the private postecondary business and become an online program management (OPM) company.  [email protected] will be among the first customers on the new Bridgepoint OPM.
To date, [email protected] has only a limited number of courses in five categories (business, coding, sales, entrepreneurship and leadership) and several separate certifications. By contrast, Lynda offers thousands of courses and is a known and trusted brand. Indeed, long before being acquired by LinkedIn, which was in turn acquired by Microsoft, Lynda had established itself as a trusted online training platform in the business sector.
Another question that remains is whether or not Bridgepoint Education has the capacity to support Forbes Media's new initiative. While by no means new to eLearning nor to dealing with high numbers of students (notably, Ashford University is the nation's fifth largest university by enrollment), can Bridgepoint Education provide Forbes Media with a stable platform to scale its ambitious new project?
For both Forbes Media and Bridgepoint Education, the stakes are obviously high. For Forbes Media, [email protected] represents a new venture–one that will edge Forbes Media into the growing online workplace training sector. For Bridgepoint, [email protected] represents a bold move to rebrand as an OPM serving the training sector and not simply higher education.