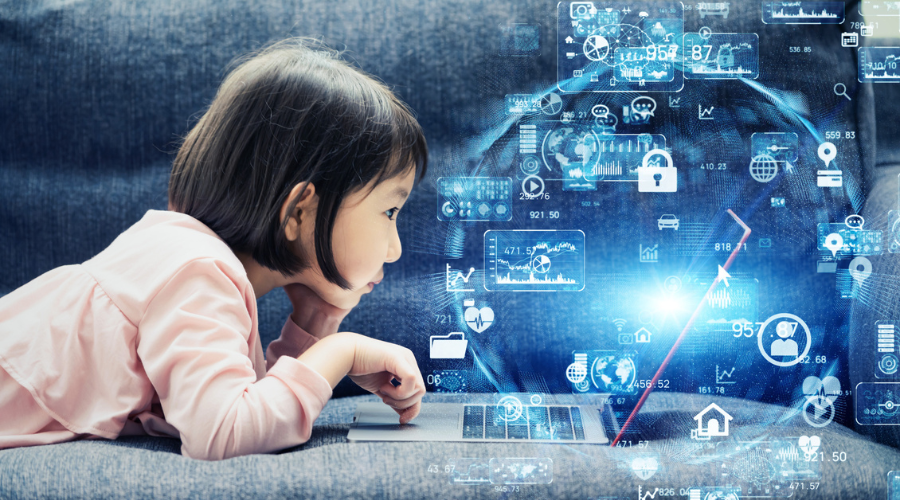 Digital Age: How Technologies Aid The Wellbeing of Children and Young People
July 27, 2023
Today, eLearning Inside welcomes contributing writer Neve Wilkinson. Neve is a content writer and outreach specialist at Solvid Digital. She specialises in travel, lifestyle and technology.
Access to a smartphone or the internet in a world now driven by digital technologies can significantly benefit children and young people. Digital interactions are almost indispensable in the modern world, especially since the Covid-19 pandemic introduced online learning.
Here are the ways that digital technologies, including smartphones and the internet, can offer opportunities and improve the developmental, emotional, physical and social well-being of children and young people.
Developmental Wellbeing
Children and young people who have access to digital technologies can benefit from a range of opportunities which will aid development. These opportunities include:
Learning important thinking, people, time management, organisation and problem-solving skills. This could be playing mobile games which require thought, or socialising safely online.
Having access to online learning platforms, such as Duolingo to learn a language, or BBC Bitesize, to learn Maths, English and Science.
Becoming exposed to different opinions and worldviews, rather than being sheltered by the beliefs of those around you.
Gaining the digital skills that a child will need later in life to complete everyday tasks, including work, homework, household administration or financial management.
Emotional Wellbeing
Children and young people, over time, can learn to manage their emotions to survive and flourish in difficult or unpleasant situations. These are the ways digital technologies can help:
Online hobbies or artistic tools can offer opportunities for creativity and self-expression.
Information about mindfulness-based activities such as meditation or yoga, which aid anxiety or offer a distraction, can be found online or monitored via mobile apps.
Social media groups, specifically those of particular interest, can allow children and young people to speak openly about something that interests them.The internet and social media can offer exposure to positive role models such as athletes or authors.
Digital technologies can offer opportunities to engage in enjoyable activities such as gaming on your smartphone, tablet or laptop.
Physical Wellbeing
Everyone needs to be able to exercise to feel healthy and happy. However, using digital technologies can also aid physical wellbeing in many ways, including:
Offering the opportunity to maintain a healthy balance between inactive (sitting down, staring at a screen) and active (going outside, doing exercise) behaviours.
Developing new physical skills by watching people online, for example, home workouts on YouTube.
Learning more about a sport or physical activity online, such as researching the rules.
Allowing those with disabilities more freedom by offering them access to supportive or assistive technologies such as reading pens.
Creating easy access to information about healthy lifestyle choices, such as learning the food groups.
Using the internet or social media to meet like-minded people and set up local sports groups such as a five-a-side football team.
Social Wellbeing
It is essential for social skills and development into adulthood that children and young people can participate safely and effectively in society and interact with everyone, from family members to those who are not personal friends. These are the ways digital technologies can help:
Allow a child or young person to build closer relationships with those who offer care and support, such as friends from school.
Offer opportunities to help and support others by guiding them on a homework task or inviting them to join your sports club.
Access to online communities of people with similar interests.
Having the ability to understand and get involved with those in other communities, and not just your bubble.
However, allowing children and young people to access the digital world also comes with concerns. It is crucial for a parent, guardian or professional to monitor who a child or young person is speaking to online to minimise the risks of bullying, grooming or being catfished.
It is also vital to know what websites and apps children and young people are accessing to avoid them being fed misinformation and biased political or religious views, and to ensure they are not filling in any information that could lead to them being hacked.
Finally, it's essential that a child or young person isn't ruining their self-esteem and confidence by comparing themselves to social media influencers or gaining unrealistic expectations of life and how bodies should or shouldn't look.
What's Next?
Virtual reality (VR) tools will commonly be used in classrooms to simulate particular objects, processes, or environments to learn from the curriculum.
VR creates an immersive environment that makes it easier to remember information and use knowledge in practice whilst being part of the metaverse.
Here are three ways children will learn through the power of VR:
In Science class, students will join an educational VR Frog Dissection virtual reality experience which allows them to dissect a simulated frog and examine the body without harming an animal.
In Geography class, students can wear VR headsets to explore any continent via Google Expeditions, which allows them to visit the Seven Wonders of the World, the Louvre Museum, the North Pole, South Africa, the Moon and Mars.
In History class, students can use VR technology as a time machine to understand different ears and observe significant world events. Thanks to a VR film produced by BBC Northern Ireland and Immersive VR Education, students can now join the aeroplane crew to find out how the Lancaster bomber's Berlin mission took place in 1943.
If you liked this article, we recommend Top Five Advantages of Mind Mapping. 
Featured image: metamorworks, iStock.