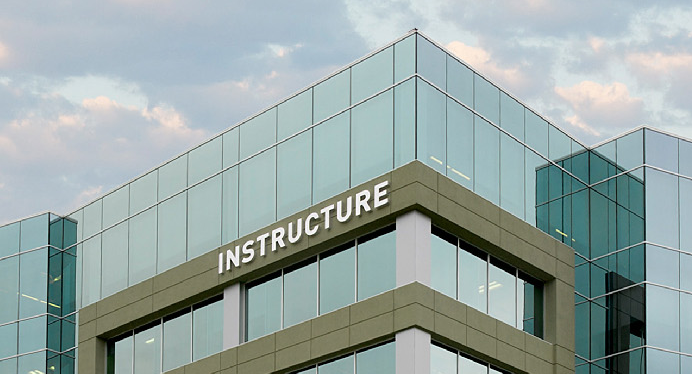 Instructure Reports Strong Second Quarter Performance
July 31, 2017
June saw many tech sector stocks go on a wild ride, which led some investors to speculate that the next big tech bubble may be imminent. Despite this volatility, in July, tech stocks generally rebounded with most major stocks recovering any losses reported in June. In this tumultuous climate, however, some tech companies appear to be offering higher levels of stability and greater promise for long-term gain than others. Among the safer bets is Instructure Inc. While by no means untouched by the market's recent volatility, as announced earlier today, Instructure, which has made a name for itself with products such as the Canvas learning management platform, continued to perform well in the second quarter and show signs that it has the ability to withstand any future market volatility.
Company Closes Second Quarter on a High

Instructure, a company known for several popular online learning products, including Canvas, Arc, and Bridge, reported a strong second-quarter performance. Despite taking a hit in mid June, Instructure Inc. stock recovered well and closed the second quarter up in value.
In Q2, revenues grew substantially. New customers and revenue retention both supported Instructure's growth. Q2 revenue even was higher than Instructure's predictions. Billings were up 35% year over year. The gross margin for the quarter was 72%, and while somewhat lower than desired, was not far off target.  Gap net losses were reported but were down from 2016.
Instructure Looks Ahead with Optimism
The third quarter is a large cash generating quarter for Instructure, since it focuses on providing products to colleges and universities. On this basis, the company is optimistic that its third quarter will outpace any gains made in the first and second quarters combined. As reported in a press release issued this afternoon, "For the third quarter ending September 30, 2017, Instructure expects revenue of approximately $40.2 million to $40.8 million, a non-GAAP net loss of ($9.4) million to ($8.8) million, and non-GAAP net loss per share of ($0.32) to ($0.30) per common share." The press release further stated, "For the full year ending December 31, 2017, Instructure expects revenue of approximately $152.9 million to $154.1 million, up from previously stated guidance of $150.7 million to $152.2 million, non-GAAP net loss of ($36.8) million to ($35.8) million, up from ($37.7) million to ($36.7) million, and non-GAAP net loss per share of ($1.26) to ($1.23) per common share, up from ($1.29) to ($1.26)."Instructure expects to achieve 38% year-over-year growth in 2017.  If this is true, the company will exceed most investors expectations and likely attract solid new investors moving forward.
Factors Driving Instructure's Strong Performance
Two factors appear to be fueling Instructure's future optimism at this time. First, Bridge, the company's learning management system, continues to grow, Most recently, it has been adopted by Atlanta Hartsfield-Jackson International Airport who will add the training platform to roll out training courses to over 11,000 employees.
Another major development is the global expansion of Canvas. Canvas has gained several new clients  in recent months, including in the Netherlands and Germany. One major gain was Erasmus University in Rotterdam, which is home to over 23,000 students. Canvas was also selected by a consortium of three universities serving approximately 50,000 students in the Philippines. Among other new developments, Instructure is bringing Arc, its video platform into greater dialogue with Canvas to further extend Canvas's ability to deliver materials across mediums. Finally, on the K-12 front, Instructure is rolling out Gage, a new assessment platform for teachers.
While Instructure continues to make headlines and attract new investors, it is not the only major player on the market. Coursera made headlines earlier this year when it announced that it has secured $64 million in a Series D round of funding. At the time of the June announcement, the company said that Coursera would use the funding to scale up its business in three areas: artificial intelligence development; the roll out of full online degrees; and training for nonprofits and businesses. In June, Coursera's value was nearing $800 million thanks to solid backing from several major investors, including GSV Asset Management, New Enterprise Associates (NEA), Kleiner Perkins Caufield Byers (KPCB) and Learn Capital.
For investors all signs suggest that eLearning companies, including Instructure Inc., increasingly offer a stable investment option with strong potential for long-term growth.