How to Make Your Startup Look Professional Right From the Start
January 06, 2021
It can be hard to get a startup off the ground. No matter how passionate you are about something, there can be potential clients who are looking for an established business or for entrepreneurs with more years of experience in a particular area. In order to cover this, you need to be able to get clients to create a track record of success. So it can be quite a tough catch-22 situation. So the question really is, how do you manage to convince clients and those in the industry that your business is a competent player in what it does, regardless of being new?
Even if you're starting something on a bootstrap from home, you can make your startup look professional right from the start, helping others to take you much more seriously. Here are some of the things that you can do to make sure that your business looks professional, and as a result, more competitive.
Build a Good Website
If you aren't online, then you are missing out on so many potential customers who will look things up online. Social media presence is a good idea too, but having a professional looking website, full of all of the important information about your business is what you will need in order to be a stellar first port of call for potential customers. Make sure that you have contact information for the business, and choose a domain name that is the business name or as close to it as possible.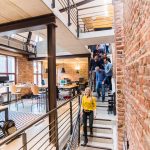 Get a Business Address and Phone Number
A lot of startups start from home and are built up over time. Even some well-established businesses don't have a formal office space. It can be easy to list the home address as the business address, but it can not only look unprofessional, but can be risky from a security point of view as well. One of the best things to do can be to pay for an address, through a site like PhysicalAddress. It is a real address, that can receive goods in and then forward them onto you, and can look better if a potential customer looks up where you are on a map. It will look much more like a professional business if the address is on a main street in a city or a business park, rather than being listed among homes and residential addresses.
Use Professional Tools
From designing a logo to sending an invoice, there are a number of things out there that can help you with your business, and help it to still look professional. Whether it be an invoice generator like Bloom, or social media scheduling programs like Hootsuite, there is an abundance of online tools that harness automation and take over the heavy lifting of administration.
As well to having tools in place to be professional, you should act professionally at all times too. You might have a relaxed and fun ethos for your startup, but when it comes to business deals, clients will want them to be taken seriously.
Featured Image: Per Lööv, Unsplash.