4 Tips to Maintain a Work/School/Life Balance
December 29, 2020
You've been working a full-time job for a while now and love spending as much time as you can with friends and family, as well as enjoying a number of hobbies and interests.
Recently, you decided to go back to school. While you're excited to pursue a degree that may help you advance in your career, you're also wondering how you'll be able to get everything done.
Fortunately, it's possible to achieve a work/school/life balance that will keep you on an even keel. Consider the following tips:
1. Consider Online School
Enrolling in a college or university program no longer necessarily means having to drive to a brick-and-mortar campus setting. Thanks to advances in technology, online classes are both popular and extremely convenient. For instance, if you're interested in a career in engineering, computers or IT, there are various online technology programs you can complete from home, allowing you to get the education you want from the comfort of your home.
2. Take Advantage of Your Chronotype
Some people are natural early birds, while others can burn the midnight oil with ease. This propensity to be more active during certain parts of the day is called a chronotype, and to balance your busy world as much as possible, it's a good idea to get to know and accept your own internal clock.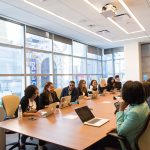 For instance, if you find you can power through tasks first thing in the morning, try to complete as much of your homework and anything else that requires concentration during this time. Say you're a night owl. If that's the case, trying to switch your work hours to a swing or overnight shift may be your best bet to help you accomplish everything.
3. Prioritize Your To-Do List
Another way to keep work, school and home life in balance is to remind yourself that not all your to-dos are created equal. As you create your daily or weekly to-do list, put the tasks with higher importance at the top; this could include your school assignment that's due in a few days, as well as your project for work. Other things you would like to get done but which are not urgent, like cleaning out your pantry, can be added near the bottom of your list. Additionally, always be on the lookout for tasks you can automate, like paying your bills online.
4. Take Care of Yourself
No matter how much you're trying to juggle, know that your mental health and physical well-being should be top priority. Of course, it will be difficult to get anything done if you have a bad cold or are dealing with depression and/or anxiety. Set aside time for annual checkups, and if you need to see a therapist to talk it out, by all means, do so. Additionally, make sure you set aside time for enough sleep, exercise and, if you find it helpful, meditation or yoga.
C'mon Now, You Can Do This!
You're excelling at work and have never been closer to your family and friends — and now might be a great time to take the next big step in life: pursuing higher learning. By looking into online degree programs, knocking out tasks and responsibilities when you're most active, and focusing on your health and well-being, you'll be well on your way to a better work/school/life balance.
Featured Image: Joppe Spaa, Unsplash.