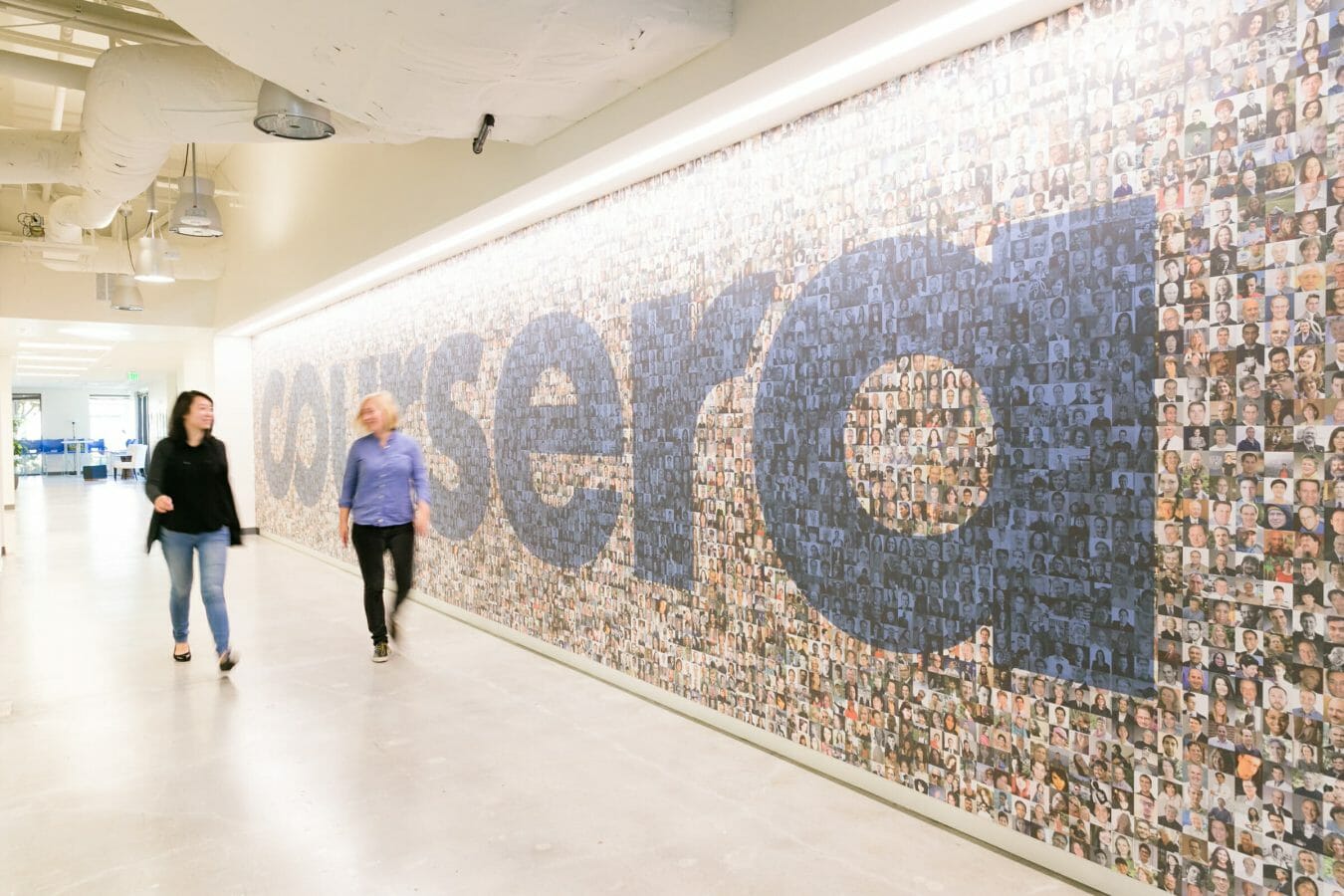 Coursera for Business Announces 100% YoY Growth
December 10, 2019
Another MOOC provider has found the business training sector provides a more reliable customer base than academic students. On December 10, Coursera announced its enterprise training business has witnessed 100% year-over-year growth and now stands as the company's largest customer share.
In 2019, Coursera signed or renewed deals with Adobe, Mastercard, Southwest Airlines, and the NYC Department of Small Business Services, among others. Over the company's history, they have partnered with over 2,000 businesses to deliver employee training, 60 of which are among the Fortune 500.
Coursera's Success in Business Training
These statements stand in some contrast to where Coursera and the MOOC-verse at large was situated seven years ago. In 2012, co-founders and Stanford Professors Daphne Koller and Andrew Ng told Fast Company's Anya Kamenetz that their goal was "to teach millions of people around the world for free, while also transforming how top universities teach."
That vision, unlike those espoused by some other original MOOC providers, has been realized. Coursera continues to partner with universities and professors to offer massive open online courses. What's more, students can still audit the courses for free—although they need to pay for additional features or services.
But to power this engine, Coursera for Business has begun to provide fuel.
In 2018, Forbes estimated Coursera brought in $140 million in gross revenue. As a private company, exact details regarding the company's profitability remain a mystery.
But Coursera never made too many ideological bones about using MOOCs to earn. They launched as a for-profit from the get-go and quickly snapped up millions in venture capital funding. To date, they have taken in $313.1 million, according to Crunchbase, over nine rounds. The latest—a Series E—was announced in April of this year and tipped the company firmly into unicorn status with a valuation "well over" $1 billion, according to TechCrunch.
How Do Other Original MOOC Providers Compare?
This arrangement has allowed Coursera to become the largest MOOC provider in terms of users. According to ClassCentral's 2018 MOOC Report, 37 million learners had registered. edX stood in second place with 18 million.
As ClassCentral founder Dhawal Shah wrote in June, "MOOCs were born without a business model." It appears that, through the balance of academic and enterprise offerings, and thanks to the success of Coursera for Business, the company has found a level of sustainability and profitability that some of its competitors haven't.
Udacity, launched by Stanford Professor Sebastian Thrun, arrived at unicorn status before Coursera. But in the past year, they've undergone massive layoffs, restructuring, and leadership change. In 2018, while Coursera took in an estimated $140 million, Udacity earned an estimated $90 million.
edX, a non-profit, doesn't make for the best apples-to-apples comparison. In their FY 2017 990 (ending in June of 2018), they reported just under $60 million in revenue.
Looking into the future, the forecast appears sunny for Coursera, thanks largely to Coursera for Business.
"Companies pursuing digital transformation must take responsibility for training employees in digital and technical skills. This mandate isn't unique to any industry or enterprise. To compete in the changing economy, all must take action," said Coursera's Chief Enterprise Officer Leah Belsky, in a statement. "We are thrilled that our rapidly expanding customer base in North America reflects just that — a diverse network of companies ranging from small businesses to the Fortune 500, spanning several verticals including telecom, technology, and financial services."
Featured image made available by Coursera.