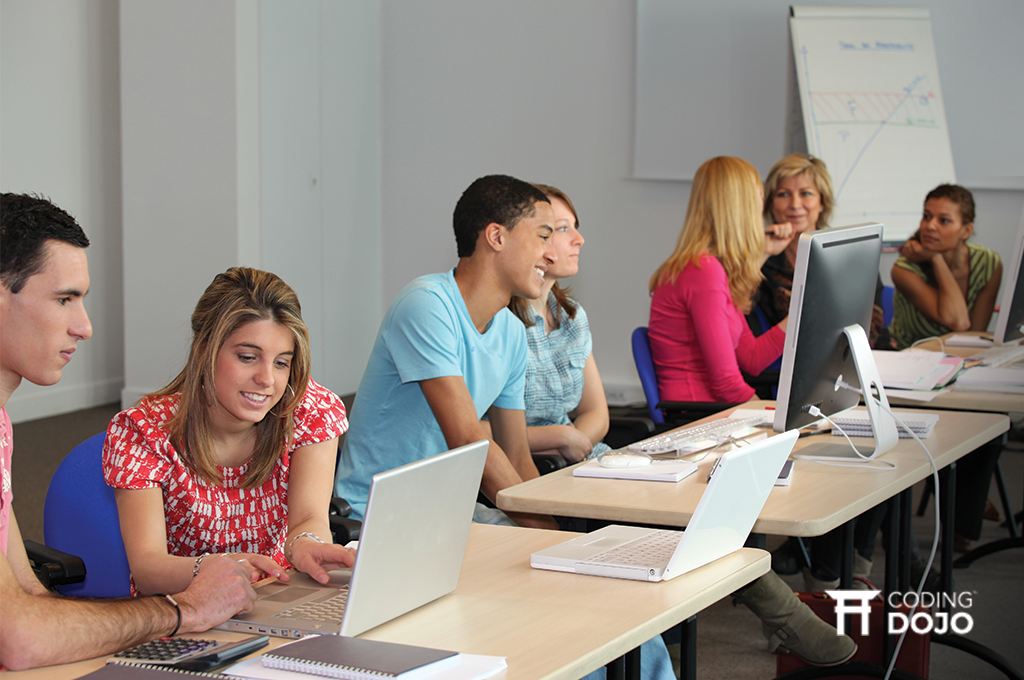 Coding Dojo Releases Report on Top Coding Languages Sought by the 25 Biggest Companies in the U.S.
January 10, 2018
Most folks are familiar with people of authority urging as many people as possible to learn to code. It can lead to a significant salary increase, and will likely ensure job security as many tasks become automated or irrelevant in the near future.
But what code should be learned, and why? In answer, Coding Dojo has surveyed the needs of the 25 biggest American companies (as represented on the Fortune 500) in order to fill in the picture with a little more detail. Their list represents where the skills gap is widest in each of these companies in terms of individual coding languages. Their full list is copied below.
JavaScript Is King
To begin, Coding Dojo found that each of the top 25 companies currently use several coding languages for products and services. This is, however, an assumption in part. No coders were needed at Berkshire Hathaway, General Motors, and Kroger when the survey was conducted. Of the companies actively seeking coders, knowledge with an average of four languages was required. Of all languages, JavaScript is the most widely used, followed by Java, Python, Ruby, and Perl in that order.
"Much like any tool or application, companies use different coding languages for different requirements; there's not a one-size-fits-all option," noted Coding Dojo Head of Curriculum Speros Misirlakis in a press release. "While specific jobs might focus on a particular language, this research shows that a single language could be a long term dead-end.  Aspiring and existing developers must learn coding's common building blocks and ultimately become fluent in multiple languages to have the adaptability and flexibility for a successful career."
While it didn't rank #1, Java is probably the most popular and useful to learn. All Android apps either use the server-side code or are based on it. The technology analyst firm IDC believes that 9 out of 10 Fortune 500 companies use it.
The Full Report
The following list shows the 25 biggest companies in the U.S. along with which coding languages they use:

To compile this list, Coding Dojo surveyed the job postings on Indeed.com among the top 25 companies of the Fortune 500 during the month of December 2017.
Learn to Code What?
Many people—both you and old—who are currently unsatisfied with their job have probably asked him or herself the same question at some point in the past few years: 'should I learn to code?" Politicians and industry leaders have certainly pushed computer science and coding language acquisition on their audiences with gusto.
In a trip to France last fall, Apple CEO Tim Cooke put the importance of computer language over human language: "If I were a French student and I were 10 years old, I think it would be more important for me to learn coding than English," Cook told the French outlet Konbini.
But many of these individuals do not know how to code themselves and may even be operating with their own agendas in mind. Other coding instructors, like Udacity, often partner with companies and tailor their courses for specific jobs.
The information provided by Coding Dojo marks an important step in informing future coders in what is needed and where they have a higher chance in succeeding. Learners are far more likely to find a job in which they thrive if they can choose a course of study that fits their aptitudes and interest, but also has serious demand in the workforce.