Both Kaplan and Dalton Claim Victory Over Trade Secrets Lawsuit Settlement
September 03, 2020
For over a year and a half, two test prep providers have been battling over the alleged misappropriation of trade secrets. Kaplan is a large, multinational education services provider with thousands of employees. Dalton Education is, by comparison, a small business with a few dozen workers. Both compete directly in the Certified Financial Planner exam certification education market. Judge James Peterson of the U.S. District Court for the Western District of Wisconsin handed down a summary judgment on September 1. The two parties agreed to settle as a result.
On September 2, Kaplan North America (a division of Kaplan) published a press release announcing the resolution. Dalton countered with its own press release the following day.
"Our goal was to prevent Dalton and our former employees from using Kaplan's confidential information to unfairly compete in the market," said Kaplan North America General Counsel David Adams, in an email. "After attempting to resolve the matter amicably, Kaplan was forced to bring its action in order to protect its intellectual property rights. We are satisfied with the results."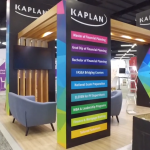 But over the phone, Dalton co-founder and President Joe Gillice contested these claims. "We believe that Kaplan used this [lawsuit] as a competitive club in the marketplace to try to tarnish our reputation because they're losing market share to us," Gillice said.
Kaplan countered saying that Dalton did not delete the documents it obtained until the suit had been filed.
The settlement requires that Dalton no longer use Kaplan documents it once possessed. A former Kaplan employee who currently works at Dalton is also bound under penalty of perjury to assure that he no longer possesses or uses Kaplan documents.
Over the course of the proceedings, Kaplan had sought a noncompete agreement for its employees and an undisclosed amount in damages (the amount was described by Dalton as 'substantial'). Judge Peterson dismissed these claims.
The reporting of this story is based on court documents and interviews with the two companies.
How Kaplan Brought Dalton to Court Over Trade Secrets
Kaplan provides a range of online and in-person education and test prep services across fields and exams. Dalton, meanwhile, focuses specifically on the field of finance. Its Certified Financial Planner exam prep services mark its flagship offerings. It directly competes with Kaplan on this exam and the two regularly rank among the top test prep providers. In addition, Dalton had been developing a Certified Financial Analyst exam services offering, a product that Kaplan also offers. Dalton's CFA product is not currently available on the market.
Dalton vs Kaplan from CFP
Despite the similarity in offerings, the two companies differ significantly in size. Dalton, a subsidiary of Cerifi, currently employs roughly 35 people. Kaplan Inc., meanwhile, is a large multinational organization owned by Graham Holdings. Worldwide, Kaplan employs 6,100 full-time employees and approximately 5,800 part-time workers, according to Graham Holdings' 2019 annual report. In total, Kaplan reported revenue of $1.45 billion in 2019. Kaplan Professional, the division that administers its CFP and CFA services and which operates exclusively in the U.S., earned $144.8 million in 2019.
Over the years, a handful of employees decided to leave Kaplan to work at Dalton. But in 2019, four in particular made the switch. Two of these employees accessed certain Kaplan documents before going to work for Dalton. While at Kaplan, another executive shared an assessment of Kaplan's CFA performance before leaving to join Dalton a few months later. This employee contends that he shared this information by mistake.
In June 2019, Kaplan brought the lawsuit against Dalton, initially charging them with obtaining nine different documents that constituted trade secrets.
"At the time, Dalton was unaware of the the range of the conduct that was alleged," said Dalton Counsel Matthew Walch. "The complaint was filed with no real notice to us."
Walch contends that Dalton immediately sought to reach an understanding and compromise without going to court. Kaplan declined and filed an injunctive motion to stop Dalton from pursuing various business practices. "We won that motion," Walch said. Dalton launched its own investigation into the actions of its employees. Later that summer, the company decided to terminate three recent Kaplan hires who had brought Kaplan documents with them. Dalton also deleted all Kaplan documents it had.
Kaplan General Counsel David Adams has a different memory of these events. "Kaplan is not in the habit of bringing lawsuits, but will not hesitate to do so to protect our intellectual property and stop illegal competition," Adams said. "We attempted to resolve this matter without a lawsuit however Dalton refused. So we brought the action to protect our rights and assets. Only after the lawsuit was filed did Dalton take the necessary steps of firing three of its employees and removing Kaplan's information from its systems.
Over the following year, Kaplan pursued claims, noncompete agreements, and damages from Dalton.
What Was Shared? And What Constituted Trade Secrets?
In August, Judge Peterson delivered an opinion that dismissed the majority of Kaplan's claims against Dalton. Of the six documents in question exchanged between Kaplan employees and Dalton, four were found not to constitute trade secrets.
The other two were a sales variance report and a spreadsheet titled "All Market Data." The former included historical revenue information of 25 Kaplan clients. Dalton President Joe Gillice received this information in an email. But, as Judge Peterson determined, "neither side cites any evidence that Dalton ever relied on the figures from the 2018 report for any reason, or that Dalton otherwise benefited from the information." Kaplan did not explain how Dalton used or benefited from the information so, the company, "isn't entitled to damages for any misappropriation of the report."
Then, in January 2019, while Kaplan Vice President of Global Business Development Mark Sheehan was still working for Kaplan, he forwarded an email chain to James Dalton. James Dalton serves as the CEO of Money Education. Both Money Education and Dalton Education are owned by Cerifi, a general provider of training and certifications in financial services.
Robert w. Kastenmeier U.S. Courthouse in Madison, Wisconsin.
This email chain contained two spreadsheets titled "ALL Market Data" that totaled 2,000 pages. They constituted an evaluation of Kaplan's three-year performance in the CFA industry. At the time, Dalton was developing a CFA product.
However, Sheehan told the U.S. District Court that he had meant to send the email to a different colleague at Kaplan named James. James Dalton was a longtime friend of his, and he sent it to him by mistake, Sheehan contends. James Dalton himself once worked for Kaplan.
Sheehan then left Kaplan for a position at Dalton in June of 2019. As Judge Peterson's opinion reads, "James Dalton deleted the email with spreadsheets attached on July 1, 2019, shortly after Kaplan informed Sheehan that it was aware of the email. James Dalton says that he doesn't remember receiving the email, that he never shared the email or discussed it, that he never used the information, and that he deleted the email without opening it."
As Kaplan General Counsel David Adams contends, "Dalton did not delete the documents independent of the lawsuit. Dalton acted only after Kaplan brought the lawsuit and spent considerable effort to discover that former Kaplan employees had shared the information with Dalton – including one ("All Market Data") that contained 147,000 separate rows of sensitive and confidential information."
"When Kaplan uncovered this information we acted quickly to protect our intellectual property," Adams continued. "We believe this quick action is what prevented damage to Kaplan. Only after Dalton agreed to remove all Kaplan documents from its systems and conducted a significant forensic analysis and remediation to show that would not use the Kaplan trade secret information did Kaplan agree to settle its action."
But court documents show the processes related above were concluded by the summer of 2019. The lawsuit continued over the next year.
"This was a total waste of time and effort," Gillice said. "We repeatedly told Kaplan, 'Look, we don't need to have a trial, because there's nothing to try. We don't have the documents. We're not using them.'"
A Good Many Employees Do Leave Kaplan to Work for Dalton
By scanning LinkedIn profiles, one can see that a good many Kaplan employees have left Kaplan to work at Dalton (considering the size of Dalton's staff). When asked about if this might indicate that Dalton was actively recruiting employees to gain company insight, Kaplan General Counsel David Adams responded writing, "I would prefer not to speculate."
But Gillice was happy to do so. "Without a doubt, we do not recruit from Kaplan," he said. According to Gillice, he and his team had met a few Kaplan employees at conferences here and there. About five years ago, two Kaplan employees reached out to Dalton to inquire about working there. Dalton interviewed and hired both. Both lived and worked in La Crosse, Wisconsin, where Kaplan Professional maintains an office.
"La Crosse is a small, tight-knit community," Gillice said. "These two employees still had friends at Kaplan. So at parties and kids sporting events, they would be talking about work. The two folks that came to work for us would share how much they're enjoying working at Dalton and the culture we have here. And it was just very organic that we started to receive more phone calls from current Kaplan employees."
"We also believe that Kaplan used this litigation to stop their employees from reaching out to us for employment opportunities," Gillice continued. "We just want to focus on competing in the marketplace, which we think Kaplan should have done a long time ago."
Featured Image: Tingey Injury Law Firm, Unsplash.