Biden on EdTech: How Does the President's DoE Pick View Education Technology?
January 20, 2021
Today, on Wednesday 20, former Vice President Joe Biden will take the oath of office and be sworn in as the 46th President of the United States. Within weeks, if not days, Connecticut Education Commissioner Dr. Miguel Cardona (pictured below) will be brought before the Senate to be confirmed as Secretary of Education. What views have Cardona and Biden on edtech?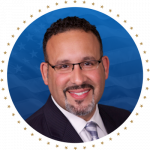 Based on Cardona's track record, there is some—but not much—insight to glean. The grandson of migrants from Puerto Rico, Cardona's first language was Spanish. He began to improve his English in Kindergarten. He grew up in public housing in Meridien, Connecticut, and attended district schools. After earning a bachelor's of science in education from Central Connecticut State University, he went to work as a 4th grade teacher at Meridien's Israel Putnam Elementary School. After six years, during which Cardona earned a Master's degree in bilingual and bicultural education from the University of Connecticut, he was promoted to principal of the school and held the post for another ten years. He has since attained a doctorate of education as well.
Cardona took the post of assistant superintendent of teaching and learning in Meridien from 2015 to 2019 and also served as an adjunct at UCONN. He was appointed to be the Connecticut Commissioner of Education in August 2019 by Governor Ned Lamont.
Most of what might be gleaned regarding Biden on edtech and Cardona's appointment come from his time as Commissioner.
Biden on Edtech: As Commissioner, Cardona Led Sustained Efforts to Bridge the Digital Divide and Promote Equity Under Covid-19
At the helm of Connecticut's education system (ranked fifth in the U.S. for K-12), Commissioner Cardona served as a champion of public education and desegregation. But the majority of his tenure was taken up by the need to respond to the Covid-19 pandemic.
While Biden' was hoping to confirm his nominated cabinet in time for his inauguration, his cabinet members waited before the Senate. Biden's cabinet will be the most diverse in history with Miguel Cardona, Xavier Becerra, Pete Buttigieg, and Alejandro Mayorkas, among others. pic.twitter.com/UmVj714JKv

— Salsa The Vote (@SalsaTheVote) January 18, 2021
When Covid-19 broke out, roughly one quarter of Connecticut's public school students did not have access to a suitable learning device. In many communities, more than one third of students did not have high-speed internet at home. A combination of federal and philanthropic funding totaling $68 million allowed the state to close that gap. Governor Lamont's administration, with Cardona heading education, laid claim to being the first state in the U.S. to close the digital divide.
Walking a Line in Keeping Schools Open
During Covid-19, Cardona has made it his mission to keep schools teaching students. He has resisted calls from teacher's unions to close schools and demands from others that in-class persons continue. Roughly one-third of Connecticut public students can currently attend class in-person. According to other statements made by Biden on edtech, this mirrors the goals of the incoming administration.
Besides this work, Cardona has also been a champion of desegregation and diversity in schools. He has a measured track record on charter schools. During his career he neither canceled a charter nor was asked to confirm any new ones.
While this is the extent of Cardona's experience with education technology, others have high hopes when it comes to Biden on edtech. In December, a group of edtech developers sent a letter to the incoming Biden administration offering congratulations and a few points of guidance. Signatories included representatives from Instructure, Nearpod, Zoom, Unicon, and Concentric Sky.
Featured Image: Lauren Bryan, Unsplash.