We Need to Address the Digital Divide for Higher Ed Students
August 26, 2020
Our country's digital divide has been an ongoing hurdle, affecting the 21 million Americans who don't have access to broadband internet. Since the onset of the coronavirus, the need for reliable, affordable internet access across the nation has been brought to the forefront. With more than 119,000 Western Governors University higher ed students enrolled in the online university, more and more of these individuals have found that their educational success requires their household to meet a certain digital threshold.
Higher Ed Students On the Wrong Side of the Digital Divide Have their Work Cut Out for Them
With more than 50% of U.S. employees now working remotely, students who are also full-time workers are finding themselves not only requiring reliable internet access to complete their coursework and studies, but to remain employed and financially secure. Additionally, many people who have lost their jobs due to the pandemic, equating to nearly 40 million Americans, are now seeking ways to return to school to broaden their opportunities or begin a new career path. However, the loss of income sources adds an additional layer of difficulty to affording broadband internet, which is required for online learners.
In fact, 44% of American households nationwide with income under $30,000 don't have access to reliable internet services  and 46% don't have a traditional computer. Our country's digital divide is especially evident in rural areas, where 58% of rural Americans view the lack of high speed internet as a problem. This often stems from the fact that rural areas are less likely to be wired for broadband services, therefore resulting in slower internet speeds.
As @Pulsipher_WGU writes, "Talent is universal. Access to the internet is not." These days, "online" isn't just a flavor of education, it's all that's on the menu. In this new COVID world, the digital divide is simply unacceptable. https://t.co/nwfZX8GG58

— Alana Dunagan (@alanadunaganed) June 8, 2020
All things considered, the digital divide crisis will undoubtedly affect our country's future workforce if equal access to reliable internet isn't addressed. Now is the time for leaders and communities to work together to invest in a digital infrastructure to benefit all students that are pursuing an education online.
The Importance of Devices and Internet
In response to this ongoing crisis, Western Governors University is granting high-speed internet access and providing laptops to students who need and can't afford them through its Online Access Scholarship program. The university has seen firsthand how improving the quality of, and access to, education increases opportunity for those who are pursuing higher ed degrees.
Just in these past six months, our eyes have truly been opened to the fact that all industries, but especially higher education institutions, must be prepared to adjust quickly and provide the needed support to our evolving digital workforce and student landscape. I'm urging my fellow higher ed leaders to speak up for the need to increase access to broadband internet and to support organizations like EveryoneOn, who connect low-income families to affordable internet services. WGU believes that addressing the equity of internet access is one step toward increasing higher education and career opportunities and creating positive change for students nationwide.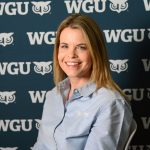 Alison Bell has more than 20 years of higher education leadership experience and is the Regional Vice President of Western Governors University, a nonprofit, online university offering 60+ degrees in the four colleges of business, teaching, I.T. and health/nursing. WGU now serves more than 121,000 students nationwide and has more than 186,000 graduates in all 50 states.
Featured Image: Caleb Minear, Unsplash.