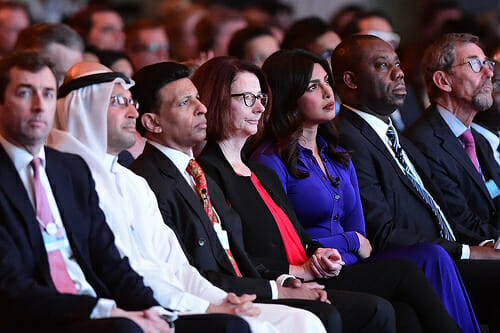 Line Up Announced for the 2019 Global Education & Skills Forum in Dubai
March 06, 2019
This year's Global Education & Skills Forum, an annual event hosted by the Varkey Foundation, will unfold in Dubai between March 24 to 26. Like last year's event, the 2019 forum will bring together a series of high-profile speakers, educators, edtech entrepreneurs, and government officials from around the world.
Edtech Events
The Global Education & Skills Forum focuses on three key areas: classroom practice, edupolicy, and learning science. As a result, the forum includes talks by educators on best practices in the field, debates on educational policy with government officials and experts, and demonstrations of innovative new educational technologies. This year's event will also include several talks, debates, and demonstrations focused specifically on edtech.
Hadi Partovi, the CEO and founder of Code.org, will deliver a talk on creativity. Partovi, the creator of the Hour of Code, will also explain why computer science is fundamental for all students. Hour of Code is one of the world's most broadly used curriculum platform for computer science in primary and secondary schools.
In addition, as part of the Next Billion EdTech Summit, which will run simultaneous to the forum, a panel featuring two African government officials from the Ministry of Education in Ghana–Amina Mohammed, Cabinet Security, and Matthew Opoku Prempeh–will discuss how edtech can enable access to education and promote social and learning impacts. The panel will be moderated by Kate Moskvitch, Business Editor for WIRED in the United Kingdom.
Another scheduled edetch event will focus on China's unique edtech ecosystem. The panel will pay specific attention to how artificial intelligence is becoming ubiquitous in China and currently driving the nation's rapidly expanding edtech market.
Prizes and Competitions
A highlight of the Global Education & Skills Forum is always the announcement of the Varkey Foundation's Global Teacher Prize. Each year, the Varkey Foundation presents $1 million to a teacher who has made a tremendous different in the lives of his or her students. This year's contenders include ten educators from around the world, including one from the United States.
Melissa Salguero, who will also give a talk at Global Education & Skills Forum, teaches at Public School 48, Joseph R. Drake Elementary School, located in New York's South Bronx neighbourhood where many students are at risk of dropping out. Over 59% of children in Hunts Point live in poverty, and at Salguero's school, approximately 20% of the students are homeless. When Salguero was hired to teach music at PS 48, she found an institution with few resources, but she wasn't deterred. She entered contests, wrote grant applications, and eventually raised enough money to start the school's first band program. Even after her school was broken into and the band instruments were stolen, she persisted and raised money to rebuild her program (see, for example, her appearance on Ellen). Now Ms. Salguero is taking her campaign to the Global Education & Skills Forum in Dubai.
As previously reported on eLearning Inside, this year's Global Education & Skills Forum will also include another prize: the second-annual Next Billion EdTech Prize. This new prize awards cutting-edge startups with a mandate to serve low income students and students from emerging economies. Finalists are chosen by a jury of VCs, other investors, edtech researchers, and policymakers. The three winners of this year's prize will be announced after making a series of pitches over the course of the forum and each winner will take home $25,000.
To learn more about the Global Education & Skills Forum or to register for the event, visit the conference website.
Image courtesy of the Global Education & Skills Forum.