How eLearning Can Create a Sport Champion
April 24, 2017
Julius Yego is the ruling javelin world champion. He was also a silver medalist at the Rio 2016 Olympics. Yego is from a small village in Kenya. He was keen to learn javelin when he was young but could not find anyone to teach him. There were no expert coaches or sports club that could help realize his dream. But he did not give up.
Instead, Yego visited a cyber café and watched videos of great javelin players like Andreas Thorkildsen and Jan Zelezny. That is where he learned how to throw a javelin. Today, ee is known as the "You-Tube man" in the sports world. While his story may sound unique, with the boom in online learning, training online may become a trend.
According to Thumbtack, the national average for a tennis lesson is almost $45 per hour. TennisConsult.com says that parents would need to shell out anywhere between $100,000 to $150,000 for a minimum of ten years for their children to learn to play well enough to secure a scholarship in college. If they fail to get a scholarship, then more money will need to be poured into private lessons.  This is where eLearning comes in.
How Can eLearning Help?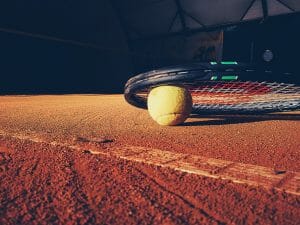 Online tennis coaching can slash one's development cost. Instead of paying $45 per hour, you may pay a mere $200 per course. Of course, one will still need to practice on an actual tennis court from time to time, but the point is clear: acquiring tips from top players may be possible online at a low cost or for free.
Many people believe there is no alternative to one-on-one personal training. But what if you could get online coaching from Federer's coach, Ivan Ljubicic?
The top four reasons why eLearning can make a different in how people train are.
Access to expert coaches: Not everybody has access to expert coaching due to monetary and location factors. As a result, sports enthusiasts either give up on their dreams of training or make do with average coaches. Imagine what would happen if every enthusiast had the opportunity of being trained by experts regardless of where they are located or their income.
Self-paced learning: Traditional coaching usually keeps pace with the fastest learner, especially in a group training scenario. As a result, athletes who are not as fast as the top performers are forced to progress to the next level even when they are not ready. Eventually, these athletes fail to make the mark as they had to rush their basic training. This may not be due to their lack of talent. With online instructional videos, all athletes can learn at their pace. They can take as much time as required to master each step before moving on to the next one.
More free time for the coach: Since athletes learn on their own, their coaches can concentrate on other important tasks like strategizing, fine-tuning individual skills, boosting team bonding, and so on.
Prevent injury: It is not always possible to prevent injury. But it is possible to decrease the probability of injuries with education. Online learning content can educate young athletes on the various injuries that can happen during practice and play. For example, many videos talk about  injuries, how they can occur, how to prevent them, what their symptoms are, and how to deal with them. In fact, there are several instructional videos that provide live examples and demonstration that may not be possible in the real-world without considerable risks.
eLearning is here for good. It's only a matter of time that it revolutionizes the sports training world. While there is no question that athletes will continue to train on the ground, acquiring tips form top coaches is now just a bit more accessible. For athletes like Kenyan javelin champion Julius Yego, online learning has clearly already made a world of difference.