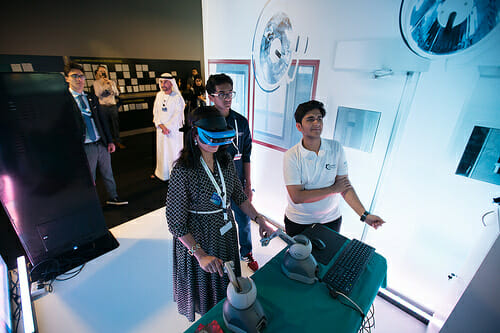 Next Billion EdTech Prize Announces 2019 Contenders
February 28, 2019
In March, the Varkey Foundation, the philanthropic arm of Sunny Varkey's GEMS Education, will announce the winner of the 2019 Next Billion EdTech Prize. The Varkey Foundation has a broad mandate to ensure that every children everyone can access outstanding education with great teachers. The Varkey Foundation pursues their mandate with multiple initiatives the training, research, and development fields.
Next Billion EdTech Prize
The Next Billion EdTech Prize launched in March 2018. At the time of the new prize's launch, Varkey emphasized that the prize, like his existing Global Teacher Prize, is designed to award and support innovation in education.
As Varkey told Thomson Reuters last March, "Over a billion young people – a number growing every day – are being denied what should be the birthright of every single child in the 21st century, no matter where they live: a good education that allows them to make the most of their God-given talents.
"We have launched the 'Next Billion Prize' to highlight technology's potential to tackle the problems that have proven too difficult for successive generations of politicians to solve."
Varkey's new prize seeks to award cutting edge edtech start ups with a mandate to serve low income students and students living in emerging economies. Finalists are selected by a jury that includes experts in edtech, VPs, and other officials. A smaller group of six finalists are then invited to give a pitch to a group of judges and a live audience at the Global Education and Skills Forum, which takes place each March in Dubai.
In 2018, Chatterbox, an online language school, won the Next Billion EdTech Prize. Chatterbox helps refugees around the world find meaningful and well compensated work by leveraging their language skills. As stated on the Chatterbox website, "We train and employ displaced people to teach their native languages in the booming online and in-person language learning industry." Notably, Mursal Hedayat was inspired to found her company for a very personal reason. When she arrived in the United Kingdom as a refugee with her mother–an engineer who spoke four languages–she watched her mother struggle to find work that matched her depth of knowledge and experience. Chatterbox was built to help people like her mother put their talents to work and make a living wage, even after being forced to flee their homes.
This Year's Finalists
In mid-February, the Varkey Foundation announced its first round of finalists for the 2019 Next Billion EdTech Prize.
Among the global finalists competing for this year's prize are four startups from India. In many respects, India's presence on the list is not a surprise. As recently reported on eLearning Inside, India is now home to one of the largest and fastest growing edtech scenes in the world. Among the Indian startups vying for this year's Next Billion EdTech Prize are AugLi, Aveti Learning, Utter, and Dost.
African edtech startups are also well represented among this year's finalists. Some of the finalists are startups that have already gained considerable attention, such as M-Shule from Kenya. But the list also includes many newcomers, including Etudesk from Cote D' Ivoire and Mtabe and Ubongo from Tanzania.
The founders of 30 startups have been invited to give their pitches at the Global Education and Skills Forum in Dubai, which will take place from March 22 to 24. In the end, only six founders will be invited to give final pitches but this year, half of those companies will take home a $25,000 prize.
To learn more about the Next Billion EdTech Prize, visit the Global Education and Skills Forum site.
Image courtesy of the Global Education and Skills Forum.