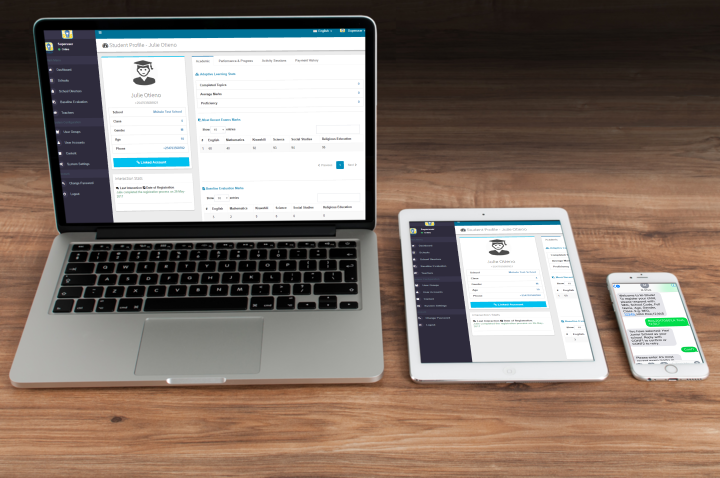 Kenyan EdTech Startup M-Shule Troubleshoots Digital Divide
February 19, 2018
In late January, the Nairobi-based online learning platform M-Shule received a welcome endorsement when it clinched a runner-up spot at the Global EdTech Startup Awards. One of 15 finalists, M-Shule's endorsement was based on the startup's innovative approach to bridging the digital divide in Africa. Relying on  artificial intelligence (AI) and SMS, M-Shule has a mandate to deliver personalized and accessible learning to elementary school students throughout Africa.
M-Shule's History and Mandate
M-Shule describes itself as "the first adaptive, mobile learning management platform designed to improve performance for millions of primary school students across Kenya and Sub-Saharan Africa." According to Crunchbase, "M-Shule is piloting in 2017 across 50+ primary schools in Nairobi, Kenya that teach more than 12,000 students. From there M-Shule will scale to impact millions of children and learning communities around the African continent and the world." As stated on the M-Shule website, the platform is dedicated to involving "the whole learning community in accelerating a child's progress," and this includes everyone from students to parents to teachers to the broader school community. Specifically, M-Shule delivers personalized lesson to students via SMS; analyzes student progress and performance; and shares analytics, insights, and reports with students' school.
In addition to M-Shule's recent endorsement, the startup has attracted support from several other organizations. In July 2017, M-Shule received an undisclosed amount of startup funding from Engineers Without Borders Canada and in November 2017, M-Shule won the Kenya round of Seedstars World competition. It was selected to represent Kenya at the Seedstars Summit in Switzerland where the company will compete for USD $1 million in equity investment and other prizes in April 2018. An announcement on Seedstar Summits' website said that in addition to being invited to compete for future funding in 2018, M-Shule had also been granted a 6-month free membership to the Nairobi Garage as part of its prize.
Notably, in addition to its mandate to bring competency-based mobile learning to students across Africa, M-Shule stands out as a female founded and led ed-tech company. The company was started by Claire Mongeau, a 2011 Georgetown University graduate, in 2016. Mongeau created her company after brief stints with Bridge International Academies in Kenya, Design for Change USA and Rapid7 in Boston, and IDEX Accelerator in the Hyderabad Area of India.
Founder Welcomes Endorsement from the Global Edtech Startup Awards
In late January, following the Global EdTech Startup Awards, Mongeau told Ventureburn, "We were honoured to win first runner-up in the GES Awards last night and promote African edtech to the world! Only 10% of schools in developing countries currently have an internet connection. We need to be more creative and more innovative in connecting them to powerful learning tools and M-Shule wants to be that platform for students across the entire African continent. I think that's what the judges and the audience appreciated about our idea."
While M-Shule is clearly a new startup with a lot of future growth ahead, Mongeau appears optimistic about the company's prospects. As she recently told How We Made It In Africa, the process of starting her company has already been a huge learning experience: "We had initially made some assumptions about an average users' baseline comfort level with certain different phone functions – but in going through the pilot, we realized our assumptions were incorrect. It really drove home the need to do both user experience surveys and observations, to make sure that our customers have the easiest experience possible." However, Mongeau also already appears to have a clear line of sight on her company's next steps: "Right now we focus just on English and maths, and during a feedback session at a school one student raised her hand and asked, 'When are you going to have science?' It turns out that she wants to become a gynaecologist to help the women in her community, and wanted more science practice to build her skills. The opportunity to help students like her achieve her dreams is really amazing."