How to Achieve the Qualities of a Great Nurse
November 04, 2020
Nursing is a difficult job, and there aren't many who would disagree with that assessment. Yet, although it is so demanding, it is also one of the most rewarding and fulfilling careers you can find, which is why so many people strive to be good at it.
It all starts when you pick your college or online course, and the hard work never stops. But since nursing is a calling for many people, this is something they expect and are happy to do. They know they are making a massive difference in people's lives, and they are willing to do what it takes.
The very best nurses have specific qualities that make them great at what they do, and those same qualities will make the hard work seem a little less daunting. So what is it that a great nurse needs to be like, and what personality traits should they have? Read on to find out.
Upskilling to Achieve the Qualities of a Great Nurse: Be a Hard Worker
Of course, you might expect that the very best nurses, the ones who might be termed 'great,' are the ones who are willing to do as much as they can to help others. The most hard-working people are the ones who will always go the extra mile even when they are already busy. They will do with not just because it's their job but because they want to do it, and they know what they do is going to make a positive contribution to someone's recovery.
You might not know whether you are a hard worker until you actually start nursing. Working at high school is one thing, and then going onto college will require additional hard work. Yet nurses will do more than this; you might even decide to take on an extra challenge and look into accelerated nursing programs so you can reach your goal much faster. Once you are qualified and you're finally able to help patients, this might be the first time you understand what hard work really is, but a dedicated nurse will take on the challenge and do what needs to be done.
High Standards of Professionalism
A good nurse will always be professional, but a great nurse will always strive to achieve the highest degree of professionalism they can. No matter what they are doing, whether it's changing a dressing, making a bed, helping in surgery, checking charts, washing a patient, or saving their life in the ER, that level of professionalism will never waver. It will make no difference to them what task they are completing; everything needs to be done to the very best of their ability.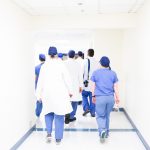 This can be hard sometimes. Nurses will get tired, just like anyone else, and they will become irritable, and they will have bad days. They will have to work when the patient is unpleasant or when they aren't getting along with their team. They will have to work even if they are feeling great and just want to go home and be with their family. Through all of this and much more, they will continue doing more than they need to in order to help their patients feel as comfortable as possible and heal quickly.
Absolute Diligence
Nurses are, as we know, incredibly hard working. This means they also have to be absolutely diligent too. Working in this manner is what will determine who is a good nurse and who is a great nurse – and there really can be a big gulf between the two standards.
Nurses must be aware of everything happening that they are responsible for (and even some things they are not responsible for; a nurse will not act to help just because it's not their patient, for example), which could be a large number of patients and procedures. Despite how much information must be retained and how many people are in their care, a great nurse will always be alert to what needs to be done.
Exceptional Communication Skills
Picking the most important personality trait of a great nurse is not an easy task, but communication has to be at least near the top of the list. Excellent communication skills are necessary if you want to be a great nurse. They're required even if you want to be a nurse who does the bare minimum of work. The difference is that if you are a great nurse and an excellent communicator, you will be promoted in your profession and work at a higher level with more responsibility more quickly. A nurse who does less work won't see this happen.
The key to excellent communication skills as a nurse is that there will be a wide range of different people to communicate with, and they must all be met with the same level of professionalism and courteous behavior. A nurse is the main liaison between medical staff and the everyday person who doesn't know anything about medical procedures. Therefore it is the nurse's duty to 'translate' the medical jargon into something more understandable, explaining to the patient and their family what their condition is and how it is expected to be treated.
Nurses must also know how to comfort patients (and their loved ones) and to help them emotionally. This again will require impressive communication skills, as well as being able to explain symptoms to the doctor who may need additional information and work with surgeons in the OR. Nurses must be able to communicate on a variety of different levels and with all kinds of different people so that everyone around them understands what is happening.
Interpersonal Skills
Linked to having excellent communication skills, but a little different is interpersonal skills, and great nurses need to have them both to do their job as well as they can. Nurses will need to be able to work with anyone and everyone and still give the same great quality care to their patients and still be relied upon by the doctors and other nurses.
It isn't easy to master interpersonal skills, especially if you are shy or introverted, but being able to be empathetic with your patients and have compassion is a good start. This is often enough, as patients will just need someone to hold their hand (perhaps literally) as they go through their treatment. As time goes on, though, you can become a great nurse by gaining more interpersonal skills.
Featured Image: National Cancer Institute, Unsplash.