How COVID-19 Is Changing the Landscape of Nursing Education
September 21, 2020
The pandemic has caused chaos and created challenges in almost every area of the world, not only hampering the economic growth of previously prosperous nations but also necessitating significant shifts in how education is handled. That applies also to nursing education.
As the next generation of nurses begin their training for the first time or resume their studies after initial disruption, here is a look at what changes they can expect to encounter.
Remote Learning Is Prevalent
Face-to-face classes have become either undesirable or outright impossible in the context of COVID-19, so nursing students can expect to spend much more time taking advantage of remote learning resources.
A whole host of fairly advantageous eLearning tools are being deployed, with simulation software making it possible for common healthcare scenarios to play out as they would in the real world, allowing participants to gain useful experiences and put their knowledge to the test remotely, at least for the time being.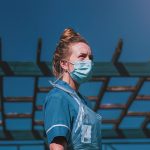 A similar approach is relevant for those planning to take the National Council Licensure Examination (NCLEX). The best NCLEX preparation courses at the moment are all being delivered online. Since these are run remotely, you can boost your chances of success through online studying. At a time when more nurses are needed on the front lines, being able to attain your license with flying colors and do your bit in the battle against coronavirus is a boon.
Clinical Hour Quotas Are Still Required
There has been some consternation over the fact that fewer nursing students are able to get real in-clinic hours under their belts at the moment and thus struggle to fulfill the obligations of their training, leaving them in a state of uncertainty.
This state of affairs is being further complicated by the fact that the students that do get to ply their trade in clinics are unlikely to receive any of the pay benefits or protections afforded their fully qualified counterparts.
Because of this, there is the likelihood that if students are afflicted by the virus itself, or any other illness acquired in the line of duty, they will be liable for the costs and the rest of the associated fallout.
Efforts by industry organizations have been made to cope with this dilemma over the past few months and there is a strong argument behind the idea that nurses have never been more valuable and so allowing them to study and graduate in a timely manner is beneficial for society as a whole.
Some states are lifting licensing restrictions
It is worth considering the changes on a state-by-state basis, since in places like Pennsylvania there have been emergency measures introduced to allow nursing students who would have taken licensing exams during the pandemic to start working without sitting the test, so long as they operate while being supervised by a registered pro.
Ultimately it seems like the local, regional and national disruption to nursing education will continue until the COVID-19 crisis is solved, so staying abreast of the latest developments is the best tactic for students.
Featured Image: Arthur Tumasjan, Unsplash.