How to Prepare for Your Studies Overseas
February 16, 2021
A greater understanding of other cultures, new values, a broader network of contacts, and stronger language skills are some of the reasons why so many students choose to pursue their studies overseas.
Studying abroad really means creating memories that will last a lifetime. You will meet people you otherwise would never have had the privilege of meeting and see places you perhaps would never have the opportunity to visit.
Getting a college or university degree in the United States is a big dream for people from all over the world. You have an incredibly exciting and fun time ahead of you. However, studying abroad involves some preparation. In this guide, you will find information that makes it a little easier to take the step forward.
Prepare Your Documents
If you want to study in the U.S., it will require a lot of paperwork, but we'll summarize the three most important documents that you'll need: a certificate of admission from the school, evidence of financial ability, and a student visa.
Know that you will be required to prepare your documents ahead of time, so look into degree and birth certificate translation services, as well as any other required documents because you would have to present them translated in English in order to apply for a visa or university.
Letter of Admission
The first thing you need to start the process is a letter of admission from the university that you will attend. Different universities have varying requirements to get one, but all universities in the U.S. require evidence of completed high school. As mentioned above, it is usually not enough to give the university your high school diploma, but you must first have it translated by a certified translator.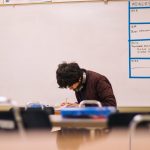 Evidence of Financial Ability
This is more of a requirement set by US authorities than the schools. You are not allowed to work off-campus as an international student, which is why you must be able to prove that you can afford to study and not make U.S. authorities worried that you may work illegally to support yourself.
How much money you need to be able to show to the authorities depends on the university and how much their tuition fees are. If you plan to pay for everything on your own, you will only need to make an account statement from your bank and have that document translated by a certified translator.
Visa
To study in the U.S., as a foreigner, you need a special student visa. To apply for a student visa, you need confirmation from the university you applied to.
Afterward, you must apply for a student visa at the U.S. Embassy in your home country. Everyone who applies for a student visa is called for an interview. On the embassy's website, you can see what documents they want you to have with you at the time of the interview.
You must have the right visa when you travel to the United States to study. It is not possible to apply for a student visa when you are in the country. How long you are going to study in the USA and the level at which you are going to study dictates which visa you need.
Find The Right Accommodation
If you are going to study in the USA, you have three different accommodation options to choose from.
On-Campus
Student dormitories or student apartments are located on the school grounds. In dormitories (or dorms) you often share a room with another student and a bathroom with a larger group. If you live on campus you can quickly get to know your neighbors. For an additional fee, you can also have breakfast, lunch, and dinner.
Off-Campus
Many choose to live outside the school grounds. It is usually a cheaper solution and you can choose the type of accommodation and part of the city that suits you best. The universities' international offices can help those who are looking for private apartments.
Host Family
Some universities offer their international students the opportunity to live with an American family while studying in the United States. Being part of a host family allows you to quickly gain an insight into American society.
Think Of Insurance
If you are going to study in the US, you need good insurance coverage. If you are going to be in the country for a long time, you must have the opportunity to visit a doctor or dentist.
There are insurance providers that are open 24 hours a day and can guide you in medical matters, refer you to the nearest healthcare provider, and issue payment guarantees. Extra costs might also be reimbursed if you have to interrupt your studies for urgent matters.
All to make you feel safe if something unforeseen happens, no matter where you are in the US.
Get Immersed in The Culture
Maybe this tip is taken for granted, but it is so important. Erase all preconceived notions about the country. Avoid thinking that in your country you do things differently and instead think about how fun it can be to try new things instead. Try to read about the particular US culture that you will soon be a part of. Find books, watch movies, check out the food and music that comes from there.
And remember that one of the most important pieces of advice and reassurance you'll need when embarking on such a new exciting chapter in your life are the words of wisdom shared by your parents. They will give you the feeling of strength and confidence that you can deal with any hardships that come your way. They will simply remind you that this experience will shape you into a better version of yourself in the future.
Final Thoughts
Studying abroad is without a doubt great for your resume and can be a path to an education you might not have received in your home country. It is also a fun and exciting experience where you can better your language skills, see a new culture, and experience a new country. Also, studying abroad can prove to be pure gold for personal growth and development.
Before heading into the unknown, please make sure to do your research, prepare the necessary documents and have a clear plan as to what you want to achieve. We hope that this guide will make things easier for you in the process.
Featured Image: Evan Mach, Unsplash.