How to Become an Instructional Designer
April 08, 2017
Behind every great eLearning platform are several great instructional designers. Early on, many people fell into online instructional design by chance, since they were already working in a related field (e.g., in education or human resources) and took initiative to move their education or training projects online. Today, more and more people are making a conscious decision to pursue a career in the field.  Deciding how to launch one's career, however, can be difficult, since the field is still relatively young. Still, as one contemplates how to become an instructional designer, there are several key decisions and steps they should be prepared to navigate.
What is Instructional Design?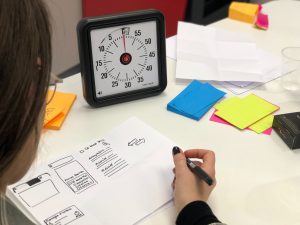 First, it is important to define the terms in question here. By definition, instructional design is the systematic development of instructional specifications relying on learning and instructional theory with the aim of producing high-quality instruction. Instructional designers are the people who do this work. While instructional designers are not necessarily people who develop learning management systems, today, nearly all instructional design involves some digital application. Among other key tasks instructional designers: 1.) Work with subject experts to identify what students need to learn; 2.) Develop objectives and ensure that course content responds to core learning outcomes; 3.) Revise and rewrite content to ensure is meets learning outcomes; 4.) Structure content and activities for students; 5.) Create media to support such learning (e.g., e-learning modules, videos, etc.); 6.) Develop appropriate assessments tools, and 7.) Adapt instructional materials created for one format to another format (usually this is adapting materials from face-to-face to e-learning).
Steps to Become an Instructional Designer
Step 1: Choose a Specialization

The first step is to choose a focus (e.g., education or training). As eLearning becomes more widespread, subfields are also emerging. As a result, you should decide in advance if your focus will be K-12 education, virtual schools, or higher education. Likewise, you may choose to focus on eLearning for a specific sector (e.g., retail, service or finance).
Step 2: Understand Instructional Design's Models and Theories

eLearning is a relatively new field but design is not. There are many models and theories that instructional designers rely on to build effective content for courses and training sessions.  Common models include the Kirkpatrick model, backward design, and ADDIE.
Step 3: Train
While you may not require a degree or certificate in instructional design (e.g., the Learning and Instructional Design certificate offered through Harvard University's Extension School), you likely will want to engage in some formal or self-directed training. From certificates to graduate-level degrees, there are now a growing number of options for aspiring designers and many of these options can be completed online at one's own pace.
If you choose to complete a certificate or degree, the core skills required to work in the field will likely be part of the package. If you already have some background in instructional design or a related field, you may simply want to acquire additional skills to round out your strengths. To determine what types of courses you may need, it is useful to see what current employers are asking for. In a recent Amazon job posting for an instructional designer, for example, the company asked for someone with experience using one or more of the following tools:  Articulate Storyline, Lectora, Captivate, Adobe Creative Suite (InDesign, Illustrator, and Photoshop), and related SCORM compliant production tools.  However, the same add includes several "preferred qualifications," which range from a graduate degree in instructional design, adult learning, or a related field to industry certifications in instructional design, curriculum development, performance improvement, project management, and content-specific certifications as appropriate (e.g. CPLP, CPT, PMP, etc.) and experience working with LMS architecture and cloud-based applications.
Step 4: Build a Portfolio

To get hired, you'll need a portfolio of materials. The more diverse your portfolio, the better off you'll be on the job market. Try to include examples of videos, project and collaboration tools, and interactive instructional models (e.g., games). Also, include examples of a wide range of innovative approaches to assessment. Finally, demonstrate your ability to work to engage learners by putting metrics to work as a motivational factor.
Step 5: Experiment with Next Generation eLearning Tools

As explored in our recent interview with instructional designer Larry R. MacPhee, the field is always changing and responding to the arrival of new technologies and applications. While not all new technologies end up transforming instructional design, designers need to be open to exploring the potential role of new technologies and applications. Anyone interested in entering the field, then, is strongly advised to experiment (e.g., with augmented reality).  Exploring how emerging technologies might be applied in different educational and training contexts is a key part of any instructional designer's job.
Photo by Kelly Sikkema on Unsplash
Photo by bonneval sebastien on Unsplash