How Effective Is AI-Based School Security? Athena Security Says they Provide an Extra Protection, not a Silver Bullet
November 12, 2018
Mass shootings have captured the public's attention throughout 2018. Over the 31 days of October this year, there were 29 mass shootings according to the Gun Violence Archive, a site that tracks gun violence in the U.S. Too many of these incidents have occurred at American schools and universities. In their aftermath, survivors and those close to victims are not content to merely grieve; they demand action. While preventative measures have been slow to emerge or altogether absent from political leaders, tech companies, like Athena Security and others, have brought numerous products to market this year that harness AI algorithms and an array of cameras to enhance security.
These algorithms generally use face- or object-recognition software to identify dangerous people or weapons (and potentially alert administrators and the authorities) before any violence is committed. For many districts and institutions that have already implemented these added school security measures, they offer protection against a danger that hopefully never darkens their doorstep.
That security comes with a cost. This summer, the Lockport City School District spent $3.3 million on a 300 camera array and facial recognition software provided by SN Technologies.
In light of the controversies surrounding gun control measures, some politicians have also thrown their weight behind facial recognition software. This summer, former Texas Rep. Pete Sessions endorsed a product offered by Deep North.
"AI represents one of the few viable ways to make schools safe, and does it in a way that is more affordable than any other," said Sessions in a press release. "Using this technology we can tell before the first shot is fired that there is a problem, and that has to be the goal."
Critics of AI-Based School Security Don't See It that Way
But in light of the adoption of these school security measures, many have drawn attention to a troubling quality: no one knows how well they work.
This summer, The Washington Post got in touch with Andrew Ferguson, a law professor at the University of District Columbia. He believed at the time that AI recognition technology preyed on community fear.
"These companies are taking advantage of the genuine fear and almost impotence of parents who want to protect their kids," he said, "and they're selling them surveillance technology at a cost that will do very little to protect them."
He was also quick to point out the data security risk they presented. Many systems have scanned and stored the biometric data of minors, sometimes without parental consent.
Two narratives around AI school security measures have emerged. The one holds up recognition software as a way to prevent mass violence at school. The other says it won't work.
Athena Security Doesn't Make Promises It Can't Keep
The example of Archbishop Wood High School, a private Catholic institution which sits between Philadelphia and Trenton, NJ, falls somewhere in the middle. The school recently implemented object-recognition technology offered by Athena Security. It scans the schools security feeds for guns and knives. It doesn't take up a huge amount of bandwidth operating out of the cloud, but runs on the school's local system. Administrators have the option to customize it for their needs. When a gun is detected, they can receive an alert on their own phones, or alert the front desk, police, or healthcare, or any combination they wish.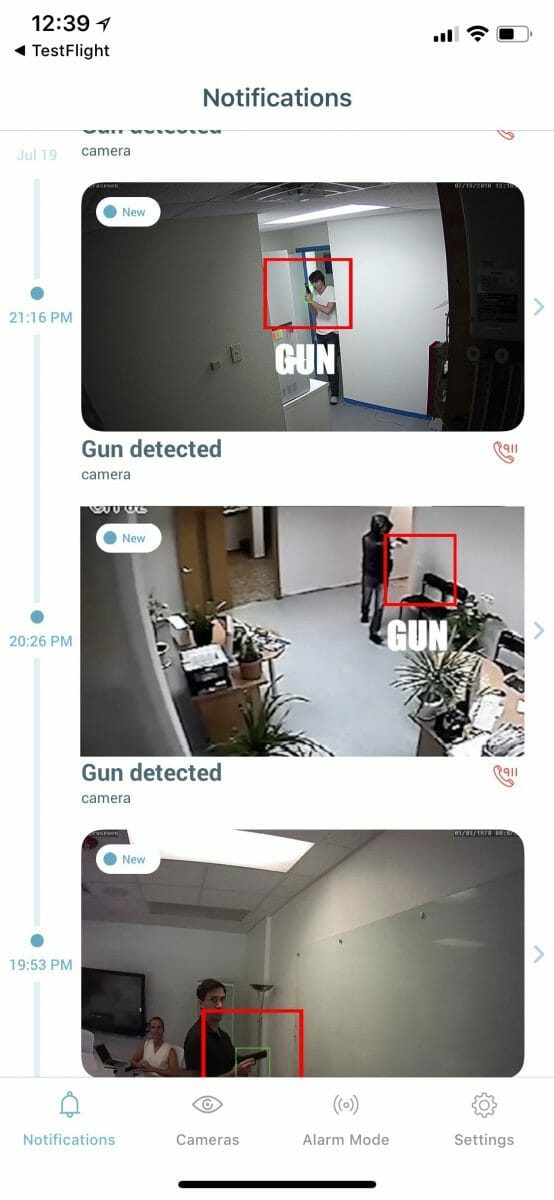 School President Gary Zimmaro gets a notification on his mobile device every time a potentially dangerous object is detected. He's happy the system is in place, but he is also quick to point out that security goes far beyond surveillance. Besides normal school-wide drills preparing for lockdown, lockout, and fire, Archbishop staff underwent an active shooter simulation over the summer.
"I think were already ahead of the game," Zimmaro said. "Adding Athena is just another level of protection. God forbid we ever have to use it, right? But it's there. It's something that we can say to our parents and our school community faculty included staff that this is part of our security system now and it helps to give us another step of protection."
Zimmaro and his staff regularly send out surveys for parents to answer regarding their priorities and concerns with the school. Safety does rank highly, but it's still behind academics.
Setting up Athena Security, furthermore, didn't break the bank. It accounted for between 1-2 percent of the school's annual budget. And it also wasn't the only security measure they're putting in place this year.
"As a school president as a faculty or staff you have to be concerned about school security. We all see the news we see what happens none of us want to be in opposition and we feel terrible for the people that happens to. I just feel that I'm being more proactive in including this. We run the drills. You take all the steps that you think are correct. Your proactive about the steps you need to take to protect your people with the hopes that you'll never have to put them into play."
Athena Security CTO Chris Ciabarra, doesn't describe his product with the hyperbole one hears from many tech officers. "Any security system in the world can be fooled," he said. "If a guy is smart enough, they're going to get around it. How smart do you need to be? I don't know. But if you're smart enough you can fool any system on the market."
A Better Attention Span than a Security Guard
But Ciabarra also believes his product has the ability to make a big difference. As things stand, security guards are performing the role that the Athena Security algorithm would fill. And humans are fallible. Short of a security guard, schools simply have security cameras in place to review footage if an incident occurs.
"A lot of these places have security cameras but nobody's actually watching them," Ciabarra said. "Tests of been done. The human eye can't watch 30 minutes of video without being able to understand everything that's going on."
Athena promises to respond more effectively.
"As soon as the weapon is pulled out, no matter where that person is, no matter who is around, the system detect it. If he pulls it out in the hallway and no one else is around and no one is there to make that call, the system will. The goal is to get the police there faster than they were there before to help save lives. Hopefully we can even talk down the criminal. That's the best case: where somebody pulls out a weapon and we're able to have a two-way conversation with the person and talk them down from doing anything. The worst case scenario is we get the police and the paramedics there faster."
"A lot of times people bleed out if the paramedics don't get there fast enough. Every second counts. If we can get there fast enough, even if they do end up shooting somebody, hopefully we can save the lives of the victims. I'm not saying this is going to save every single conflict out there, but I know it's going to help some of them. The goal is to help all and eventually we'll get there. For now it's another form of protection for schools and for offices."
Athena is currently developing the ability to detect more and more dangerous situations. Soon, they'll roll out a fight detection update.
"It's definitely a little different [from weapon detection]. We actually measure the velocity of objects. If you throw a punch, that velocity of your arm will be a lot quicker than if you're just standing there or running. When you throw a punch, we identify the velocity of the body part. We outline the skeletons as well. We make sure that there are two people involved obviously. And we do it over a three second period."
Featured Image: Rishabh Varshney, Unsplash.