Fortnite Virtual Classroom? Online Learning Experiences Your Students Will Want To 'Streambrag' About
April 13, 2020
Let's give a definitive answer to the question that's on everyones's mind: Can Fortnite teach a full K-12 curriculum for you?
This article was originally published by LMSPulse.
On a serious note, here is some academic discussion on the merits of Fortnite in education, both as a representative of the videogame and esports spaces, and on its own special merits:
What Do Experts Have to Say About Fortnite?
Rick Marlatt for the Journal of Education argues that Fortnite's open environment is fertile ground for explorations on "multiliteracies": Social and communal, digital and even reading comprehension. The full article includes considerations for school-based implementation. (Paywalled, contact the author or us for a copy)
A team from Texas Tech and Baylor finds a reciprocate link between Fortnite and social motivation on student athletes, with a strong element of "social connection fulfillment." It also warns about its propensity for "addictive tendencies." Check out the full research for qualitative experiences from students. (Open access, PDF)
This Swedish Master thesis explores the participative element of the game development roadmap and the sentiments of "ownership" between user\player\learner and the system. (Open access)
Can Fortnite teach history? While this 3-year study (paywalled) offers no visible answers, it's the perfect segway to introduce Assassin's Creed (never mind the title 😬) and its Discovery Mode. It was built after popular request, given the thorough research going into the development of the game. An educational-only version is available as Discovery Tour: Ancient Egypt
And can Fortnite make you a better teacher? No harm in trying! Marlatt continues his research, this time on "critical discourse analysis" to hypothesize on the pedagogical advantages of teachers adopting their students' specialized vocabulary. Paywalled)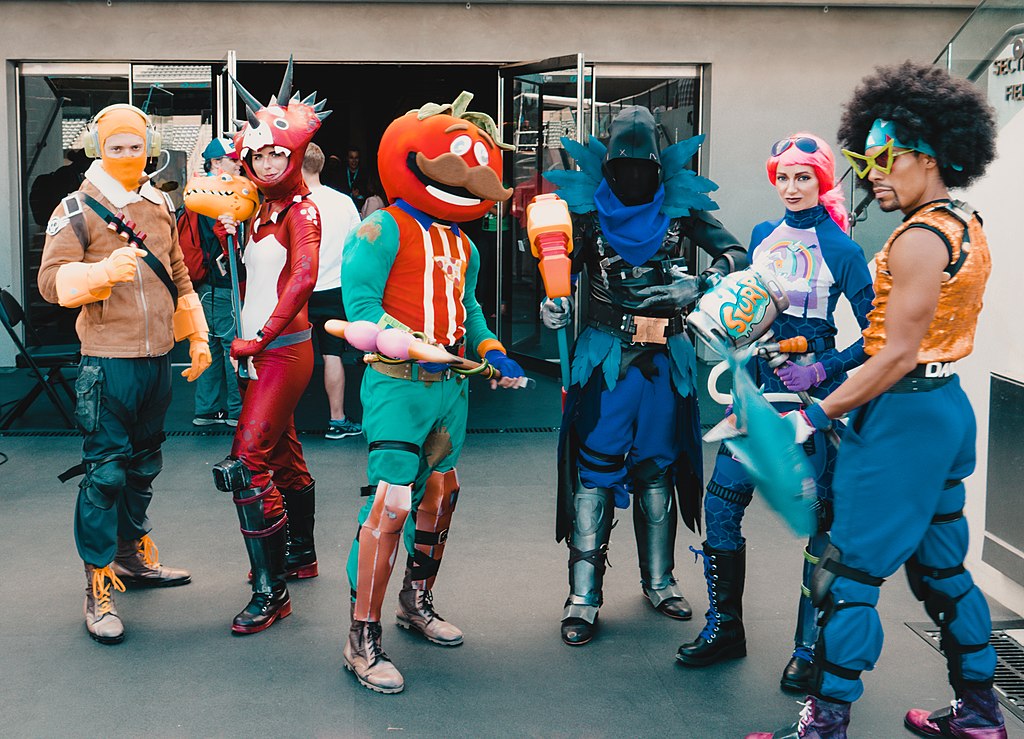 This proposal is a Fortnite-inspired LARPing\gamification for P.E. (Open access, in Spanish, abstract in English)
A study presented at the XX International Conference on Human Computer Interaction last June reveals that some 74% of Gen-Z Fortnite players do so at least partially during school time, including underage children. The game is PG-13. (Paywalled)
Speaking of parental ratings, don't miss Common Sense Media's Fortnite guide for adults, and the Common Sense Media critic and users review.
And check out Vicky Davis, aka CoolCatTeacher's podcast interview with Mike Washburn, member of the educator advisory board for Fortnite.
Gaming and Online Learning
If you are involved in K-12 education, but missed the announcement by Epic Games (partly owned by Tencent) to commit $100 million USD towards Fortnite-based eSports competitions, you might want to pay closer attention. The massive videogame hit tells a story of meteoric popularity rise, in that it took years to light up the sky overnight. Fortnite will, in all likelihood, join the Paris 2024 Summer games, as eSports are in talks to become a new Olympic discipline.
eSports have coalesced as an entertainment industry in its own right, with viewership records broken each passing year, a growing pool of celebrity "e-thletes," and increased commitments by advertisers, as well as broadcasting networks. They also enjoy a special familiarity among the digital natives —often synonymous with "Gen Zers" or "Zoomers"—, who increasingly get their driver's licenses and soon will join the workforce in droves. If gaming skills are what makes people stand out, then everything you need to succeed is literally at your fingertips. The way skills are acknowledged by peers, and the systematically recording (and live-streaming on Twitch) of practice, could have important lessons about motivation for elearning professionales.
eSports Pros' Ideas Worthy of the eLearning Pros' Attention
Teamwork is imperative. The most popular mode in eSports is "battle royale," where teams must ensure their survival at the other teams' expense. Just like any battle, defensive and offensive tactics matter, but there are also game-specific considerations about resource procurement and management, which demand specialization within the team. Over time, team cohesion is essential, and in turn this helps validate individual players. If anyone makes a mistake, acknowledgment and willingness to improve beats blame and rejection every time.
A rich setting matters as much as the goal. As hard as it can be to accept, a paradoxical fact of the educator's life holds true here: The less obvious a learning is happening, the more engaging and ultimately effective learning can be. In any case, at the end of the day video games have elements of thrill, comedy, drama, and just plain fun. Students join a game, have the time of their lives, and as a result their dexterity, spatial processing, planning, resourcefulness, and other game-specific skills are increased. What's not to like?
Openness for everyone to create their essential story. As a result, specialization in a rich environment creates new opportunities to shine. Besides its colossal appeal, Fortnite has spawned another frequency of pop culture waves thanks to the dancing moves of the characters.
And, of course, welcome #streambragging. Gameplay streaming sites like Twitch show that players don't have to feel like they are superstars to showcase their abilities, and just a little encouragement is all it takes to keep them going. And as a nice bonus, their progress is meticulously recorded for posterity. If you don't livestream on your own Twitch, I hope your grandchildren will still remember you.
This article was originally published by LMSPulse.
Featured image: Hello I'm Nik, Unsplash.