Emerging Stronger Requires More Meaningful Cloud-Based Training
April 21, 2020
We have witnessed an uprooting of traditional education and our global workforce. People all over the world are looking to online education providers to help prepare them for the future of work. The online learning movement is an opportunity to seize the impact and harness the power of immersive technologies to deliver more engaging and meaningful learning experiences. Online education breaks down traditional geographic and socioeconomic barriers. To this end, online training is the liberation of learning.
Over the last 10 years, we have seen massive online course communities (MOOCs) and video-based learning providers bring world-class education content to millions of people. While the content was remarkable, and the insights provided by the educator thought-provoking, the delivery of the material was antiquated and archaic.
Nascent Developments in Online Learning
Recorded video experiences create a traditional lecture hall experience at scale. The key difference is, instead of 150 people in a lecture hall, there are now millions of people in the audience, with similar outcomes. The majority of the audience is disengaged. We should ask ourselves, "if it didn't work with 150 people in a room, without real-world distractions, why did we expect it to work with a million people in the room?" The problem is that rather than provide opportunities for exploration of concepts through dialogue and discussion, organizations replicated the traditional lecture when they abruptly shifted to recorded videos. Conversely, at New Horizons, we teach people technology careers using technology. We look to embrace the interactive medium and design instruction based on the concepts of cloud-based learning.
Education providers and developers of the online curriculum should challenge themselves to go beyond recorded static video. We should embrace technologies like intelligent tutoring systems, adaptive learning platforms, and adaptive testing methodologies. These technologies have been explored for over 50 years and are supported by a plethora of evidence-based research on efficacy. For the majority of us, deep human learning is experienced through dialogue, or a bilateral feedback process. Online education needs to embrace the dynamics of human learning that include dialogue and discussion, exponential learning concepts, learn-by-doing exercises, as well as individualized attention.
Embracing Change
Refrain from merely taking a textbook and putting it online without reconstruction. Rationing content like this is an old idea which does not work. Worse yet, ineffective online learning experiences can tarnish the reputation and insult the scale and ingenuity of learning technology. As online providers, we are all ready and honored to help put the world back to work through relevant technology training that prepares displaced people with rewarding careers in Information Technology. If we do this right, it can be a long-term opportunity for our workforce, economy, and people to come out of this downturn more durable and more resilient than before.
COVID-19 accelerated many trends that we are already observing in the workforce. A slow move away from traditional degrees, business process automation, a remote workforce, and a globally connected society has been greatly accelerated. This acceleration requires a new set of skills to prepare for the future of work. One needs fluency not only in productivity software, but also in a deep understanding of computing and connectivity. Cloud training providers need to continue to show our value and cement ourselves as a conduit between skills, knowledge transfer, and employment mobility.
There is no question that the best possible results are needed now, for our world's recovery and our education sector's. It's the worst time for shortcuts – for our students and for us. We're ready. Let's do it and do it well – the way we know that works best.
About the Author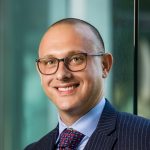 Dave Saben is the Chief Experience Officer and Executive Vice President of New Horizons Computer Learning Centers, the global leader in computer-based training with over 2600 courses and 200 training centers in 35 countries. New Horizons is CompTia's, VMWare's and Microsoft's largest training provider, giving more than 40 percent of the world's authorized Microsoft training. For over 20 years, Mr. Saben has served as a trusted advisor, senior executive or CEO at education, private equity, venture capital, ed-tech, assessment, and training organizations, including Ascend Learning, National Healthcareer Association, Assessment Systems, and Exam Ave.
Featured Image: Paul Skorupskas, Unsplash.