eLearning Brothers: From a Basement Office to EdTech Innovation
November 11, 2020
When Andrew Scivally began working on weekends and weeknights in 2009 with his brother Shawn, he was unsure of where their efforts would lead them. Eleven years later, their company, eLearning Brothers, is grossing $20 million per year and serves 94 separate Fortune 500 companies, including Ford, Coca-Cola, Wal-Mart, and Amazon. This year alone, learners have launched nearly three million courses from the eLearning Brothers platform.
"In the beginning, it was just the two of us. We worked in our basements, we had a couple of laptops, and that was all it took to get the business started," said Scivally, who serves as the CEO and co-founder of eLearning Brothers.
eLearning Brothers provides companies and organizations with the capacity to stand up their own online training. Many clients choose to use their templates to customize their own courses, while others pick off-the-shelf options. In addition, and among other offerings, the company provides a learning management system (LMS) to deliver the training.
How eLearning Brothers Got Started
Before joining his brother full-time, Andrew's background was in the online learning and financial services sector. He was working at JP Morgan Chase building courses and managing learning development groups. Shawn's background was also with JP Morgan Chase doing eLearning design. Afterwards, Shawn left to do training development work for Wendy's, the fast-food chain, in Columbus, OH. Both brothers eventually moved back home to Utah to be closer to their family.
After relocating West, the brothers began working on the concept of their company. Starting in 2009, Shawn started building templates and selling them on their website while Andrew went out and made connections. When creating the templates, they used popular tools, such as Adobe and PowerPoint. After creating the templates, they would sell them to consumers. Gradually, they moved on to creating custom content.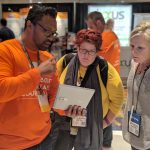 "It was like this seed that kept growing in my brain. It just kept growing and growing. I was starting to get consumed with the idea," Scivally said.
Scivally joined his brother full-time in 2010. They made $4000 in their first month, $2000 each to support their families. "One of the first things we were aware of early on was that there was always tons of work to get done. There is always something more to do," said Scivally. The company continued to grow, and they started to create their own unique style.
Wearing bright orange shirts, the eLearning Brothers stood out from other eLearning companies with their creativity and drive. They want to pass these traits to their consumers.
"Our motto is that we create eLearning rockstars. Basically, when we think of rockstars, we're not talking about drugs and crazy parties. We are talking about those creative or artistic passions and that desire to inspire people," said Scivally. They felt that the rockstar image was perfect for the company and would allow them to convey to their consumers that they could create their own eLearning content or partner with and create their eLearning content with them.
Moving Forward Amid a Pandemic
The pandemic has posed a challenge for edtech companies and educators around the world. For the eLearning Brothers, it has been an opportunity. While the pandemic was unpredictable, the eLearning Brothers recognized that workplace trainings were still needed, especially with many shifting to remote work.
"Training still needs to happen. Companies are still onboarding employees, and they are still trying to figure out how to do product rollouts, systems updates, and all these things where they need to train people. However, now it all has to be online," said Scivally.
Check out this amazing project created by our partner, Video Interact, for @Fendi. This was built using #CenarioVR and #Lectora! https://t.co/BODS6EPzNI

— eLearning Brothers (@eLearningBros) October 30, 2020
The eLearning Brothers acquired two companies in April this year: Trivantis and Edulence, for $38 million. Trivantis is an award-winning eLearning company known for two products, Lectora and CenarioVR. With these products, corporate trainings can be completed to better suit the workers, such as VR trainings for firefighters. CenarioVR creates an interactive element to engage the user by using 360 video and inputting it into the system. Edulence is known for their learning management system (LMS), Knowledgelink, where consumers can host platforms for their eLearning content.
"We had been a content business for so long, for 10-years, but I wanted to marry that with technology," Scivally said when discussing the purchase of Trivantis and Edulence. Consumers are now able to create their own interactive learning that best fits their employees and workplace.
Their first acquisition product was released earlier this year in June as an authoring tool that combines VR, web-based, and desktop authoring capabilities. Their most recent announcement this past October was an arrangement with BizLibrary.com to offer more than 2500 off-the-shelf microlearning courses. The consumers will be able to present playlists that consent of training videos, games, coaching sessions, and other training materials.
"We're going to continue to grow, grow our platform, and grow the business organically and through acquisitions," Scivally said when talking about the future for eLearning Brothers.
Media courtesy of eLearning Brothers.