eLearning Brothers Acquires Trivantis and Edulence to Broaden their Corporate Training Capacity
April 28, 2020
eLearning Brothers, the Salt Lake City-based corporate training providers, announced two acquisitions on April 28: Trivantis and Edulence. The former, a long-time partner of eLearning Brothers, offers numerous online learning authoring tools and support, including CenarioVR, which incorporates virtual reality into their training suite. The latter develops Knowledgelink, a learning management system (LMS). Details of the deals were not disclosed.
Founded in 2009, eLearning Brothers provides a broad range of online talent development authoring services and tools. Besides training templates and a library of images and video, they also offer assessment and reporting functions, among others.
With Trivantis and Edulence, eLearning Brothers Can Expand their Suite of Corporate Training Services
Companies going with eLearning Brothers can choose from their off-the-shelf options. They make a stronger value proposition, however, in their ability to allow their clients to customize and collaboratively author training to fit their needs. The two acquisitions announced allow the company to further this work.
"This is a big step for eLearning Brothers to bring the pieces together to create a complete and industry-first learning experience platform," said eLearning Brothers CEO Andrew Scivally, also hinting that more news was in the works. "You can anticipate hearing more about this as development progresses."
eLearning Brothers has partnered with Trivantis for years, offering clients easy Lectora integration (their content authoring tool).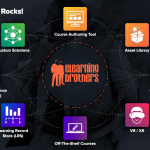 "As we look for the future growth of the eLearning space, this merger of ideas just makes sense," Scivally said. "Lectora has risen to its current top-tier success by delivering easy-to-use authoring tools for eLearning. This move allows further expansion of our offerings for an even higher level of integration and excellence. This work will include further development of the virtual reality capabilities and features of CenarioVR to keep it at the forefront of course authoring."
While the eLearning Brothers had not previously worked with Edulence, the company was excited to expand their deployment capabilities by acquiring their LMS.
"Creating or buying courses doesn't benefit an organization without a platform to deliver it to learners," Scivally said. "With the Knowledgelink LMS developed by Edulence, we're providing an essential element to the learning experience for both organizations and learners. We're focusing efforts on adding more functionality to Knowledgelink and creating a tighter integration with Lectora to meet the needs of our customers and prospects."
Doing Business Amid the COVID-19 Pandemic
While many have expected the primary financial mechanics of the tech industry to slow with the outbreak of COVID-19, eLearning Brothers says these deals had been in the works since before the pandemic reached North America. Since the outbreak, however, they say they are well-positioned to meet the growing demand for remote training.
"With the current global situation of millions of remote workers, the desire for elearning as an alternative to in-person learning has accelerated," said Scivally. "Organizations around the world are trying to find ways to get their standard classroom learning quickly converted to distance learning. These acquisitions are coming at the perfect time to be of even greater benefit to all organizations facing these challenges.
"We don't want to minimize the hugely negative effects of the current economic slowdown. So many individuals, companies, and countries are struggling. However, as is the entrepreneurial way, we will get through this and come out stronger, with innovations to adapt and grow a more prosperous future."
Featured Image: Medienstürmer, Unsplash.