Using eLearning Training in Small Businesses
February 15, 2017
Every $1 invested in online training results in $30 worth of productivity, according to a recent IBM study. That's an incredible return on investment that is impossible to ignore.
IBM also found that participants learned 5x more material in the same amount of time through online training as opposed to traditional instruction. The company IBM even saved approximately $200 million just by switching to eLearning, due to reduced expenses on travel, equipment, and instructors.
Business Training to Online Training
Nearly two-thirds of all CEOs and corporations believe in the benefits associated with any sort of business training. 84% of global executives rank employee development as critical or important.
Furthermore, over 41.7% of global Fortune 500 companies use some form of technology to train their employees. Large corporations are undoubtedly investing big money on training and professional development. In fact, the eLearning growth rate worldwide has been over 900% since 2000.
The list of benefits of eLearning for businesses is extensive and staggering. However, not all businesses offer advanced online training to their employees. The top buyers of eLearning are large companies and corporations, making up roughly 30% of the eLearning industry overall.
Online training seems to be a luxury of the rich and most profitable companies, while small businesses offer none or minimal training—especially disregarding online training tools. What's holding these small businesses back is often simply a need to better understand the eLearning industry as it relates to all businesses and not just large corporations.
Lack of Funds
It's commonly believed that eLearning, and training in general, is a significant cost to businesses. Small business owners and new entrepreneurs don't have the capital to spend, and they don't see the value in spending what available funds they do have.
However, the opposite is true. It is more costly to not provide training. Without proper procedures and methods set in place, productivity, engagement, and professional development plummet. Instead, with an investment in professional eLearning software, employee's productivity boosts by nearly 50%. As mentioned prior, there is a $29 profit return on investment for the average company—including those small businesses and startups.
Additionally, eLearning saves businesses money on traditional instructor-based trainings, by nearly 50%. eLearning also cuts down instruction time by up to 60%, while providing more useful information at a retainable, time-saving rate. Online learning management systems are flexible, convenient, and efficient, so training can be done anywhere, at any time, on any device. This saves small businesses hours of training that can be better spent utilizing those learned skills towards boosting the business.
Software vs Hardware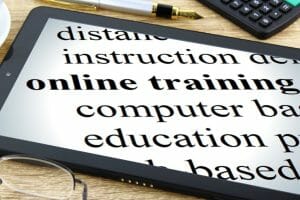 Small business owners often think of eLearning as purchasing and installing the necessary hardware. Hardware is not only costly but also time-consuming and overuse of energy and resources. While much of eLearning was previously done through company-based servers and hardware, most training technology now is cloud-based. This means that software is easily installed, accessible on most Internet-based devices, and highly user-friendly. There is often no additional learning curve to using this software.
Similarly, employees are demanding new forms of online training more and more. In fact, approximately 60% of millennials demand electronic forms of training. The mobile learning market is predicted to reach $12.2 billion worldwide by the end of 2017. With such a demand for eLearning matched with minimally invasive software, small businesses will begin to implement more technologies in the coming years.
Lack of Understanding
Overall, small business owners are seeing the significant benefits of eLearning and wanting those same results. Yet, they think of those results as "big wig" numbers. They believe that eLearning is made for large-scale corporations that can invest millions of dollars into training systems and programs. They don't see how they can implement the same practices in their own businesses and startups.
Although eLearning is proving well for large corporations, it's proving even better for small businesses. When they offer professional development through online courses, startups are able to attract and retain better talent. This can, in turn, grow the business quicker and wider. This is crucial in those first few months and years.
Furthermore, those large companies are spending on average $1,889 per employee, according to the ATD's State of the Industry Report. Small businesses can reduce these training costs to less than $100 annually by using a web-based Learning Management System. That saves on expenses while still significantly boosting productivity. This is due to eLearning's ability to cut back on the cost of HR management and systems by outsourcing training and easy access to compliance and branded training materials.
Conclusion
As the eLearning industry continues to flourish and grow, small businesses will begin to reap the same benefits from online-trainings that large corporations have for several years now. This training may, in fact, lessen the gap between these bigger corporations and their growing, "small" business competitors.