Study Suggests Online Debates Are Just as Effective as In-person Discussion for Critical Thinking Development
October 14, 2020
A study recently published in the Online Learning Journal suggests that the overall effectiveness of debates as an educational tool is essentially unaltered by moving the classroom debates to an online platform. The study, published in September, was authored by Dr. Cheng-Chia "Brian" Chen, a graduate professor of public health, and Dr. Karen Swan, a graduate professor of educational leadership. Conducted at the University of Illinois at Springfield, the study draws from a sample of 52 students, split into two groups, enrolled in health-related online courses with a special focus on debate. The results found no outstanding differences between debate efficiency and experience in online courses versus on-ground courses.
Online Debates and the Importance of Active Learning Across Education
The groups were split into one completely online program and one primarily on-ground program, consisting of 25 and 27 students, respectively. While the on-ground group followed a more traditional form of face-to-face synchronous debating, the online program utilized an alternative method of asynchronous debates spanning a period of 16 weeks.
Focusing on the topic of obesity, these debates asked students to discuss its context, determinants, and whether it should be considered a disease. These discussion methods placed substantial importance on active learning.
"One of my major philosophies of teaching is constructivism, meaning students must build the knowledge on their own" said Dr. Chen, the study's lead author. "Through active learning, students are also undergoing a self-learning process… I want my students to be able to identify what is valid information, and active learning helps them to gain the ability to recognize credible sources on their own."
The Asynchronous and In-Person Groups Reported Similar Experiences
The productivity of the asynchronous program matched that of the synchronous debates. Close to 87% of the participants felt that the online debates enhanced their active learning experience, with more than half of the students strongly agreeing with that statement. In addition, about 81% of the students agreed that the online group debate had increased their critical thinking skills and about 90% of students found that the online setting actually improved their interaction with one another as well as the instructor. Overall, the study resulted in a positive experience that students overwhelmingly maintain had produced a refinement of their active learning as well as their critical thinking abilities.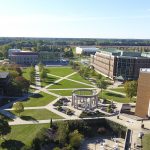 "The reason I initiated this study is because I like to connect my teaching with my research" said Dr. Chen. "I was still new, or at least I had not reached my full capacity to teach online courses and I had been working really hard to make that transition. We all know the persistent challenge of adjusting on-campus methods of teaching to online teaching, so the purpose of this research was to closely examine the innovative approaches that I use for this debate-formatted class. The results gave me confidence that what I'm doing is working."
The Obstacles and Advantages of Asynchronous Learning
One of the major features in asynchronous education emphasized by the study is the use of online tools and apps. In particular, the study underscores the importance of Google Docs as a platform used for collaborative projects and WhatsApp as an application useful for direct communication between students.
"Google Docs and other apps are often vital to asynchronous learning," said Dr. Chen. "Students use them to collaborate and assign jobs, a way to combat the lack of interaction. Actually, at the time I began my study, Google Docs had just added the feature of chatting." The comments are also visible to instructors, making them a convenient way to receive constructive feedback. Most notably, these tools increase the ability and, consequently, the eagerness of students to work together on a project.
These tools serve mainly as a mechanism to encourage teamwork among the students, an aspect which is prioritized in this study. The first 4 weeks of the study were dedicated to students becoming familiar with each other, with online meeting and other collaborative assignments being spread out the duration of the course. In a debate-focused class, there is special emphasis on team-building and collaborative development, a task that can be more daunting in an online setting. However, there are various tools and strategies available to overcome this obstacle, and despite the drawbacks, there are definite advantages to online education.
Overcoming New Challenges
"There are many challenges associated with this new technology, but one of the benefits of the asynchronous method is that it allows students to have great control over their learning. They can decide how, where, and when to learn," Dr. Chen added. "In addition, it allows us to be respectful of everyone's unique learning pace. For example, if I'm learning from watching a video, I can stop and rewind to watch it again, or shuffle to the different durations where I felt confused. I always provide lecture videos with corresponding lecture notes. If someone is a fast learner, they may be able to watch and absorb the video sped up. This sort of control is not available in synchronous learning."
Given his experience as an instructor and the results of this study, what would Dr. Chen say to students who are concerned that a primarily online education could possibly inhibit their ability to learn actively or think critically?
"If an instructor is not able to overcome the disadvantages of asynchronous learning, then it is understandable for students to be concerned about the quality of their education. But for me and for this online program [at the University of Illinois at Springfield's Department of Public Health], this is not a problem. Especially in the field of public health, a lot of professionals would like to work while also getting their Master's Degree, so this online degree program is actually growing in popularity. I would tell these students that if you are able to find a reputable online program, then just go for it. If you can identify good programs, then you shouldn't have to worry about the quality of teaching."
Featured Image: Felicia Buitenwerf, Unsplash.