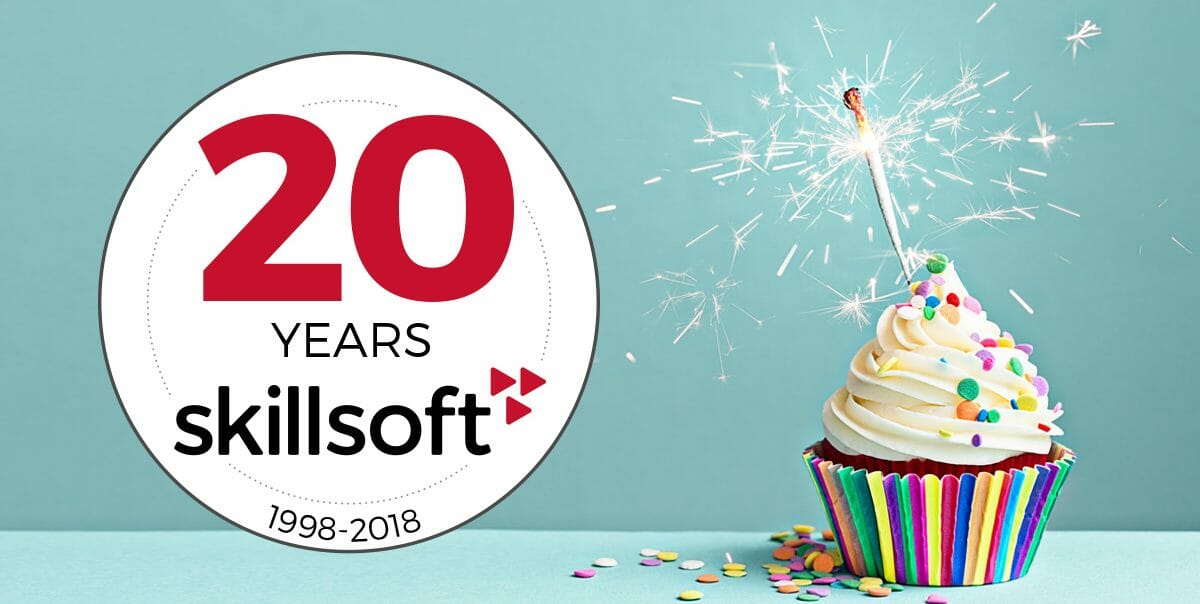 Skillsoft Rebrands As It Celebrates 20-Year Milestone
November 27, 2018
Skillsoft, a cloud-based learning platform that continues to transform workplace training, is currently celebrating its 20th anniversary. To mark the milestone, the company is both reflecting on how far they have come since their launch in 1998 and looking forward to their next chapter. eLearning Inside recently talked to Chad Gaydos, Skillsoft's Chief Operating Officer, to learn more about the Skillsoft rebrand.
Workplace Training from 1998 to 2018
Cait Etherington – Skillsoft describes itself as a "cloud-based learning" platform. This concept didn't even exist when Skillsoft started with its videos and CD-Roms back in 1998. How has Skillsoft kept up with the rapid changes in technology over the past twenty years and how is the Skillsoft rebrand reflecting these changes?
Chad Gaydos – I know – how things have changed in 20 years! Initially, Skillsoft shipped CD-ROMS and manuals to customers, and in 2001 we acquired Books 24×7, which was a world-class provider of web-based digital technical and business reference content. In 2002, we released our first version of Skillport – which was the first version of our eLearning platform. A lot of the knowledge we have acquired unsurprisingly came from our acquisitions. We saw what other smaller companies in the market were doing and that helped us to drive our technology adoption forward. [That is also the case] more recently with Percipio. Percipio was initially developed in Vodeclic, an acquisition in France which sold digital skills online to consumers. Seeing how they developed the user experience basing it on a consumer model was incredibly helpful for us, and the simplification of UX and consumer grade design is still an important part of the platform today. Our customers have also been an incredibly important element of our knowledge acquisition. Often customers would challenge us to deliver a new or more efficient enhancement to our platform – and that has helped push us as well.
CE – To what extent has research played a role in Skillsoft's very rapid evolution?
CG – We invest a lot in determining how our learning works and how to make it work better. As the leading global provider of eLearning, this naturally intrigues us. And we believe that as leaders in our industry, we must continue to understand why (and how) the brain processes and retains information to improve performance. In short, what key factors must we consider to ensure that learning sticks? An understanding of retention and application continues to be one of the greatest challenges facing the industry today. We have partnered with the MIT's Office of Digital Learning and Accenture on an extensive research initiative that will delve into the science of learning to precisely determine what instructional strategies stimulate learner engagement and interest.
How Skillsoft Has Continued to Stay Ahead of Workplace and Technological Changes
CE – How has Skillsoft consistently positioned itself to respond to changes in the workplace–for example, the growing presence of globally distributed and virtual teams?
CG – There are several ways we keep abreast of the new changes in the workplace. This includes gathering feedback from our subject matter experts and customers on a regular basis. But with 45 million licensed users, we have a lot of data on what people are searching for, what terms are being used, and what training is most popular. We have a team of people who are constantly reviewing the data from Skillport and Percipio in order to predict the next phase of corporate education needs. These three elements help us to keep ahead of the needs of our customers. For example, in the last two years, we have released two brand new content libraries to deal with changes in the workforce: the Skillsoft Leadership Development Program and Digital Transformation.
The Growing Demand for Workplace Training in the Fourth Industrial Revolution
CE – Would you agree that workplace training is even more important now than it was two decades ago and is the Skillsoft rebrand taking this into account?
CG – Absolutely. Two decades ago we were mostly working physically with our teams, we have very limited changes in our roles, we understood the expectations and we were clear on where the future promotions lay and what we had to do get there. There was no such thing as the gig economy, we all wanted permanent pensionable jobs. No internet, no mobile phones – when you went on vacation you were uncontactable! We wrote letters, we sent paper invoices, we paid bills by check and lots, lots more. I remember working on a Wang machine at home when I was about 13 and getting it to print my name using BASIC – such excitement. I also remember when I started work for a life insurance company, we had to take turns on the quote machine – because there was one per department. In my first tech company at 24, I still remember my boss explaining to me that a comma and closed bracket meant a smiley face. I was so happy!
The last 20 years have seen insane levels of change in work. Employees have more power, employers are not only measured on their financial success, but on what they stand for and what they do in their spare time. CEOs are fired for sexual harassment, scandal and kicking a puppy. Employees insist on aligning their beliefs with their employer. In addition, technology is changing things on a regular basis, so we all need to keep up. Education is at the core of this new work paradigm.
---
Top People Challenges Currently Faced by Organizations
Attracting quality candidates is difficult. 
Employees want a stronger balance between work and life, and require health and wellness to be a focus at work
Replacing someone costs 33% of their salary
Why People Feel Overwhelmed at Work
The average U.S. worker spends 25% of their day reading and answering emails

Fewer than 16% of companies have a program to simplify work or help employees deal with stress

The average mobile phone user checks their device 150 times a day

40% of the U.S. population believes it is impossible to succeed at work and have a balanced family life

The average U.S. worker works 47 hours and 49% work 50 hours or more per week, with 20% at 60+ hours per week

But 47% of Americans didn't take all of their vacation time last year and 21% "left more than five vacation days on the table."
Data provided by Skillsoft.
---
Emerging Technologies and the Skillsoft Rebrand
CE – How will new and emerging technologies–specifically, machine learning–shape Skillsoft's future? And is this part of the Skillsoft rebrand?
CG – We all know that emerging technologies will very soon become just technologies. Already our Technology and Developer content has been updated to incorporate new technologies like machine learning and blockchain. Our content teams are constantly working on what technologies will make it to the enterprise and ensuring we have the right multi-modal content for our learners.
But how will we use machine learning and AI? As part of our platform development, we have built in machine learning and AI into our algorithms – especially for our learners. If you liked this book, you will like these other books. If you took this training, your next course should be one of these three.
But curation is still a very human activity. We deliver over 18,000 hours of curation a year, which helps to ensure that our channels have the most up to date content – books, audio books, courses, videos, labs and lots more. We make changes to channels every day to provide our learners with the most up to date content there is. So while machine learning and AI will be an important part of the platform, we believe the final step will be a human subject matter expert.