Quizlet Signs $30 Million Series C at $1 Bn Valuation
May 13, 2020
Quizlet, an online studying and course supplement platform, earned a $30 million Series C in a round led by General Atlantic. The deal was announced on May 13 and values the company at roughly $1 billion.
Quizlet says they plan to use the funds to continue improving their data science and machine learning platform functions. They also plan to take advantage of "strategic expansion opportunities," according to a press release.
Quizlet Reaches a $1 Billion Valuation
"Imagine if every person had access to an AI-powered tutor to help them confidently study anything they wanted to learn. The team at Quizlet wakes up every day excited to make students' lives better by creating innovative tools that move our users towards mastery more quickly and more effectively," said Quizlet CEO Matthew Glotzbach, in a statement. "General Atlantic recognizes the value of technology's impact on learning, and we welcome them as a long-term partner and strategic advisor as we pursue our next phase of growth."
The company began investing in machine learning capabilities around the same time they secured their Series B ($20 million led by Icon Ventures) in February of 2018. This came to life in the form of the Learning Assistant feature of Quizlet Learn.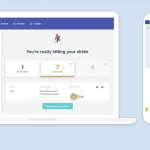 As Glotzbach explained in a blog post at the time, "The Learning Assistant Platform uses machine learning to process data from billions of anonymous study sessions and then combines that with proven techniques from cognitive science to more effectively help students learn. I see this platform as the beginning of our efforts in this space and know we can do more to build what will ultimately be an artificial-intelligence powered tutor that will help any anyone learn anything."
In October of 2018, the company announced it had gained 50 million active monthly users.
General Atlantic Is Making Moves in EdTech
The round brings Quizlet's total funding to $62 million. As part of the deal, General Atlantic Managing Director Peter Munzig will join the company's board of directors.
"Quizlet's differentiated learning platform caters to a wide base of users who find value in the depth and breadth of the educational content it offers," Munzig said in a statement. "Through aggregate and individual user behavior, Quizlet is able to curate and enhance learning experiences, an offering that resonates with its students and has enabled the company to capture significant momentum. General Atlantic is a strong backer of the digitization and personalization of education, and we are excited to leverage our expertise in this field to partner with Matt and the talented Quizlet team to continue to scale the business globally."
General Atlantic has been increasing their presence in global edtech. They have also invested in Duolingo and Unacademy. Most recently, the firm led a $150 million Series C for Ruangguru, an Indonesian online learning platform.
Featured Image: Wikimedia Commons.