Quizlet Has New AI to Help You Study More Efficiently
September 14, 2020
As many learners across the U.S. continue to learn remotely, the online study platform Quizlet has launched new AI capabilities. Their machine-learning-powered Learning Assistant, unveiled this month, provides users with tutoring assistance, tests with the ability to assess writing, and personalized study paths.
Developers intend the Learning Assistant to help users develop a faster, deeper understanding and recall for any subjects they are studying. The product is currently available to Quizlet Plus subscribers.
Quizlet Learning Assistant Offers Personalized AI Tutoring
"We created the Learning Assistant because Quizlet is a company driven by learning science and we're obsessed with finding the best ways to help students study and learn more effectively," said Nitin Gupta, Quizlet vice president of product, in a statement.
The Learning Assistant allows users to create personalized study sessions to give them exactly what they need in order to excel in the subject area. After completing a short diagnostic that tests users to see what they understand, and what they need more help with, the Learning Assistant creates a particular and personalized study path for the user. This ensures that each user is in the best section to begin studying. Learners begin not too far ahead or behind in a subject that would cause more confusion and slow the user's progress down.
Natural Language Processing Features
The AI also utilizes a smart grading system to help users retain information from their tutoring lessons faster. Using Natural Language Processing (NLP), the AI will interpret the answer to determine if the user is correct. This can allow the user to develop a better understanding of the concept, rather than just focusing on the vocabulary in the study.
The Learning Assistant also allows the user to track their progress. This allows the user to track their personal educational goals as they go through their subjects, and where more improvement is needed. Users can use this system to manage their time more efficiently and review key concepts if needed.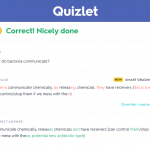 "We know from listening to our users, that students are looking for structure and support to make meaningful progress," Gupta stated.
This comes after Quizlet was recently certified by Digital Promise as a "Research-Based Design Product" and received Series C funding of $30 million in a round led by General Atlantic in May. The funding earned the company unicorn status and allowed it to continue product innovation with an emphasis on data science and machine learning.
While the new Learning Assistant will provide additional resources for users learning remotely from home, there have been concerns with AI tutoring and education in the recent years.
Effective Use of AI in Education
According to the study Artificial Intelligence Applications to Support K-12 Teachers and Teaching: A Review of Promising Applications, Opportunities, and Challenges by Robert F. Murphy, AI systems work best when assisting teachers in the learning environment, instead of replacing teachers entirely. With an Intelligent Tutoring System (ITS), students can be measured in certain subjects and given feedback to help them progress to a higher level.
"Because of the personalized nature of the learning environment within an ITS, many of these systems are used in schools to help teachers accommodate a wide range of student abilities in heterogenous classrooms—a well-known challenge for many teachers," reported the study.
As remote learning continues for many student populations around the world, AI learning capabilities may be able to fill in some gaps. But the logistics of that process will fall ultimately on the shoulders of teachers themselves.
Featured Image: Windows, Unsplash.