Opting In and Out of Classroom Devices: 8 Things Districts Consider
June 08, 2019
They say that June is the month of dads and grads. Many school districts, however, take the end of the school year as an opportunity to hold important meetings to decide budget issues and make plans for the coming school year. Student devices—Chromebooks, iPads, Microsoft tablets and PCs, and more—frequently take up a good deal of oxygen at these meetings. Sampling accounts and stories of dozens instances from around the country, this article is going to provide a rundown of some primary topics, issues, and concerns that revolve around providing students their own classroom devices.
Classroom Devices, Operating Systems, and Manufacturers
Before getting started, we're going to give a quick rundown of devices and manufacturers that market their products for schools (and, as such, take up most of the school district device market). There are three main players in this world: Apple, Microsoft, and Google. Apple prices prices their MacBook Air at $849 for schools (which is prohibitive for many districts), while their latest generation of iPad is $299, and remains a common choice for classroom devices. Both products use Apple's iOS operating system, and educators tend to like them for their data privacy features. With Windows 10 under the hood, Microsoft offerings include laptops and tablets from Lenovo, Acer, HP, Dell, and others. Like Apple, Microsoft and Windows 10 are known for their privacy features. Chromebooks, the most popular option, also include devices made by Dell, HP, Acer and others, but run on Chrome OS.
1:1 Districts
1:1 initiatives and belonging to a 1:1 district, is language that just about every parent, teacher, and administrator uses to describe the push to get a tablet or laptop into the hands of every student. These initiatives date to at least the '90s. Today, they're so widespread that many adoption efforts employ an 'everyone's doing it' logic.
Many districts also make large purchases of classroom devices, but do not get enough for every student in the school to have one, or do not assign kids their own device to use throughout the year and take home with them. This approach involves storing the classroom devices at school, often in a cart specifically designed to hold and charge them.
'Digital Citizenship' and Post-Grad Success
So–why are so many districts so keen to get every student a device? There are numerous reasons, and many districts do so to achieve a few different ends. Especially for kids who qualify for free or reduced school lunch, a district might very well provide learners their first ever device. As such, it marks an important step towards 'digital citizenship' and acquiring skills that they will likely use later in the workforce.
As Ohio's Medina School District Superintendent Aaron Sable told Cleveland.com, "I think [the 1:1 initiative] really advances our district. I think one of the responsibilities we have as a district is to prepare students for post-high school, and part of preparing them is use of technology."
Besides these factors, 1:1 initiatives also allow all students to get on the same page regarding digital courseware and learning tools. If everyone has a device (and an internet connection at home), classes using a learning management system (LMS) can use the software to a much greater degree. Students working on the same project can also collaborate remotely outside of class. These are just a few of the benefits involved.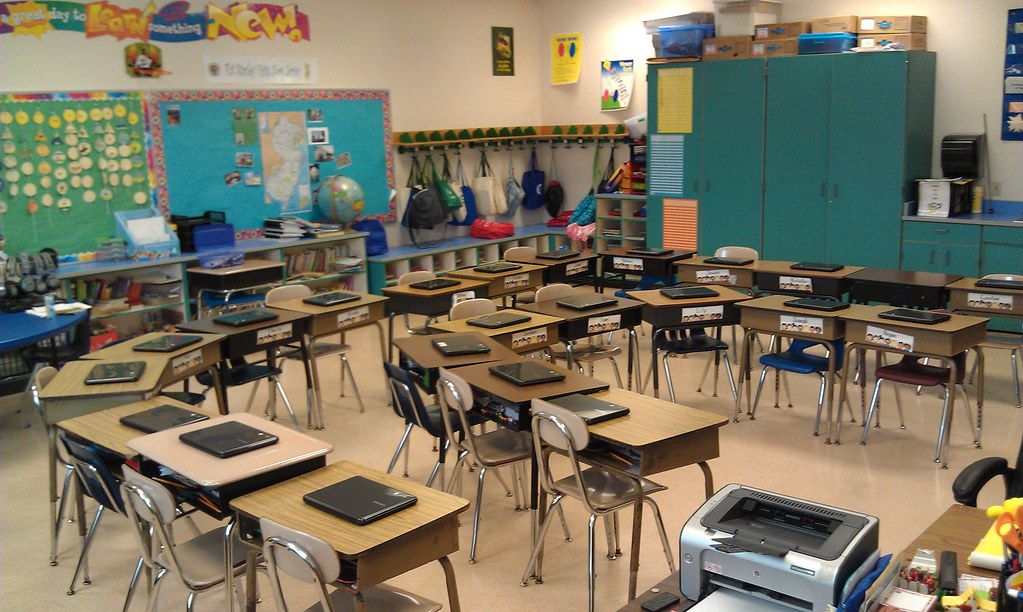 Cost of Classroom Devices
Any district-wide effort of this magnitude is going to come with considerable cost. Besides the number of learners in any given district, admins face a wide variety of options in terms of which devices to choose. Many vendors price their laptops or tablets marketed to schools at a per-unit price in the range of $300-$400. A few are cheaper, and some are more expensive. Depending on region and which vendor a district deals with, the price might vary for the same device.
According to the Morning Call, Pennsylvania's Bethlehem Area School District has recently purchased an unspecified type of Chromebook at a per-unit cost of roughly $300—a fairly common price point.
The South County Times of St. Louis, Mo., meanwhile, reports that the Affton School District purchased 200 Chromebooks (also unspecified) for the price of $144,650. This puts their per-unit price at just under $725. 
Cost Savings?
Cost-wise, getting every kid a device doesn't necessarily translate into a net negative. Advocates say the devices also have the potential to reduce costs related to school supplies, textbooks, and testing. Theoretically, one could see how this might work. If a school were to implement a 1:1 initiative and switch entirely to open educational resources (OER), that would significantly bring down the price of textbooks. eLearning Inside has not, however, uncovered any district budget analyses describing significant savings associated with 1:1 device purchases.
Maintenance
Every machine—digital or analog—requires upkeep and occasional repair. Some districts really struggle with maintenance and find that unexpected costs crop up very quickly. The News Courier based out of Limestone County, Ala., reports:
At the Limestone County Board of Education work session Tuesday, LCS Executive Director of Curriculum and Instruction Brad Lewis explained damage and repair costs were "significant" across the district.

Furthermore, he said, teachers had reported students downloading games, using social media and staying on their take-home computers late at night, leading to difficulty staying focused or engaged the next day. Among teachers who responded to a district survey, 77% wanted the devices to come back to the schools and remain on carts that could be used to charge and manage the devices.
Other districts, meanwhile, appear to have no issues giving their students free rein to use their devices.
Ohio's North Ridgeville Academic Center, meanwhile, has come up with a novel approach to device repair: teach students how to do it. The Morning Journal reports that a student club, the Chromebook Academy, fixes both hardware and software issues with the classroom devices.
"It's really fun," said eighth grader Gavin Dienes, according to the Morning Journal. "I like figuring out what's wrong with the Chromebook and fixing it. This is something I might consider as a career down the line."
Preventing the Summer Slide
The question of whether or not to allow students to keep their devices year-round touches on another effort. Parma City Schools (in Parma, Ohio), Toledo Public Schools (in Toledo, Ohio), and other districts will be sending their students home this summer with their devices so that they can continue learning over the summer.
"Our students have proven to be very responsible in caring for the technology we provide to them," Parma Superintendent Charles Smialek told Cleveland.com. "Learning does not end on the last day of school. Now, our students will be able to access the same technological advantages during the summer that they are fortunate enough to experience during the school year."
Replacing Snow Days with eLearning Days
Ensuring every student has a device has other benefits as well. As the U.S. experiences more and more extreme weather events, many schools have adapted to be able to teach any given course online, at least temporarily. ELearning days have enabled students with classroom devices to continue learning in the event of snow, flood, fire, or storm. Minnesota's Shakopee School Board recently tapped a community technology levy to use devices partially to ensure that students can continue learning at home if schools get closed for bad weather, according to SW News Media.
These mark a few of the more common topics districts take up and debate regarding the deployment of a 1:1 device program. There are countless others, including issues of digital divides, data privacy, screen time, the durability and average lifetime of the hardware, and more.
Featured Image: Kelly Sikkema, Unsplash.