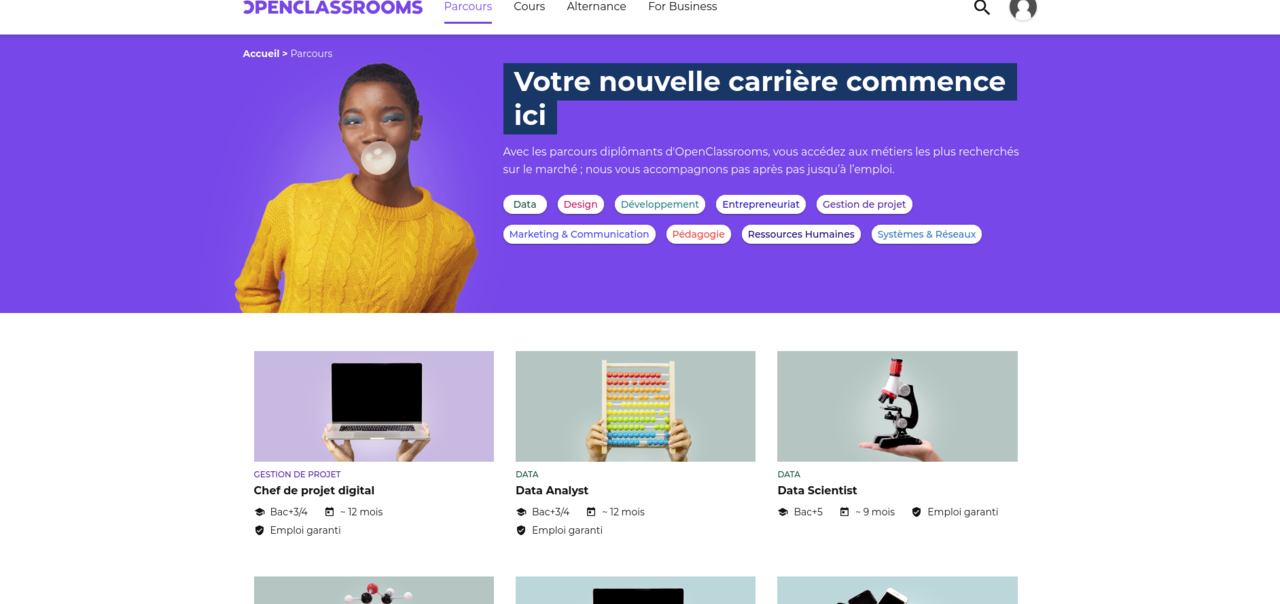 OpenClassrooms and Stanford Online Partner to Create Master's Level Digital Transition Course for Business Leaders
February 03, 2020
Two early online learning leaders announced a new partnership on February 3rd. OpenClassrooms and Stanford Online have agreed to partner to create an online course for Master's level learners that focuses on making digital transitions for businesses.
"Digital Transformation Lead" is self-paced and intended to last roughly six months. Learners will be paired with personal mentors who will guide them through their course work. The course uses licensed Stanford University curricula and is built around project-based learning. Over the course of the class, students will complete five different projects.
Subject matter will include designing business models around digital capabilities, putting data to work, and overhauling analog business functions.
Digital Transformation Lead from OpenClassrooms and Stanford Online
Like some other OpenClassrooms Career Paths programs, Digital Transformation Lead offers two payment options. The first is a monthly subscription for the price of $1,000 per month. The second, however, allows learners to apply for an apprenticeship that involves an agreement between the French government and a French business. Learners are paid to go through the program while also working for the company. One must be eligible to work in France to go this route.
"OpenClassrooms and Stanford Online are uniquely positioned to prepare this group to lead their teams through digital transformation," said OpenClassrooms co-founder and CEO Pierre Dubuc, in a statement. "Our innovative model and enormous community combined with input from Stanford faculty who have added Silicon Valley expertise offers incredible opportunity for learners worldwide."
The first iteration of OpenClassrooms was launched in 1999 by 13-year-old Mathieu Nebra as a site to help people acquire computer programming skills. Originally known as Site du Zero, Pierre Dubuc soon stepped in to help grow the initiative. In 2013, the team rebranded as OpenClassrooms and developed into more of a MOOC-style platform.
Besides many free online courses, OpenClassrooms also offers Career Paths for a monthly subscription. Besides the newly announced Digital Transformation Lead Career Path, these also cover subjects like Full-Stack Developer, Data Analyst, and many other tech industry-aligned courses. Their Career Paths pair learners with mentors and often include a job guarantee agreement.
Two Early Leaders in Online Professional Training Join Forces
OpenClassrooms' Career Paths are endorsed by the French government and include accredited Bachelors- and Master's-level education.
Stanford Online, meanwhile, served as the university's initial online education platform. Today, with the growth of edX and other MOOC platforms, Stanford Online has grown into a resource focused more on online professional learning and vocational training.
"Digital transformation requires business leaders to think differently and to use new technologies, data, and business models to drive fundamental change in the way their businesses operate. This collaborative, executive education program enables us to educate learners in Europe and Africa and through OpenClassrooms, offer regional context," said Stanford Professor Pamela Hinds, in a statement. Hinds' research and instruction focuses on management science and engineering.
"We are excited about activating OpenClassrooms' project-based pedagogy model which adds an applied learning dimension to the program to deepen the contextual relevance," Hinds continued.
Learners who successfully complete the program will earn credit from both Stanford Online and OpenClassrooms.
Featured Image: Wikimedia Commons.