Melodics Reimagines Music Education with New Songs Feature
September 25, 2022
Melodics, the platform for music learning, reimagined music education as part of a beginner-to-pro journey. Now, subscribers can access Songs, a catalog of lessons inspired by the popular music that users know and love: Queen, Beyoncé, Frank Ocean, Dr. Dre, Olivia Rodrigo, Paramore, Tame Impala, Silksonic, and more. Aspiring musicians on the electronic drums, MIDI keyboards, and pad controllers can master hit music and be the artist while creating habitual and consistent practice.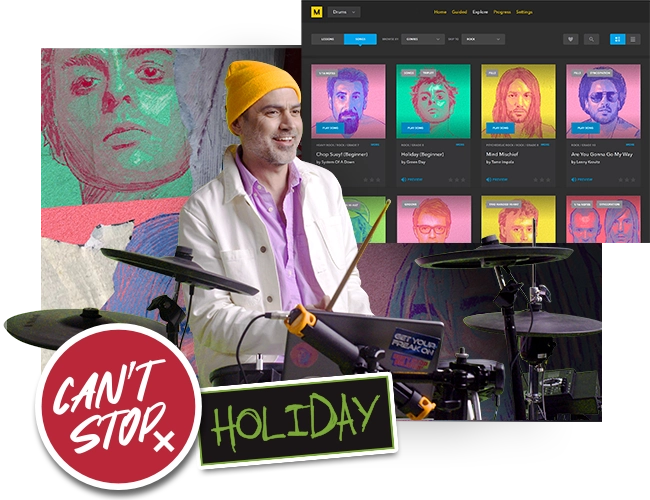 Drawing from hit commercial music, lessons are arranged and produced internally by a team of music experts and educators using familiar music to make practice fun and more meaningful. Users apply accumulated instrument knowledge and skills with real-world context, using their own instruments.
Real Education with Real Music
"Our team at Melodics curates a selection of well-known and beloved hits, but also the deep cuts most requested by musicians," says Rodi Kirk, Director of Product and Education at Melodics. "We believe in learning by doing. You're playing real music from day one, with instant feedback on performances, on iconic tracks and world-class sound design."
Songs follow the same classification by skill level as other Melodics lessons, ranging from Grades 1-14, beginner to pro. The curriculum is designed to cover all the fundamentals one would need, and build on skills learned previously, with gamification tools to keep users motivated and create productive practice habits. All while coaching users to find dexterity, and improve muscle memory and familiarity with their instrument. With a flexible curriculum, users learn at their own pace.
Real-time Feedback on Performance
Correct notes are delivered visually through practice and performance modes that respond to play, reminiscent of the delivery in music rhythm video game Guitar Hero, but with real instruments where musicians actually learn. Users receive immediate feedback, as notes change color to reflect timing: green notes signify correct timing, while red notes signify missed notes. Purple and orange indicators also aid in timing accuracy.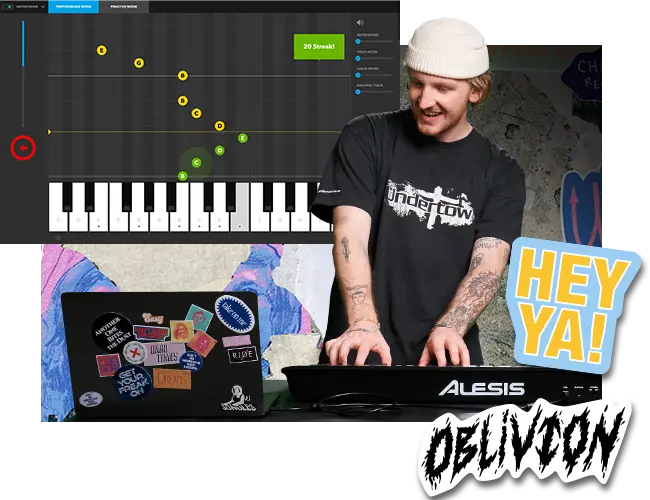 Those looking for more practice can adjust loop points in practice mode or slow down the BPM delivery of a song. When feeling prepared to play, users switch to performance mode to test their knowledge of the song.
A Gamified Curriculum
"Many aspiring musicians give up on learning an instrument because what they're learning is just not relevant, it's not music they actually enjoy," says Sam Gribben, Founder and CEO of Melodics. "Melodics takes users from being musical learners to players, changing the world of music education. As they learn real-world songs, the gamified curriculum encourages habitual and enjoyable practice. You won't find this degree of curation and attention to production anywhere else."
About Melodics New Zealand-based Melodics offers a desktop app that teaches musicians to play keyboard, electronic drums and pad controllers. Guided courses aid in the beginner-to-pro journey, with classification by difficulty level, built upon previous lessons. Subscribers can also access Songs, carefully curated and produced commercial music for learning, by artists including Queen, Olivia Rodrigo, Dr. Dre, Silksonic, and more.
Melodics regularly releases new lessons and courses curated by their own team of musicians and music educators, using proven gamification principles to create a learning tool that makes practice addictive and fun. Melodics adapts to your abilities and musical tastes, and motivates you through reward and recognition, delivering results faster.
Featured images: Rock Paper Scissors, Inc.