Liberty University, One of America's Largest Online Educators, Spent Over $157 Million on Admission Leads Between 2009 and 2016. Their 8-Year Graduation Rate is 44%.
January 28, 2020
Liberty University is one of the biggest universities in the U.S., especially when it comes to private institutions and online enrollment. LU is an Evangelical Christian school, and sports Division I football and basketball teams. They also maintain confusing and even questionable statistics when it comes to important institution factors, like admissions, graduation rates, and post-graduate earnings. While the school struggled to maintain enrollment during the early and mid-2000s, it experienced massive enrollment growth beginning in 2007. Publicly available data indicates that this is due to both to a largely-expanded online program and aggressive investments in digital marketing and leads generation.
The school is led by President Jerry Falwell Jr., the son of Southern Baptist Pastor and televangelist Jerry Falwell Sr. Falwell Jr. is largely responsible for the institution LU is today. While Liberty has offered remote education since 1985—initially via correspondence courses—their online offerings have exploded in the past 15 years. Falwell Jr. became President of Liberty University in 2007 after his father passed.
There are no standard large online university. But the Lynchburg, Virginia-based Liberty University stands out in numerous different ways. With this post, eLearning Inside is going to provide a wide-ranging snapshot of the school. To compile this article, we relied on the U.S. Department of Education's College Scorecard, Liberty University's 990 tax return forms, and the school's website.
Though eLearning Inside reached Liberty University's media relations team, the institution ultimately declined to comment.
Liberty University Enrollment
The DoE's College Scorecard puts Liberty University's current undergraduate enrollment at 45,364. But counting master's and PhD candidates and learners pursuing individual courses or certificates, their student body is up over 110,000. Previous reports have indicated that the majority of these students study online.
In 2017, Inside Higher Ed reported that LU counted 110,000 total students, 15,000 of whom attended their brick-and-mortar campus.
These enrollment figures were not always so massive. In 2007, again according to Inside Higher Ed, enrollment stood at 9,600 on campus and 27,000 online.
Non-profit institutions in the U.S. are required to disclose their five largest contracts granted to independent service providers on their 990 tax forms. In FY 2006 (ending June 2007), Liberty University's five highest-paid contractors looked much like other institutions' often do. They went to construction and advertising companies.
Huge Investments in Data and Admissions Leads Generation
The next year was mostly the same. Except one other kind of company appeared on the list. Liberty University paid SunGard Education (spelled 'SunGuard' on the 990) just under $1.5 million for IT consulting services. This was still relatively inconsequential in the grand scheme of things.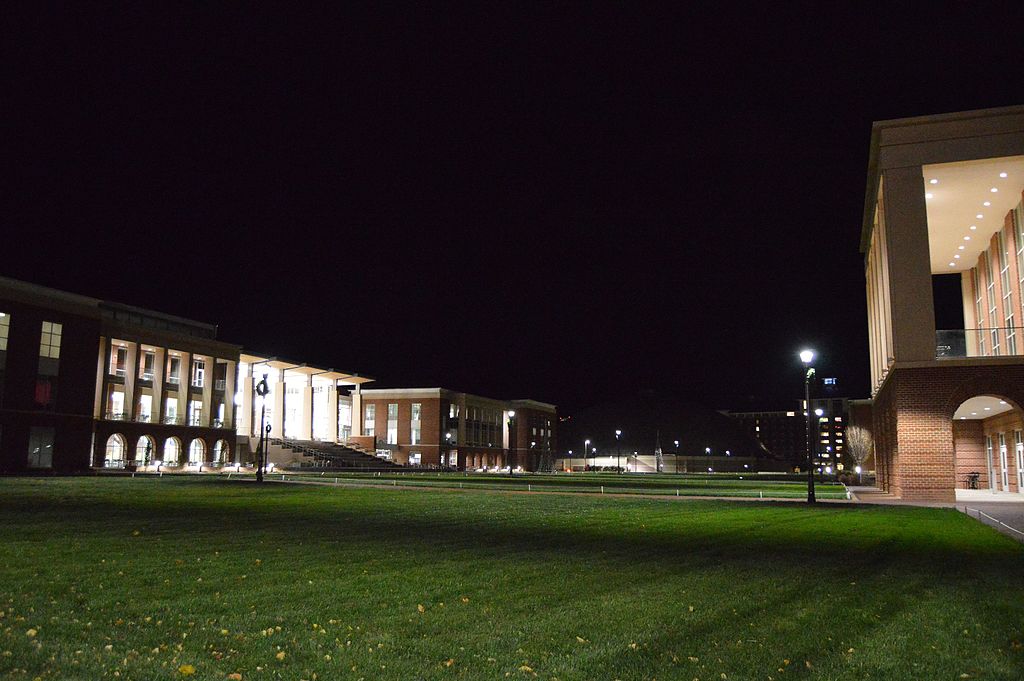 But over the following years, Liberty University began spending millions for the resources offered by data collection and marketing companies. In 2008, they paid Datamark Inc. $5.86 million for 'Leads for Student Marketing' (their top contract that year). In 2009, they paid $5.59 million to Education Dynamics for the same service, along with a collective $3.3 million to Platform Advertising and All Star Directories for 'Admissions Leads Generation.'
These providers sell personal data–like demographic and contact information–that allow third parties like Liberty University to more effectively target their marketing efforts.
By 2012, they increased their admissions leads budget to over $28 million. In the years since, Liberty University has regularly spent over $20 million per year on admissions leads, except in 2013, when they cut back to $19.8 million.
In 2017, the latest year for which data is available, Liberty University paid a collective $26.5 million to Google, HigherEducation.com, and Microsoft Online. Again, each of these companies in some way provided Liberty University with data regarding students who were likely to apply or enroll in the institution.
Just counting their largest declared contracts, Liberty University spent over $157 million on student leads generation between 2009 and 2016.
Admissions
These investments appeared to have paid off. Despite their massive size, Liberty University admits just 30% of total applicants. Considering the school has a U.S. News ranking of the group ranging from 291-383 in the U.S., a low graduation rate, and fair graduation outcomes (we'll get to those later), it's interesting just how much interest there is in the school.
On a related note, the school accepts students with rather high test scores for their academic ranking. Successful applicants scored between 530 and 640 on the SAT Critical Reading Section, between 510 and 600 on Math, and between 21 and 27 on the ACT.
University Revenue
When it comes to revenue sources, Liberty University also stands out. The school earned a total of $1.1 billion according to their FY 2017 990 tax form. Of this revenue, $931.7 million came from tuition and fees. Representing nearly 85% of their total revenue, this is also highly unusual. Private non-profit schools in the U.S. earn, on average, 30.3% of their total revenue from tuition and fees.
What's more, the next notable sources of revenue at Liberty University were also relating to student services in some form. The school earned $77.2 million from room and board, $12 million from "Student Fees" (which are apparently not accounted for in "Tuition and Fees"), and $9.97 million from "Student Activities."
This picture has likely changed since 2017, during which time Liberty University got their football team into NCAA Division I. But most private non-profit universities also earn substantial portions of their total revenue from federal grants and contracts, hospital services, private gifts and contracts, and auxiliary services. This was not the case with Liberty University in 2017.
Expenditures
At the same time, Liberty University spends these revenues in interesting ways. Regarding payroll, key officers and leaders earned $6.46 million collectively in 2017. President and Chairman Jerry Falwell Jr. earned just under $1 million. That may be on the high side, but it's not unheard of. The next highest salaries went to Head Football Coach Turner Gill ($893,219) and Head Basketball Coach Ritchie McKay ($591,356). Compared to other private universities, especially those of Liberty's size, these are modest sums.
For the the salaries of all other employees, LU paid a collective $275.13 million, in addition to $47.37 million in benefits. The school also paid $225.8 million in grants to domestic students. The school reports that 88% of their students receive some form of financial aid.
LU puts their sticker price at just under $35,000 per year including tuition, fees, room, and board. According to the College Scorecard, students pay $27,573 on average. This sum does not change significantly for learners based on their family income. While those who come from families earning more than $110,000 pay an average of $29,447, those from families who earn $30,000 or less pay on average $25,416.
Student and Graduate Achievement
Despite a selective admissions process, Liberty University does not have a great graduation rate. 44% of their undergrads graduate within an eight year period. The average six-year graduation rate in American higher education is 60%.
Those who do graduate don't generally go on to be exceptional earners either. On a per-program basis, according to the DoE's College Scorecard, the average salary after graduation ranges from $67,200 for Electrical, Electronics, and Communications Engineering (Bachelor's) down to $15,100 for an Associate's in Teacher Education and Professional Development.
In the past twelve years, Liberty University has transformed into a massive online institution with huge earning power, thanks in large part to a heavy investment in potential student data and admissions leads generation. But despite these gains, their graduation rate remains below average.
Featured Image: Taber Andrew Bain, Flickr.