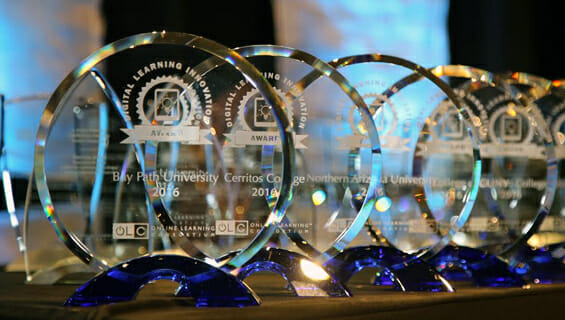 The Digital Learning Innovation Award Deadline is June 30
May 09, 2017
In the late 1990s, the Sloan Consortium was established to provide early online education innovators with research, instruction and best-practice publications. Today, the Sloan Consortium is known as the Online Learning Consortium and continues to promote its original mandate.  Among the Online Learning Consortium's many endeavors is its annual Digital Learning Innovation Award. As Kathleen Ives, the current CEO and director of the Online Learning Consortium explains, "The DLIAward program is keenly focused on recognizing those institutions and faculty teams that are truly being innovative, creative, and dedicated to advancing digital learning for all students."
The Digital Learning Innovation Award
The Online Learning Consortium started its annual award showcase to celebrate the exemplary use of digital technologies in higher education. The awards especially seek to celebrate course ware innovations that have a demonstrated track record of improving student success among minority and first-generation students. As stated on the consortium's awards homepage: "With a focused lens on increasing the number of undergraduate students who complete foundation or gateway courses, the award will recognize projects that inspire innovation, increase access, support implementation, improve outcomes, enable accessibility, and promote sustainability in the use of digital courseware."
The award committee uses three central criteria to assess projects: innovation, access and accessibility. Under innovation, several sub-criteria are also considered. To this end, applicants are asked to clearly respond to the following questions: What was the barrier their course sought to overcome? What was the solution? Was the impact at the course or program level or institution-wide? And was the impact pedagogical, structural or something else?  Both institutional and faculty-led team submissions are accepted and encouraged, and there is a lot at stake. Up to three institutions win up to $100,000 and up to 10 individual teams win up to $10,000.
Past Winners
In 2016, institutional winners included Bay Path University, Cerritos College, and Northern Arizona University.  Northern Arizona University was awarded a Digital Learning Innovation Award for its Peak Performance Mathematics Summer Bridge Program, which aims to promote STEM degree attainment by students at Northern Arizona University.  The program is specifically designed to support students who enter the university with fewer than the required number of mathematics classes needed to pursue their chosen STEM major.  To ensure these students are able to stay in the STEM field, Peak Mathematics offers incoming freshmen and transfer students a free and flexible way to upgrade their standing in mathematics prior to the start of their first semester.

Among the 2016 faculty winners was an large team of faculty from the City University of New York. Their project had four goals: "Increase the success of students in gateway science courses, particularly low-income students of color, reduce out-of-pocket costs for students, find truly effective pedagogical practices that can be implemented across resource-limited public institutions like CUNY, and teach instructors to adapt the pedagogies." As noted in their proposal, one-year gateway general chemistry courses have a very low national passing rates (~60%). In Spring 2014, the faculty team ran a blended pilot, which consisted of one hour of class time supplemented by additional custom videos, a commercial online homework system, and WordPress website. Over 200 students registered for the course and an amazingly high rate (85%) passed.  The online approach also meant that student costs were reduced by
half. Building on the success of the pilot, the team rolled out the course again in Fall 2014 and Spring 2015.  The Spring 2015 course was especially impressive. Starting with a group of lower performing students, they found that the pass rate rose from 35% to 80%.
How to Nominate an Individual or Team
If you are interested in nominating a team or nominating your own team, take time out to attend the Online Learning Consortium's upcoming awards webinar on June 14, fill out the 2017 Digital Learning Innovation Award application, and be certain to submit your application and accompanying materials no later than June 30.
While the recognition and financial awards associated with the annual Digital Learning Innovation Awards are important, as Ives emphasizes, this is not the only reason the awards exist: "By providing this platform for more institutions to add their own digital courseware experiences to what is currently known in the field, we can better understand design features, implementation strategies and student-related outcomes."