Instructure Eyes Adaptive Personalized Learning, But CEO Dan Goldsmith Says They'll Follow Their Community's Lead
July 11, 2019
Over the course of the three days at InstructureCon 2019, the makers of the Canvas learning management system (LMS) delivered a 'state of the platform.' Upper management discussed numerous new features, recent acquisitions, and described their outlook going forward. Many attendees, however, were interested to hear more about rumblings of the company's expanded data analytics, AI capabilities, and predictive modeling, which have been developed in a working project known as DIG. The effort was announced at the last earnings call. eLearning Inside sat down with Instructure CEO Dan Goldsmith for comment.
Goldsmith began by describing how Instructure's general strategy is to listen to its stakeholders and education community, and respond accordingly.
"We view our organization as as supporting player."
"One of the themes we have talked about this conference is the connection between the core of teaching and learning and the operations of simplifying teaching and learning extending to student success," Goldsmith said. "One of the interesting elements of student success is it being individualized. With adaptive and personalized learning, I think it's inevitable that we, as an educational community, need to think about ways of driving personalized learning and personalized growth experiences.
"We're seeing that across the board in how colleges award admittance to their organizations. We see it as individuals move into the professional world and take on careers. We're seeing more personalization throughout grade school as well. In terms of Instructure, we view our organization as a supporting player in the move toward that personalized journey."
Instructure already has powerful analytic capabilities. The question the company is currently looking to answer is if and how to use that data with the student experience.
The company has not yet spoken explicitly about DIG, and how it may be put to use. In the investor call, Goldsmith merely said that DIG is a platform "based upon machine learning and artificial intelligence" that could deliver "new insights and predictive modeling."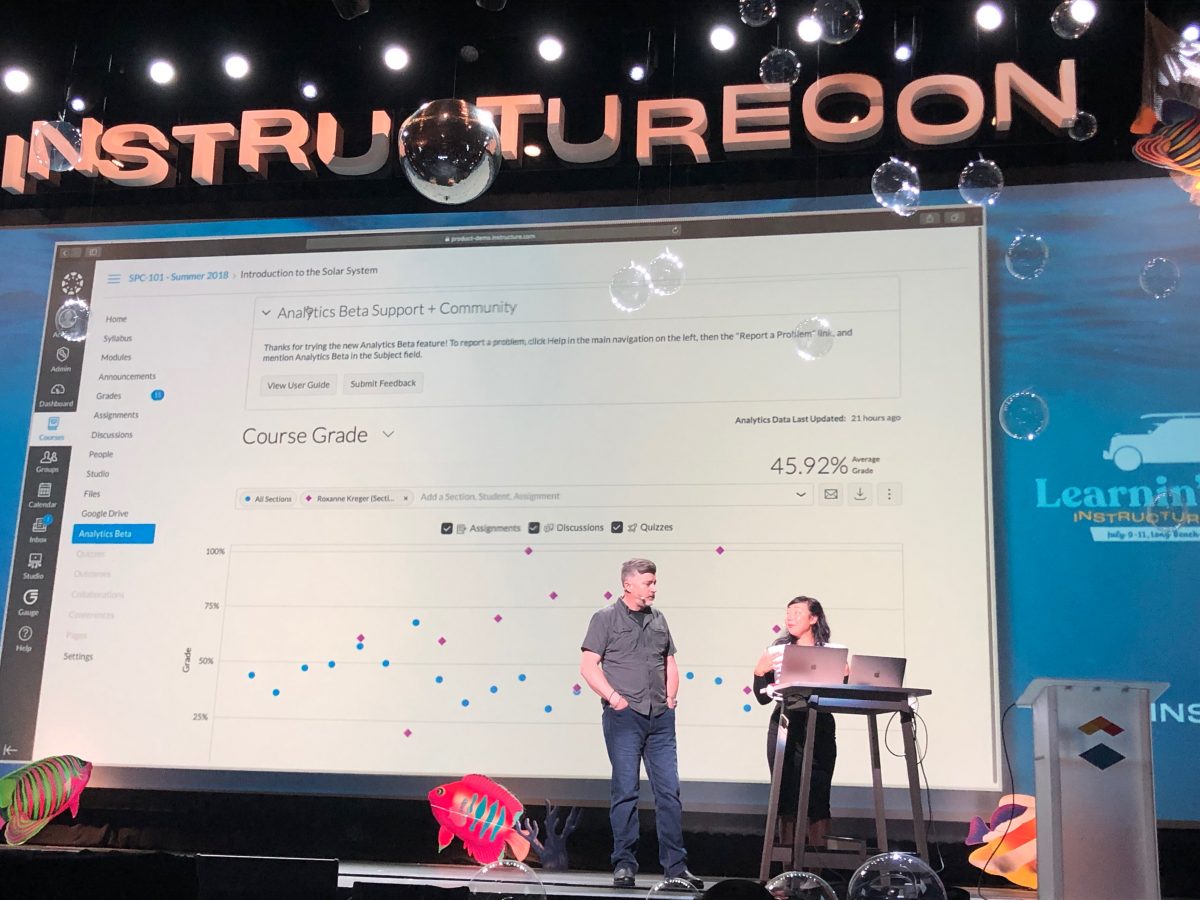 Instructure Is Developing DIG, But A Few Details Remain Unknown
But during the interview, Goldsmith never walked away from the potential of employing adaptive, personalized learning. He viewed it as a feature that may well become a reality across the board.
He also spoke about its potential to aid learners.
"I attended an education conference a few months ago," Goldsmith said. "The theme was very much about remediating the skills gap and creating more of this idea of, 'How do we produce individuals that are more prepared to take on jobs in the marketplace?'
"But the general tone of the way they were thinking about it was 'pushing skills into humans.' It was almost this idea that there are these generic human vessels that we need to arm with skills based upon a job market. At Instructure, we think about it very differently. We think about it as understanding the individuals, their paths, their passions, and what their interests are.
"We are a piece in an ecosystem and, ultimately, the scaffolding that should be wrapped around an individual. I think that as we take on more of that mindset, it's enabled by adaptive and individualized learning, and that will lead to individual success in that individual's definition."
There Will Not Be a Simple Opt-Out
Stakeholders have previously expressed concern regarding Canvas' data collection practices, which are necessary to power an adaptive learning experience.
I'm not at InstCon this year (though I was last year; it was a ton of fun!), so I submitted questions for the Thursday engineering panel, and I am hoping to get answers: I'm very concerned about new Instructure emphasis on AI, data-mining, and algorithms: https://t.co/in9KUHWfjr pic.twitter.com/6OXVzUxOS5

— Laura Gibbs (@OnlineCrsLady) July 8, 2019
Goldsmith is quick to point out that Instructure has no plans to sell their data. In a previous interview with EdSurge, however, he said that there would not be a simple option to turn off data collection on the platform, reasoning that "It doesn't necessarily work that way, per se."
Instructure did not provide further details on DIG, but has signaled that more news will be announced in the future.