How to Optimize A Website For Google Featured Snippet
January 17, 2022
The SEO industry is booming right now. Currently, the industry is worth over $80 billion. Search Engine Optimization (SEO) involves using tools that will raise the ranking of a website or organic search result higher on a search engine like Google, Bing, and Yahoo. It involves techniques that you can apply to your website to attract more visitors.
Google Featured Snippet is one of the factors that impact a website's search engine ranking, with many web creators investing in SEO packages to rank in featured snippets.
What is Google Featured Snippet?
Google Featured Snippet is a block of search engine results that are displayed above the regular organic search results snippets. It contains quick information which helps users to get quick answers to their questions along with displaying different links to web pages. The Google Featured Snippet usually includes information from official websites or news articles.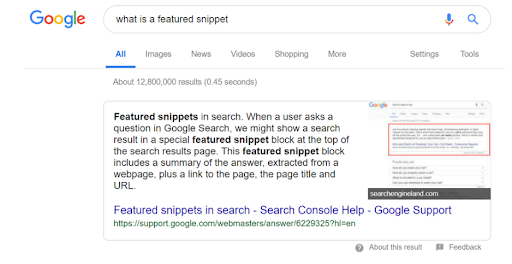 How does it work?
The Google Search algorithm uses different metrics to determine what result shows up in the Featured Snippet. A combination of high-quality content, links, and exact match anchor text may help you rank better in this position for your target keywords. Google Featured Snippets ranking algorithm is complex but there are various tips to help you achieve it.
Write Quality Content
Google looks for unique and high-quality content that can provide answers to the users' questions. It has been found that websites with longer content usually rank better in Google search results as they contain more useful information which satisfies users' questions. This is one tip people don't think much about when optimizing a website for Google Featured Snippets but if you keep this in mind, your chances of getting featured snippets increase significantly.
The content should be recent, authentic, and value-driven. The more compelling the content, the better your chances are for ranking well in Google search results. Any content that focuses on solving user intent or solves a user query can rank higher and acquire the featured snippet spot. To know your industry-related questions, you can use tools like Answer The Public, and then create content around them to solve user queries. Try to answer a search query in 50-60 words. That is usually the ideal length to get a featured snippet spot.
Include questions that users are asking
Often people search for questions and simply list down keywords that they are looking to rank well in the Google Featured Snippet. For example, if you visit BMW's official website, their content consists of a few FAQs that provide answers to the common questions users ask about this car brand. Similarly, you need to do a little research on tools like Answer The Public or Exploding Topics and find out the questions that people are asking in your niche. You can then create content around it and see your website's position in Google Featured Snippet rise.
Don't overdo keywords
Keyword stuffing is bad practice when optimizing a website for Google Featured Snippet. Not only does this practice negatively impact your SEO results but also annoys the visitors with irrelevant information on your web pages which may turn them off. Your content shouldn't just be about keywords but about solving user intent or resolving the user's search query. Content should be informative and not an SEO tactic that's filled with keywords. You can use tools like Google Keyword Planner to know the best keywords for your industry.
Write naturally instead of over-optimizing your content so that you can rank better in organic search results without inconveniencing users with unnecessary keywords. Create high-quality posts written around one main topic with relevant subtopics mentioned throughout the article.
While writing content, make sure you add a meta description and never leave it blank or someone else will put up their own. The best practice is to keep the meta description close to 160 characters long and preferably give users an idea about what type of information they can get on the same page. Keep in mind though; do not stuff irrelevant information.
Optimize your website for mobile devices
Google updated its mobile algorithm in 2017 which focused on websites that are mobile-friendly. If you have a responsive website with an excellent user interface, then you will rank better in the featured snippets section when people search for information using their mobile phones. Make sure you check if your website is ready for this new update because it can significantly enhance your organic traffic results through Google Featured Snippets.
Try changing your theme, layout, and design so that pages load faster on smartphones and offer a seamless browsing experience to visitors. For this, you need to optimize your page code, design the contents on the page. One of the things you can do is compress the images on the page. Using a tool like Tinypng can help you compress the images on your page which can lower your page load time hence making the page less heavy and more mobile-friendly. However, the best tactic for making a page mobile friendly is using an HTML responsive web design code for your page. By making your website mobile-friendly, you can get more organic traffic from Google search results as well as increase conversions by giving users exactly what they are looking for.
Focus on creating user-engaging content
User engagement matters the most when it comes to ranking well in Google search results because that tells the algorithm what users are actually looking for. If people keep coming back to your website, then you can be sure of ranking better in Google Featured Snippet. That's why writing high-quality content around one main topic is so important. Take care of the content formatting too, to capture users' attention.
The more engaging content will be, the lower will be the bounce rate and it will help you attain a higher rank in Google search results.
Integrating Schema Markup for Product Listings
Some people think integrating schema markup is not necessary when you are optimizing a website for Google Featured Snippet but that's completely wrong. To include schema markup, you need to add code into the header section of each web page or blog post and then verify that with your Google Webmaster Tools account.
This will enable HTML5 content markup which provides rich snippets to your website in SERPs and increases click-through rates significantly. It also helps improve CTR from emails, social media posts, etc., when users can see rich snippets directly in their inboxes or timelines without opening the website link.
Wrapping up!
Follow these simple steps to optimize your website for Google Featured Snippets and get ahead of the competition. If you don't have an SEO team, consider hiring one to optimize your website.
Featured Image: Pixabay, Pexels.