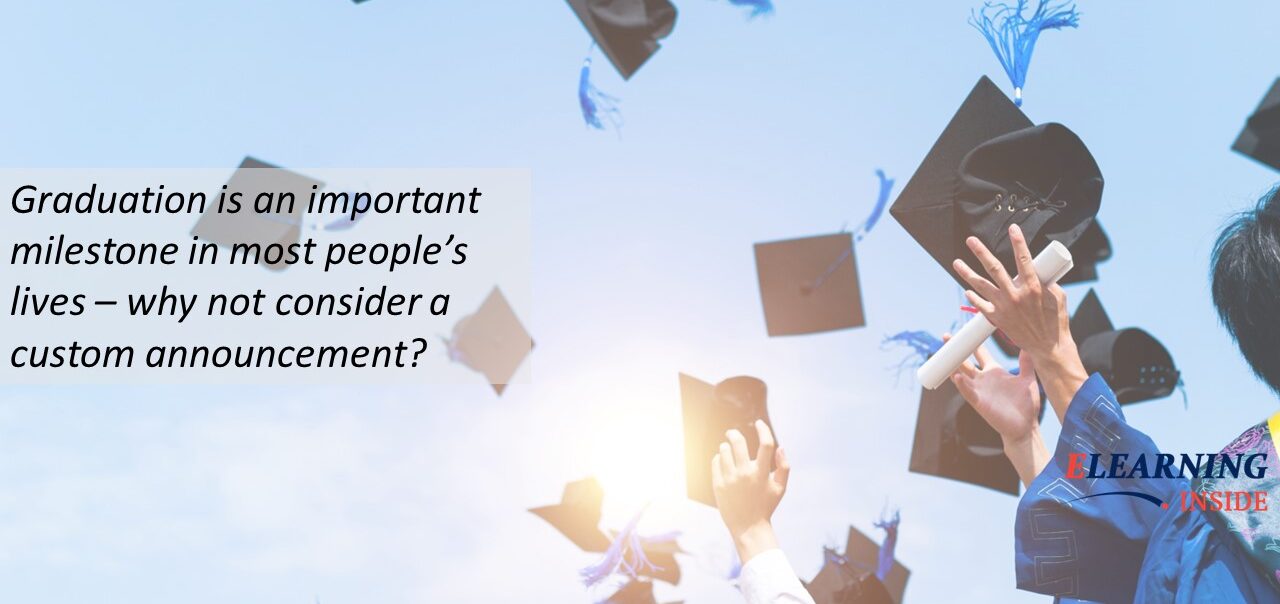 Memories Worth Preserving – How to Customize A Graduation Announcement
January 25, 2023
Graduation is an important milestone in most people's lives. And, as such, it should be celebrated in the best way possible. Whether you are looking to host a virtual event, have an intimate gathering with your family and friends, or throw the graduation party of the year, there is a must that can't miss: custom announcements.
Tailored announcements are a great way to let your loved ones know of your achievements and give them the chance to make this day extra special. In this guide, you'll find all you need to know about making your graduation announcements even more memorable!
Draw Inspiration From Your Own Journey as a Student
Although nearly four in ten US citizens aged 25 and over hold a bachelor's degree, every person's student journey is unique. Whether you have followed a lifelong passion or you opted for a vocational degree, you might consider drawing inspiration from your college experience to create unique and memorable graduation announcements.
A great way to do this is to include meaningful photos of snaps of your daily life as a student. Alternatively, you could choose a pattern or color scheme that reminds you of your alma mater – which takes us to the next point!
Choose a Pattern or Color Theme
Graduation announcements can become unique keepsakes – for yourself and future generations. That is why you should consider choosing the color scheme and pattern for your announcements wisely.
A great option is to draw inspiration from the colors that represent your school or university, or those that match your graduation gown. For example, if you are graduating from Yale University, you might consider sending out Yale Blue announcements. Alternatively, you could use the color of the subject of the degree being awarded, which is usually the same as the one on your gown.
Take Advantage of Customizable Templates
If you are looking for a graduation invitation with customized designs, you might consider taking advantage of customizable templates. This option can help you save precious time in the frenzy that the period before, during, and after your graduation can be.
Customizable templates are created by expert designers and bring balance and professionalism to any of your graduation engagements. However, these templates can be easily customizable and allow you to add your details and personal touches.
Add DIY and Personal Details
Looking to make your invitation announcements extra special? Consider the benefits of adding DIY or personalized details. For example, you could add a Polaroid photo that pictures you and the receiver, or you could add a meaningful or funny hand-drawn sketch.
The opportunities to make your graduation announcement unique are endless – just let your creativity run free and put your DIY skills to the test!
Choose a Font or Opt for Handwriting Names and Addresses
Although the aesthetics of your graduation announcements count, it is also important to add key details about when and where the graduation will take place. And, if you are planning to host a graduation party, you might also need to specify the party's time, date, and address.
Choosing a clear and readable font is, of course, important. However, if you are looking to make your announcements both efficient and unique, consider the benefits of handwriting the notes on your invites!
Use Online Announcement Makers
If you have a vision in mind, you can rest assured that there are plenty of software and graphic design platforms that allow you to design and bring to life your custom announcements. This is the best option if you have enough time to learn how to use these tools or if you are already confident in your graphic design skills.
Send Out Virtual Graduation Announcements
Virtual graduations have never been more popular! With many students opting for online learning courses and virtual degrees, celebrations for academic achievements are also moving to the digital space.
If you are looking for a great way to celebrate the end of your journey as an eLearning student and you wish to host a virtual party, you might also consider sending out virtual announcements! You can do so by creating your own design using online graphic design platforms or by taking advantage of customizable templates.
Keep One of the Invites for Yourself
Your graduation invitations or announcements can be great keepsakes to treasure your whole life and pass on to the next generations! To make this precious heirloom even more unique, consider keeping an extra initiation for yourself and asking fellow students, teachers, tutors, and professors to add a personal note for you to keep.
Some great options are to ask for a signature or dedication, leave a wish, or pass on advice new graduates might need when entering the workforce.
Add Photos
Nothing makes graduation announcements unique as a photo! If you are unsure about the best snaps to add to your design, consider opting for a professional portrait or a candid snap that summarizes your time at university or high school.
Get Your Announcements Professionally Printed
Lastly, don't forget to get your announcements professionally printed! After having put all that work into designing, customizing, and finishing your designs, printing them at home can lead to poor results! Instead, work with a specialized printer to send out memorable, long-lasting, and high-quality graduation announcements!
Featured image: hxdbzxy, iStock.