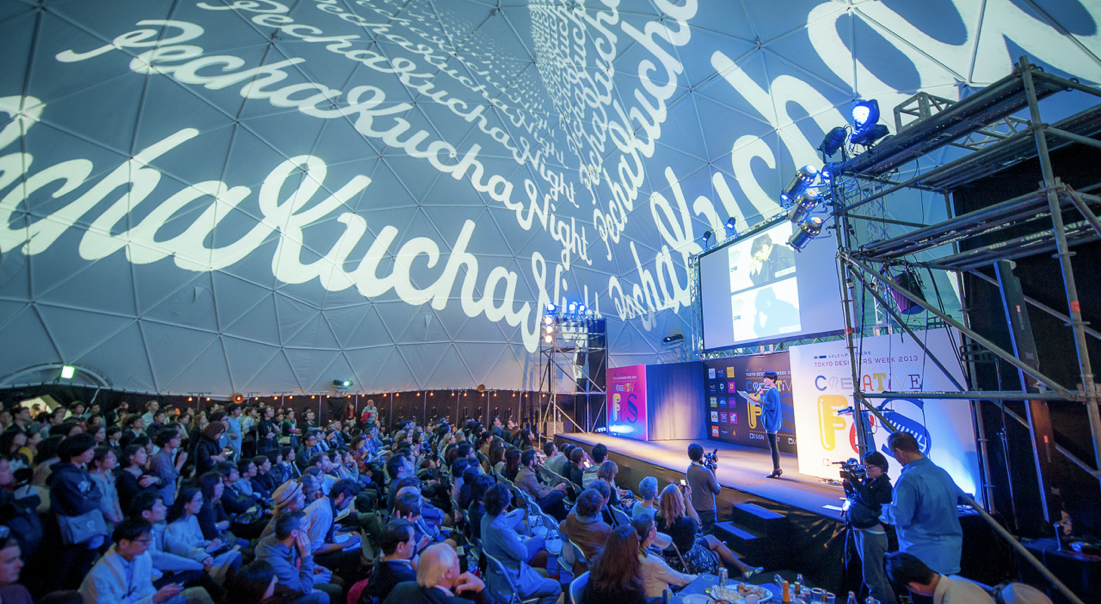 How PechaKucha Evolved A Unique Presentation Style from Format to Event Series to Brand
December 11, 2019
Most have neither heard of nor attended a PechaKucha (pronounced peCHAKscha) event. But for the roughly 3 million people from over 1200 cities around the world who have, they're a treasured cultural phenomenon. After being developed as a concept by Tokyo-based architects in 2003, the presentation style and events have spread around the world primarily via grassroots networks. A company was formed to support and grow this community just last year.
"PechaKucha has been this organically growing community," said company co-founder and CEO Sean Smyth over the phone. "People hear about it, and then they bring it to their city. These events are full of creative people. They introduce you to more creative people. It's just a fun community to be a part of."
At its root, PechaKucha is a way to tell a story. The term is Japanese for 'chit chat.' The format involves a speaker giving a presentation aided by 20 slides that each last exactly 20 seconds long. These slides might contain images, text, video, or audio.
Invented in 2003, PechaKucha Has Spread Primarily Through Word-of-Mouth
Architects Astrid Klein and Mark Dytham developed the concept in 2003 after attending one-too-many terrible powerpoint presentations. They were too long. Slides were burdened by too much text. In worst case scenarios, Comic Sans was involved.
So they began a PechaKucha event series in Tokyo and invited anyone and everyone to both attend and present. This open spirit helped spread PechaKucha, and soon, others began holding their own local events.
"It turned into this event series, very much like TED, but more organically driven," Smyth said. "Anybody can speak. You don't have to be an expert in some field. You don't have to be some kind of known luminary. If you have a passion, you can get up and talk."
They also don't have much production. They go down in community centers, schools, bars, parks, or other public spaces. Most are low-cost or free.

For fifteen years, PechaKucha events grew and spread around the world. In just the past few months, Bermuda hosted its 28th PechaKucha series. PechaKucha nights were held in Stillwater, Oklahoma; Kunming, China; Waldoboro, Maine; Quilpue, Chile; Pennicton, British Columbia; Honolulu; Burlington, Vermont; Quebec City; and many more.
PechaKucha has been employed widely at conferences, businesses, social organizations, and schools. Teachers have used it to teach digital storytelling, deliver occupational safety training, and foster public speaking.
With this scale of international interest and engagement, it soon became clear that PechaKucha could use some kind of centralized support.
Developing a Company and Brand from a Presentation Format
Smyth had met Mark Dytham and Astrid Klein a few years back. "We were talking about how the community just kept wanting more, and how people outside the community would hear about it into their school or their business," Smyth said. "I spent a lot of time last year just trying to understand and dissect how we could support ourselves. Quickly, I got to a point where I realized that it's less about us defining what we're doing and more about just creating a platform for people to use."
A basic PechaKucha website had existed for a few years, but it was in need of an update. So Smyth and his team began building a platform to author and host PechaKucha presentations. Their tools now let anyone upload their slides and multimedia at no cost to the user. They also established an online library where people can store and share their completed presentations.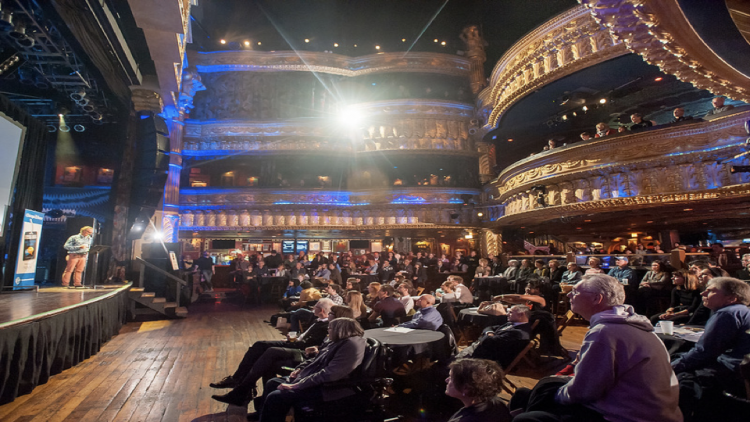 That was great for the community. But it wasn't bringing in any revenue. Then the Ah-Ha moment came.
Smyth realized that many PechaKucha enthusiasts wanted to use the format widely. But not everyone wanted to make their presentations available to the public. What's more, in primary and secondary schools—where the format gets a lot of use—there are data privacy laws in place to protect the identities of minors.
So Smyth and his company created a sort of freemium model by which third parties could pay to use the platform without sharing what they create.
Free to Share
"If you're willing to let whatever you create be seen by anybody, then the service is free," Smyth said. "But if you want to create a private event or a private presentation, then that's where our software package comes into play.
"We've seen a lot of schools and teachers who want to get their students making PechaKucha presentations, but they may not want to make them publicly available. It's the same for businesses. They may not want to have everything that they're doing internally exposed."
This expansion of the platform and services was widely welcomed by the community. Smyth hopes that, with business structures promoting PechaKucha, it will continue to expand.
"I think everyone got to the point where we understood that this is a community," Smyth said. "We've had about 3 million people go to our events over 16 years. We have become kind of big. But we're still just scratching the surface when it comes to being a mainstream brand and concept.
"We're ready to take that next step. And we've received a lot of support to do that. Most of our business is actually coming from the community. You know, someone goes to a PuchaKucha event. They like it. They love it. They bring it to their school, they bring it to their business, and then introduce it to more people. Even today, a friend of mine texted me about this big company event he's going to. It was brought up there that people spend so much time preparing their [non-PechaKucha] presentations and delivering them. But they don't spend enough time actually listening to each other and talking. PechaKucha is a way around that."
Media Courtesy of PechaKucha.