How London Came to Lead European EdTech
October 12, 2020
The debris left behind by the coronavirus in education has left countries scrambling for innovative programming to help students settle in to this new academic year. More than ever, the demand for such services has skyrocketed. 2020 has brought forth numerous edtech unicorns in the U.S. and Canada. When it comes to European edtech, London leads the charge.
According to a report published by London & Partners, the U.K.'s capital ranks first as the leading European destination for edtech investment, and the only European country in the world to be ranked in the global market for total venture capital investment, behind world powers China and the United States.
The U.K. Leads the European EdTech Market with a Valuation That Is Projected to Value £3.4Billion by 2021
Pre-pandemic, the UK's investment into European edtech start-ups and companies was beginning to accelerate rapidly. Since 2014, U.K.-based edtech companies have racked up approximately $857million in venture funding. In 2019, the country took in 41% of all European edtech venture funding.
COVID-19 has only spotlighted this growing market and the benefits it can bring in providing accessible and effective eLearning services to students currently undertaking their schooling at home.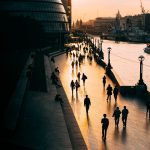 As Laura Citron, CEO at London & Partners, commented following the release of her firm's report (cited above): "London is a global center of learning, home to four universities in the world's top 50, and its thriving EdTech ecosystem provides access to growth capital, expertise, talent and universities all in one place. It is a city that fosters creativity and innovation, enabling start-ups and scaleups in the EdTech space to develop exciting new technologies that will shape the future of learning."
With this new source of investment and financial confidence from companies, a new wave of London-based tech startups have shot up to worldwide acclaim and recognition as main stays in the competitive edtech market.
Key Players in London's EdTech Sector
Teacherly is an education platform developed by teachers for teachers. It currently helps more than 70,000 education professionals deliver personalized remote lessons to students around the world. The company has reported that as much as 42% of students prefer a more flexible work-to-life balance, a personalized education would allow them the space to both enjoy learning and spend time focusing on things that improve their personal well-being.
As CEO Atif Mahmood, told FE News, "there's clear need for more investment in helping schools implement more flexible options so that disruption can be kept to a minimum as the country further adjusts to the pandemic."
https://twitter.com/MyTutor/status/1313136832356528130
MyTutor, an online platform which provides secondary school students one-to-one tuition with leading subject experts, has secured €4.4m in funding to reach a total of €15.6m since the start-up's inception in 2013. The service's demand has more than doubled.
Both Teacherly and MyTutor engage in research into engagement patterns. Further funding has evolved both platforms to better accommodate this new normal.
Remote Science Labs, Mobile Learning, and Other Specialized Solutions in the Field
Development Experts focuses exclusively on providing online science lessons to K-12 students. They operate on the ethos of inspiring interest in STEM among young learners through providing easily accessible content. The Rising Star 1.0 winner has currently 1000 UK schools and 3000 Chinese schools signed up to the platform.
With the growing demand of online support post-pandemic, audiences have looked to notable conglomerates like Microsoft, Google, and Amazon for edtech resources. Smaller companies, like Development Experts, have taken a strategy of creating more specialized and subject specific solutions.
Reskilling, Upskilling and Professional Learning
K-12 and higher education are not the only target audience in the European edtech market. There has been an increase in investment in edtech which offers non-academic services in upskilling and training adults and people already in employment.
EduMe is an mobile-orientated online training solution used by employers to build greater synergy between their employees. The start-up uses a multi-modal approach, where employers can keep workers updated on their policies through texts and videos, so that there is no barrier to getting them the information they need. This constructive work model has won them the attention from big companies like Deliveroo, Airbnb, and Uber.
In July, the company managed to close a $5m series A funding round from Valo Ventures. Showing that conditions created by the pandemic have swiftly replaced tedious office training meetings with a pragmatic, gamified digital alternative.
WhiteHat leads forward in democratizing learning by offering professional internships to young people in the UK. The London-based start-up focuses on training 16-24-year olds in competitive business fields like finance, marketing, and business. Under the pandemic, the company has gone fully digital. This new found flexibility in online presence has helped WhiteHat grow their employee base astronomically in the last 6 months.
This company, like Teacherly and MyTutor, has chosen to fully embrace remote-working, and has greatly benefited from it. Thus, with the rise of remote-work, the backing of such edtech companies could usher in a new era of workplace architecture, one that is unlikely to disappear when COVID restrictions loosen.
The secret to the UK's emerging success in the edtech market is no secret at all. Tech startups have found that the only way to survive in this current situation is embrace the new environment that comes with it and give people what they really need. Companies like MyTutor, WhiteHat and Developing Experts have all understood acutely that online learning is the future of education, and have tailored their services to fit that model.
As a second wave looms over the country, tech startups are more prepared than ever in supporting learners from what is to come.
Featured Image: Robert Bye, Unsplash.