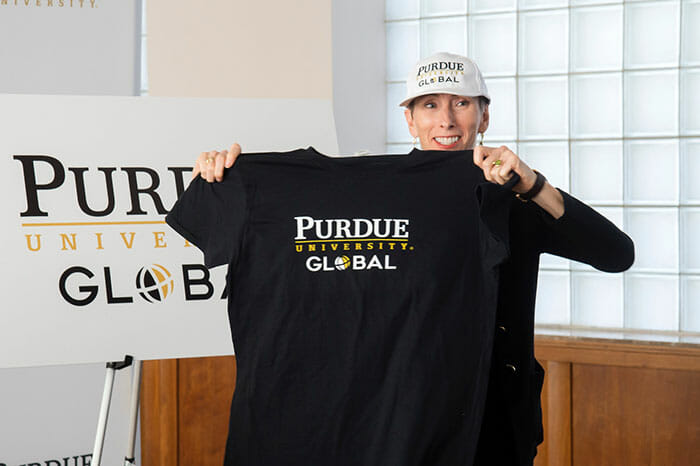 Evaluators Take a Second Look at Purdue Global as Controversy Lingers
September 15, 2018
In 2017, Purdue University acquired Kaplan in an attempt to expand its online programs. The acquisition shocked many people since Purdue University is an established public university while Kaplan is a private institution. In March 2018, Purdue University issued a press release indicating that the merged entity, Purdue Global, had received final approval from the Higher Learning Commission (HLC) and was ready to launch, but even a year after the acquisition, not everyone at Purdue University was celebrating.
At the time of the launch, the Purdue's Faculty Senate continued to raise questions about the acquisition. Now Purdue Global is back in the news again. According to an article published in the Journal & Courier on September 10, regulators are back on the Purdue University campus reviewing the earlier deal and given recent events, the timing of the regulators' return visit couldn't be worse.
A Second Look at Purdue Global
According to the Journal & Courier, the return of regulators to the Purdue University campus was not a surprise. When Purdue Global originally got the green light from the Higher Learning Commission, the go-ahead came with several conditions.
To begin, the agency asked for additional "evidence that Purdue Global University has mechanisms in place that monitor the representations made to continuing and prospective students related to program requirements, transfer and/or articulation within the Purdue University system and admission to graduate programs at Purdue University Global." The commission's trustees also wanted evidence that the university's board was, in fact, autonomous and operating independently. Finally, the Higher Learning Commission said that within six months time, they would be returning to collect evidence that faculty, administrators, and staff were given an opportunity to weigh in on the new entity and its integration into the established Purdue University system.
As part of this week's review, three evaluators from three other institutions–namely, University of Arizona, Northern Illinois and Walden University – reportedly visited Purdue University to meet with select faculty members from Purdue University and its online arm. While the review is standard practice, it is not insignificant. The Higher Learning Commission oversees accreditation and as a result, it also ultimately impacts which programs are eligible for federal student loans.
While it seems unlikely that the review will put the brakes on Purdue Global, in the wake of recent events, it also seems unlikely that the review will go entirely smoothly.
Other Recent Disputes
In addition to Purdue Global's current six-month review, over the past month, the new online university has also been making headlines for other reasons. In late August, just before the new school year started, the American Association of University Professors published a statement condemning a demand that faculty members at Purdue Global sign a non-disclosure agreement (NDA) before being permitted to teach.
The NDA states that any work product, including all curricular materials "or other intellectual property that arises in any part in the course of … employment at Purdue Global, is commissioned and owned by Purdue Global as a work-for-hire and may not be used, duplicated or distributed outside of Purdue Global." This runs counter to practices at nearly all colleges and universities in the United States and certainly runs against the ethos at public universities.
In response, the American Association of University Professors issued a press release in which Greg Scholtz, director of the American Association of University Professors's Department of Academic Freedom, Tenure, and Governance, described Purdue Global's NDA as "breathtakingly inappropriate in higher education." In the press release, Scholtz further emphasized, "Asserting ownership over the faculty's teaching-related materials undermines standard academic practice, violating faculty rights to their own intellectual property as well as their academic freedom. This type of agreement would be unprecedented for a public, non-profit university." David Nalbone, a professor of psychology at Purdue University who also serves as Vice-president of the Indiana Conference of the American Association of University Professors agrees: "In just one semester Purdue Global has abandoned transparency, shared governance, and academic freedom, which are foundational tenets of American higher education."
So, what's next for Purdue's new online entity? Given recent events, it seems likely that the future of Purdue Global will look a lot like its past, which has been marked by ongoing faculty disputes and controversies.