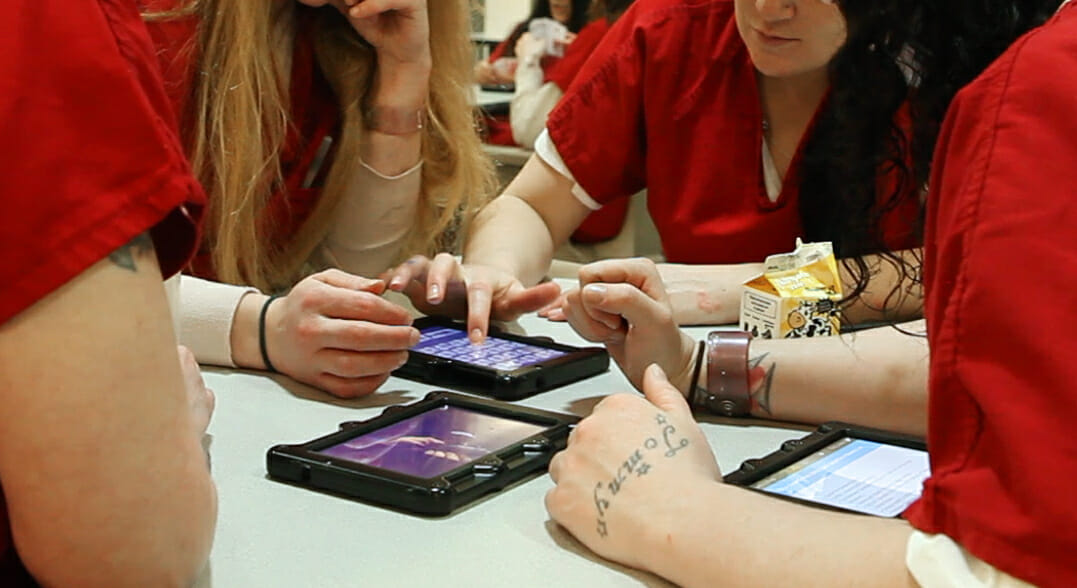 Edovo Brings eLearning to U.S. Prison System
March 01, 2018
Compared to many nations in the world, the United States is not only home to more incarcerated individuals but more incarcerated individuals cut off from the wired world. Now, one tech company is working to make a dent in the incarcerated population's access to eLearning. eLearning Inside News recently talked to Michel Peterman who oversees business development at Edovo. Edovo is a tablet-based solution designed to close the programming gap behind bars, decrease recidivism, and improve opportunities for those who are affected by incarceration.
Edovo's History and Mandate
Cait Etherington: First, can you talk about Edovo's history and mandate?
Mitchel Peterman: Edovo was founded by Brian Hill in 2013. During his first year at Northwestern University Law School, he worked on a Social Impact Bond initiative for the largest single-site jail in Chicago. Brian dreamed of a flexible, customizable experience where users could choose what they learn and explore entertainment, job training and reentry resources. Hill and a small team worked tirelessly with Impact Engine, an incubator for mission-driven businesses. In 2014, after the long hours and dedication of a team of thinkers, dreamers and developers, the first version of Edovo was born. By fall of 2014, Edovo launched 40 tablets in its first facility, Philadelphia Prison System. Since then Edovo has made waves in the industry but is committed to supporting people connected to incarceration.
Edovo's mission is to help everyone connected to incarceration build better lives. We place the well being of the incarcerated at the center of everything we do. We know that educational programming and access to affordable communication are the two levers that drive decreased recidivism and improved re-entry preparation. Edovo provides free educational access and the lowest communication rates possible to help improve re-entry opportunities and ensure incarcerated individuals are staying connected with their loved ones.
What makes Edovo unlike the competition? We see corrections differently. We're creative and resourceful. We care about our clients and users.  Edovo offers thoughtful programming with an industry-unique learn-and-earn model, a customizable facility experience, transparent operations and fair pricing. Industry practices have traditionally been exploitative and dominated by a small handful of companies.
eLearning Behind Bars
CE: What percentage of the incarcerated population currently has access to some form of online education or training in the United States?
MP: Of the 2.2 million people incarcerated in the U.S., only a small percentage has regular access to meaningful programming
CE: Compared to the United Kingdom and many European nations, the United States has been slow to introduce online learning opportunities in the prison system. Why do you think this has been the case?
MP: There are really significant differences between the U.S. criminal justice system and others in the world, particularly the sheer size and complexity. In the United States there have been budget costs across the board for many correctional institutions, and unfortunately, these cuts often affect educational departments quite significantly. While online opportunities exist, there tends to be a bias toward protecting people and in-person programming.
Technological adoption has been slow in the corrections industry in general, but has picked up steam in the past few years. We're starting to see more and more institutions shift toward utilizing technology and online opportunities to help not only provide increased opportunities for educational content and distribution at scale, but also help streamline their overall jail and prison operations.
CE: What types of education and training programs can people complete via Edovo? Is it possible, for example, for someone to complete a high school diploma, associate's degree or university degree? Do you partner with specific schools or postsecondary institutions?
MP: Edovo offers a variety of nationally recognized vocational certifications including Cisco Networking, ServSafe, and Commercial Truck Driving. Edovo also offers some of the industry's best GED preparation, utilizing an evidence-based provider that has seen 98% pass rates in local correctional institutions. Edovo works with 3rd party content providers, in addition to creating our own in-house courses and curricula, to build the largest library of education, vocational, and rehabilitative content in the industry. Through Edovo, an incarcerated user can not only fully prepare for the GED (and then take a proctored exam for official testing), but can also prepare for job certification exams.
In addition to our numerous content offerings, Edovo partners with Saylor Academy to provide users with the opportunity to earn college credit that is recognized by over 2,000 colleges and universities in the US.
Success Stories
CE: What are some of Edovo's success stories, so far? Can you give us an example of how the platform is transforming people's lives.
MP: Edovo has been used by tens of thousands of incarcerated individuals across the country, and we've seen dramatic changes to individual's behavior and success, both within and outside of correctional environments.
One gentleman in particular actually referenced his engagement and success with the Edovo program to help him retrieve custody of his children after release. Another individual was using Edovo to help learn basic literacy skills and practice his reading comprehension so that he could read to his grandchildren as soon as he was released. It's these stories that help bring to light the humanity of the individual's that are a part of this system of incarceration, and highlight the opportunity Edovo brings for individual's to make basic improvements and changes that extend to multiple aspects of their lives.
CE: A common argument against introducing eLearning in prisons is that it poses a security threat. How has Edovo responded to such concerns? Also, how is the platform also helping people in prison stay in touch with their families and communities?
MP: Edovo utilizes correctional grade tablets that are specifically designed and ruggedized for corrections. The tablets themselves have custom software that prevents access to any consumer grade setting and limits the incarcerated user to the Edovo learning management system, and that system alone. Edovo also utilizes a secure wireless network that strictly prohibits any access to the public-facing internet. Multiple layers of network security and active monitoring ensure that the incarcerated user is only able to access Edovo content and has no access to any undesirable content.
Education and communication are the two main levers that lead to reductions in recidivism and improved success upon re-entry. Maintaining constant communication with loves ones and support systems is not only incredibly beneficial for the mental health of an increased individual, but can also help for planning of vital elements for post-release life. Edovo provides the ability for SMS based messaging, photo sharing, and email correspondence. Our primary motive and driving factor is ensuring that communication rates are as low as possible, as increasing accessibility in communication will help drive lowered rates of recidivism.
Edovo's Future Plans
CE:  The platform certainly has a lot of potential to scale up and expand. What are the company's long-term plans and what obstacles, if any, will you need to overcome to realize these broader goals?
MP: Edovo aims to continue to grow and provide educational and rehabilitative opportunities to an even larger percentage of the incarcerated population in the United States. As Edovo continues to scale, we will remain a leader in correctional technology innovation, creating new ways for incarcerated individuals to prepare for re-entry and stay in touch with their loved ones. Edovo's goal is to transform the state of the communications and education in the industry.
Like healthcare, criminal justice is very much a continuum of care. As we look to the future we see significant importance in pre-trial and post-release support as well. Our largest obstacles to growth and achieving our long-term goals will be disrupting the market dominance of the top two providers in the industry. Helping to create more transparent practices and level the playing field within the industry is paramount to driving true change. Another obstacle is driving correctional institutions to place more value on educational opportunities for their incarcerated populations. By shifting the value and focus away from revenue generation toward utilizing education and programming to help drive correctional success, institutions can begin to see the tangible benefits that lead to improved outcomes and ultimately increased public safety and lower taxpayer burden.
For more information, visit Edovo website.