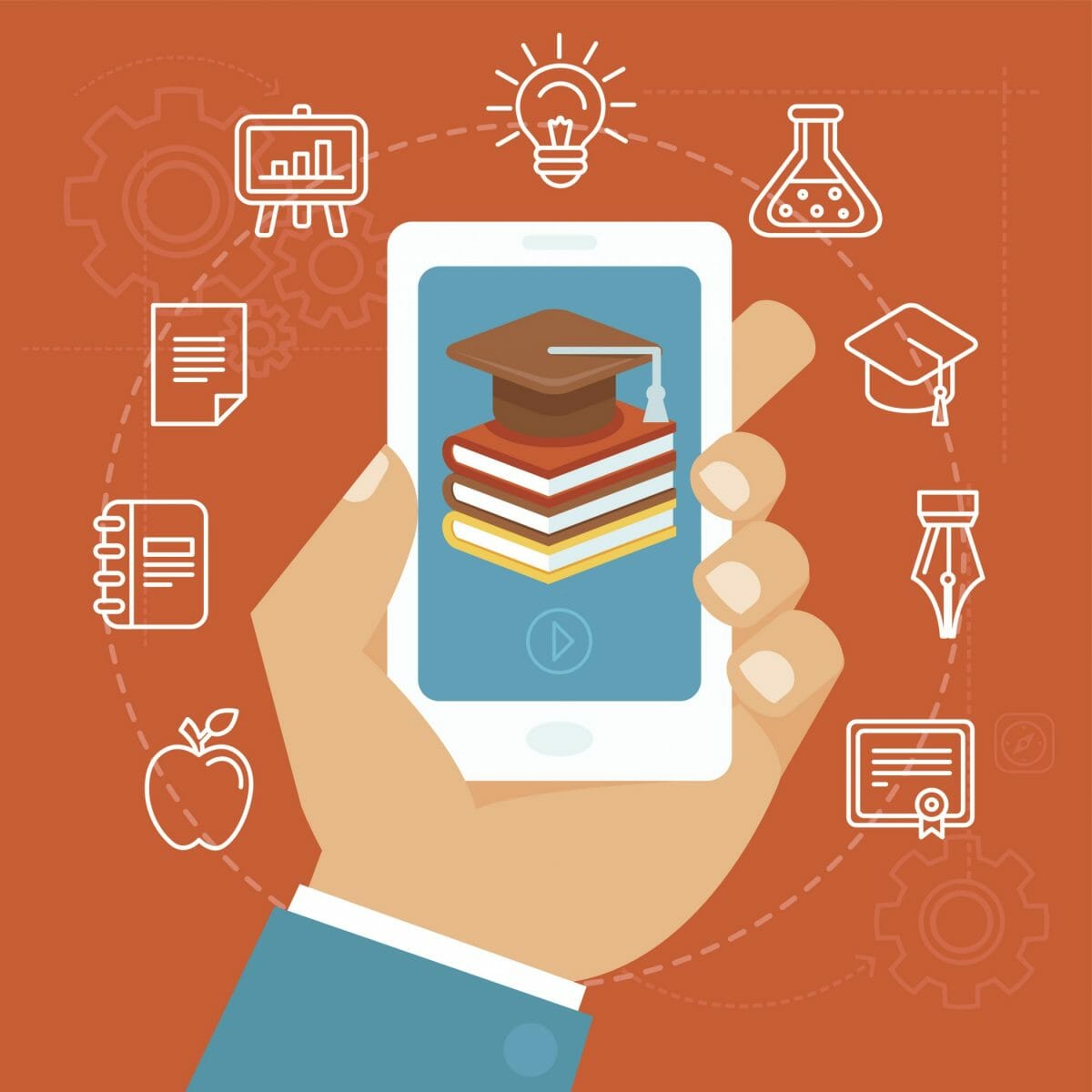 By Degrees' English Test Prep App and How Danny Bielik Hopes to Use Mobile Devices to Teach English Learners
November 13, 2017
We recently reported on the coming trend of mobile only learning, where institutions design eLearning modules exclusively for use via smartphone.
One example of this is the Australian startup By Degrees, which recently announced their ELL test prep app. The company intends to use it to help English learners in India prepare for the Pearson Test in English. Unlike a more conventional eLearning program, By Degrees aims to teach via "Burst Learning." This method developed by the startup involves recreating a social media environment.
Many English learners typically take to social media to practice their new language in the first place. By Degrees hopes to replicate this setting to create an engaging, natural setting in which to prepare for the language test.
I got in touch with CEO Danny Bielik via email to find out more about how By Degrees' ELL test prep app works.
Henry Kronk: So — By Degrees is going to be available only on mobile devices. Why did you decide on this strategy? Why not make it available on PCs and desktops as well?
Danny Bielik: A number of reasons. Really, we're trying to play to where the puck is going to be and not where it's been (Gretsky). We see a decline in desktops and laptops and a dramatic increase in mobile usage—and the capabilities of these devices.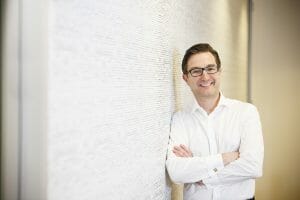 To understand By Degrees and Burst Learning you need to understand our philosophy. We are about student behavior – we're not a technology company.  How do people learn and how do they use their devices?
Young people, in particular are now doing things in short bursts. If you couple that with the addictive behavior of social media, you're basically looking at what makes people tick in the digital age. So we FOLLOW behavior, we don't try to force people to learn our system.  This underscores our social-media-like approach, which effectively means mobile-native too.
Second, we're looking at penetration in our core markets.  For Australians and Americans, we all have laptops or desktops and probably a few old ones gathering dust in the cupboard.
But in emerging markets, particularly our initial market, India you see huge mobile penetration and growth.  Check out these two slides: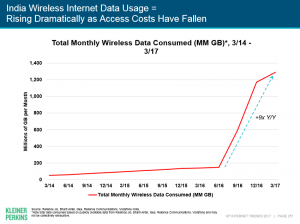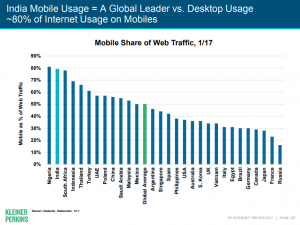 So you have enormous growth exclusively being driven by mobile [devices].  In relative terms almost no-one has a desktop/laptop and everything is being done by mobile.
Third, you can do stuff on mobiles that you can't do on desktops. Think about being in the workplace and videoing a demonstration of performing a task competently.  How do you do that on a desktop?
Students can contribute, critique, comment and rate posts all day, just like they do on social media.  Again, this doesn't map well to the desktop/laptop environment.
Fourth, we can securely determine WHO is doing our courses.  Convincing employers and licensing bodies of the veracity of eLearning qualifications is still a challenge for providers. The desktop/laptop environment has to use eProctoring—we consider this a clumsy kluge that students find creepy.  We can do so much better and students won't even realize we're doing it.  Employers demand it and security and veracity is essential for the truly global scale to billions of eLearning students.
HK: We think your pedagogical approach is pretty cool, using a simulated social media platform instead of a more traditional learning module system. But how do you tailor this for the Pearson Test in English? Isn't it awkward to use a colloquial approach to teach a more professional and precise standardized test?
DB: In fact, it's easier. We want people to demonstrate their usage and comprehension of English—we still take a modular approach and students are guided by their facilitators.  We have summative assessments we call 'Shots' that can simulate actual questions in test as well as the formative stuff we do in the 'Jams.'
The structure is really driven by our facilitation model.  Our facilitators can pose activities that drive the students to post their own responses and questions—plus other students can critique/comment, just like on Facebook.  If we really do this right it looks like a facilitated conversation in a classroom environment, however part of the facilitator's job is to keep the class on track too.
We think that much eLearning today is driven by an imperative to reduce the cost of delivery—that means removing people and automating the approach to learning. We're taking a very different approach, reinserting humans into the equation.