Bamboo Learning Raises $1.4M Seed Round to Further Development of Educational Uses of Amazon Alexa Technology
December 05, 2019
As worries about the effects of screen time in education have grown, efforts to establish alternative delivery methods have followed. One promising technology is the emerging sector of voice and interactive audio applications. Bamboo Learning, a Seattle-based startup that develops voice-powered education technology, announced it had secured $1.4 million in seed funding on December 5.
On the same day, the company also announced the launch of a new product: Bamboo Luminaries, which presents biographies on a series of influential historic figures. The product joins Bamboo Learning's existing line of math, music, and book offerings.
Bamboo Learning Announces New Investment and New Product
Learners can interface with Bamboo Learning products exclusively through Amazon Alexa-powered devices. It comes as no surprise that Amazon's Alexa Fund led the seed round. They were joined by VoicePunch, Unlock Venture Partners, Wavemaker Partners, and a handful of other individuals with industry experience.
"Bamboo Learning is a true innovator in developing entertaining educational Alexa skills like Bamboo Luminaries, which just came out today," said Amazon Alexa Fund Director Paul Bernard, in a statement. "They work with speed and precision and, given all they've accomplished already, we're excited about the products Bamboo Learning will continue to develop, build and share with customers."
Bamboo Learning was launched in 2018. CEO Ian Freed began the venture following a nearly 13-year stint at Amazon where he worked in various roles, including VP of Amazon devices (e.g. Alexa, Echo, Fire).
Freed teamed up with Irina Fine, who has 30 years' experience in curriculum development in subjects like early literacy, music theory, and linguistics. (Fine serves as COO and SVP of Product.)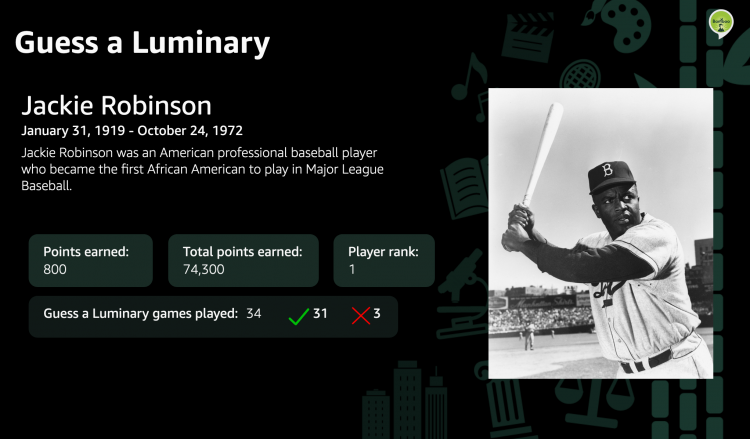 "Bamboo Learning's education and entertainment products are available on over 100 million Alexa devices worldwide," said Freed in a statement. "With Bamboo Math, Bamboo Books, Bamboo Music, and now Bamboo Luminaries, anyone can start learning and playing solely with the power of their voice."
The launch of Luminaries marks an effort to explore alternative means of packaging learning content, while also delivering it in a new, interactive format.
"With Bamboo Luminaries, our goal is to give people a new and enjoyable way to learn about important historical figures with different areas of expertise, as well as a broad range of ethnic, racial, and geographic backgrounds," Fine said in a statement. "Based on early feedback, we believe we have enlivened history in a way that has never been done before, introducing game-interaction using voice and visual Alexa capabilities. If Bamboo Luminaries can spark adults, teens, and families to explore more about history, we will have succeeded."
Amazon Alexa and the Search for Alternative Educational Content Delivery and Interaction
Amazon has spent a good deal of resources and efforts over the past few years to explore what applications smart voice technology might have in the field of education.
The Alexa Fund was established with a capital base of $200 million to invest in companies and initiatives developing the use of Echo Dots and other Alexa devices. In May of this year, the fund invested in Zoobean and Unruly Studios.
A month later, Alexa partnered with ACTNext, the research arm of the standardized test author and administrator ACT. The initiative sought to explore and develop Alexa Skills for learners preparing for the test.
The company has also partnered widely with Arizona State University. Together, they explored the potential of placing Echo Dots in student dorms and have held hackathons for students to explore other uses of Alexa technology for themselves.
The seed funding for Bamboo Learning marks the latest of these initiatives. There will likely be more in the months and years to come.
Featured Image: Andres Urena, Pexels.