3 Free SAT and ACT Test Prep Resources, and Why You Should Use Them
November 19, 2018
In 2017, roughly 1.8 million high school students took the SAT and a little over 2 million sat the ACT. Together, the tests form one of the most widely recognized college readiness assessment systems in the world. To make it into most American colleges and universities, it is a step on which every learner must fall down, or else, o'erleap. Students must demonstrate knowledge of subjects spanning from Shakespeare to Trigonometry, and some programs require additional SAT subject tests. The socioeconomic status of learners tends to reflect in their scores, but everyone needs to pull out all the stops to reach their full potential. And to do that, learners must prepare.
It used to be that one could prepare for the SAT or ACT with two general resources: 1) in-person classes or 2) text-based resources published and sold by third parties or the test companies themselves. Students can still purchase these test-prep books. But learners don't need to, and with a few other details in mind, they shouldn't. If one has the resources to hire a private tutor or go through the training offered by numerous proprietary companies and sites like Kaplan, the Princeton Review, Magoosh, and others, they'll likely help. But there are also numerous courses and resources available online completely for free, and some might even do a better job than the traditional test prep companies.
For those interested in a rundown of some of the best online resources for SAT and ACT test prep, simply scroll down. For those interested in why you should take advantage of the free resources, read on.
Some Background
The worlds and structures of standardized testing companies can be confusing. The Educational Testing Service (ETS) formed in 1947 by combining three existing college readiness non-profits into one. These included the American Council on Education, The Carnegie Foundation for the Advancement of Teaching, and the College Entrance Examination Board. The new entity took over administration of the Scholastic Aptitude Test (SAT), the GRE, and began to develop other products. Today, the organization also presides over the TOEFL, the TOEIC, the PSAT and Advanced Placement tests at the high school level, and more.
Many confuse ETS with the College Board, another private non-profit that also plays numerous roles in the college admissions process in the U.S. The College Board contracts ETS to administer the SAT and, as such, represents the group's largest client.
The ACT, which originally stood for American College Testing, was first developed and offered as an alternative to the SAT by University of Iowa professor Everett Franklin Lindquist in 1959. As an organization, ACT, Inc. behaves similarly to ECS, with the College Board contracting the company to provide their flagship test, along with a few other ACT-related products.
In 2012, the ACT officially overtook the SAT as the most popular standardized test.

Erik Jacobson, Wikimedia Commons.
Standardized College Readiness Testing Is Big Money
It turns out that having near monopolistic control over standardized college readiness testing is hugely profitable. Both ACT, Inc. and ETS are non-profits and their financial information is publicly available for FY 2015 and before. In that year, ACT grossed $357.2 million, netting $22.4 million. Meanwhile, ETS grossed $1.35 billion and netted $43.65 million. Net assets reported by the organizations stood at $443.36 million and $728.32 million, respectively.
By both private and non-profit standards, ACT, Inc. is the more modest of the two. Director/CEO Marten Roorda took home $220,137 in 2015 and received further compensation of around $25,000. Other officers and directors, however, earned far more. Wayne Camara, Senior VP, received $423,886. Chief Measurement Officer Richard Patz took in $687,483. Jon Whitmore, the former CEO and director, earned $704,236. The highest paid employee was another former CEO and current 'COO Education,' Jon Erickson, who received $736,170.
Each of these individuals are full time ACT employees, working between 40-48 hours per week. ACT trustees, who tend to work an average of 3 hours per week, were also graciously compensated, earning anywhere from $15,000 to $61,500.
ETS was far more generous to its officers and trustees. President Walter MacDonald received a salary of $1.26 million. MacDonald also has rent-free access to the sprawling president's mansion on ETS's 360-acre property in Princeton, NJ. The company's 990 form lists 39 other officers and employees. Of these, only 2 were paid less than $360,000. ETS trustees, furthermore, are also well-looked after. For a reported average of 2 hours of work per week, one Michela English was paid $104,000.
In all, ETS put aside $16.7 million for their officers, directors, trustees and key employees. At ACS, that figure was $4.3 million.
Because of the non-profit status, ACT and ETS do not pay federal corporate income tax on much of their operations. This is what one might call an embarrassment of riches.
On its FAQ page, ETS includes the question, "Is ETS an unregulated monopoly?"
"No, on both counts," they answer. "We hold ourselves to the highest professional standards of the measurement community and we are governed by a 16-member Board of Trustees. Board members represent various levels and areas of interest in education and business. Among other things, they select the ETS president, oversee the leadership provided by the ETS officers, set policy and determine future directions for the entire organization. Although we are the world's largest testing organization, there are competitors for most of the testing programs and related products and services we develop."
That's a hard pill to swallow considering some of those trustees are making 6 figures off an average of 2 hours of work per week.
As former ETS Senior VP Winton Mannning told the New York Times for a 1997 feature, "E.T.S. is standing on the cusp of deciding whether it is an education institution or a commercial institution … I'm disappointed in the direction they have taken away from education and public service.''
While much of that commercial activity began to play out with ventures into online administration of tests, government contracts for professional assessment, and more, some also involved the test prep market.
In 2014, however, ETS was subverted in this venture by The College Board (another non-profit with a stunning 990), which partnered with The Khan Academy to offer SAT test prep resources for free.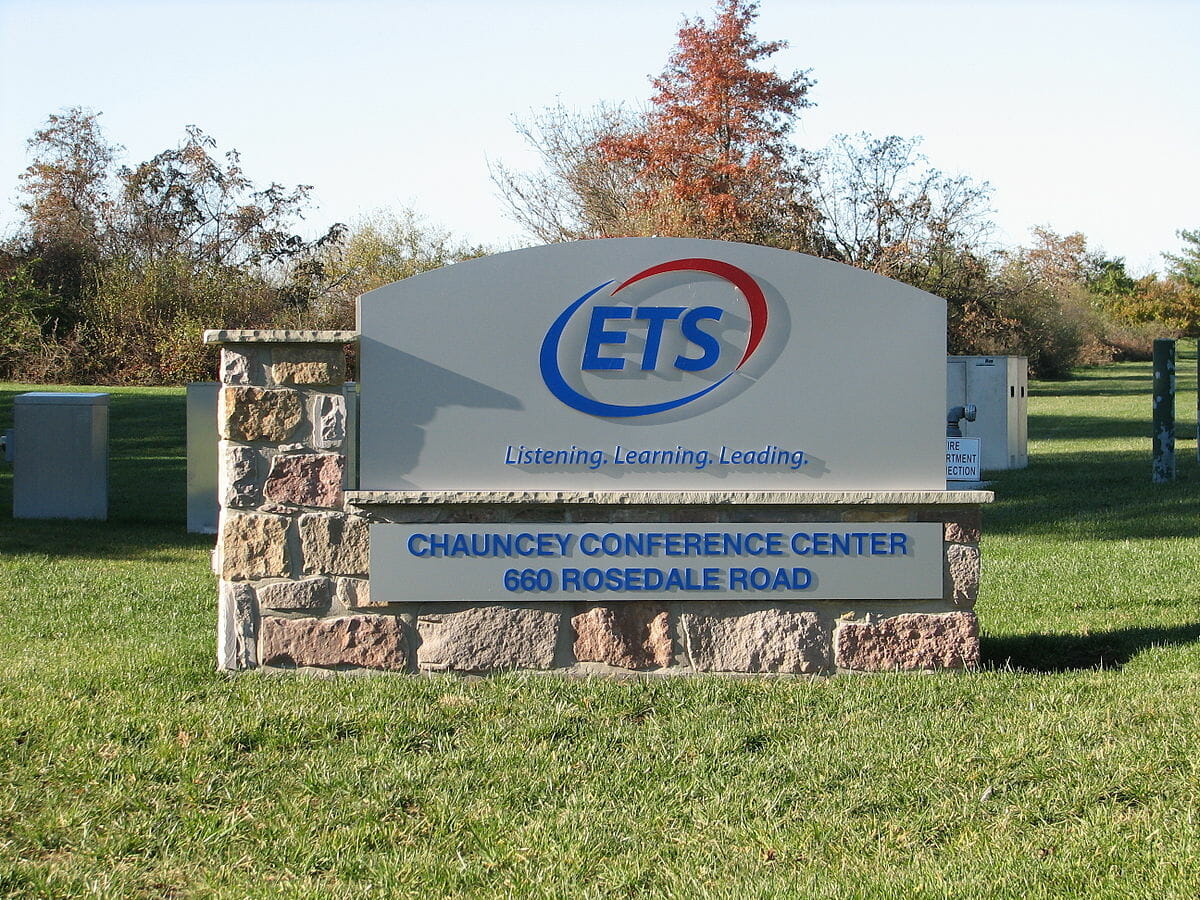 Free SAT and ACT Test Prep Online
While college-bound learners generally can't avoid the SAT or the ACT, they can avoid paying these non-profits or other third-party companies cashing in on their market dominance more for test prep resources. What's more, ETS and ACT still flex their proprietary muscle by selling licenses to other test prep companies. This gives them access to official testing material and provides the official ETS or ACT stamp. Many guidance counselors steer learners away from non-licensed test prep, because it may not relate directly to the exam. The following represent the best free online test prep services for the SAT and ACT.
1. The Khan Academy
As stated above, the College Board partnered with the Khan Academy to offer free test prep for the SAT in 2014. They have since expanded those resources to many other ETS tests, such as AP subjects and Praxis.
The Khan Academy provides a great resource of curated short videos, text, assessment, and other resources relating to many, many subjects. The site has dozens of items to help learners prepare, including matter relating directly to individual SAT tests or sections to time management and more.
Despite this wealth of material on the SAT, only a few videos can be found regarding the ACT. These are general, like "Overview of the ACT," or "Deciding whether to retake the ACT," and won't fully prepare any learner. Considering the competition between the two testing organizations, one has to wonder why the Khan Academy favors one so heavily.
2. Union Test Prep
Union Test Prep offers 100% free test prep services for dozens of standardized tests. They draw revenue by running ads on their site. And for a for-profit company, they take a fairly benevolent view toward the testing process.
"It's not people buying boats," said CEO and Founder Ryan Montgomery, according to GoLocalPDX. "For people taking the GED, public education was tough. Now they have to pay all this money to pass these hard tests?"
Unfortunately because Union Test Prep is not a vendor of licensed test material, many guidance counselors will not be able to direct learners to the free resource.
While learners can't escape paying the price of admission for these tests, they can walk in to the converted gymnasiums in which they will take them well prepared without needing to pay for further proprietary material. Good luck.
Correction January 22, 2020: This article used to feature PrepFactory. The company no longer offers their resources for free.
Featured Image: Cpl. Brian A. Stevens, Marine Corps.